Beavers, Celebrities And Locals Share Northport's Woolsey Airport
By Emily Tyra | April 6, 2020
Northport's Clinton F. Woolsey Memorial Airport is having troubles, but not those related to what most other airports around the globe are experiencing. The airport's been flooded recently due to beavers felling trees and damming the outflow of the swamp along the east-west runway.
"Just a day in the life of a Northern Michigan airport manager," says airport manager Tom Wetherbee. Wetherbee — whose day job is an electrical engineer — has served at the public, township-owned Woolsey Airport for six years. State law requires every airport in Michigan to have a dedicated airport manager; Leelanau Township also requires the manager to be a licensed pilot.
Says Wetherbee, "There are beaver lodges on Mud Lake just east of the airport. Every 15 or 20 years an overly industrious group of them dam the culverts which causes flooding of the access road to the hangers.
Leelanau County Road Commission Manager Justin Kelenske says when his crews head back to work, they will be dismantling the dams to alleviate the flooding that is blocking North Howell Road.
Another runway at Woolsey Memorial Airport is currently closed for repairs, due to being "turfed" earlier this spring, and Wetherbee has put this info out as a Notice to Airmen (NOTAM) that the Federal Aviation Administration (FAA) publishes. "Pilots will see the closure there," he says.
The airport averages 2.5 operations — defined as either a takeoff or landing — per day. While the airport is open year-round, the runways are not plowed, so typically only aircraft with skis can fly in and out during the winter. "The Coast Guard uses the airport in winter to train helicopter pilots in snowy conditions," says Wetherbee.
Normally, heading into the spring and summer flying season there is an uptick in charter flights — about four per week — "for people wanting to get to their cottages," says Wetherbee. This includes a number of celebrities who have homes in the Northport area.
He says most of the charter pilots fly a Pilatus PC-12, a single-engine turboprop passenger plane. "Their reputation is to fly into rough and rugged places like Tibet. They're built now to be sophisticated and refined, but still comfortably land on a grass airstrip." About six planes — owned by people locally and used primarily for recreation — claim Woolsey as their home airport, staying on the field through the summer flying season.
As a Class G (or uncontrolled) airspace, there is no air traffic control at Woolsey Memorial Airport, but Wetherbee's phone number is listed. "I get calls from charter pilots asking about local conditions, especially what the field conditions are, so they can determine whether to fly clients into Traverse City or take them right into Northport. The runways are soft in the spring for a period of about a month."
A false move on a soft airstrip can be an expensive mistake, explains Wetherbee, describing a Pilatus PC-12 pilot that tried to taxi off the runway and went into a drainage ditch. The prop hit the ground with the propeller spinning. "The company had to fly someone up to replace the engine, which cost between a million and a million and a half dollars," he says. "That company calls ahead every time now," he says.
Also unique to an airport up in the woods, says Wetherbee, is the expectation that there is wildlife on the runway — turkeys, geese and deer. "It is not uncommon for pilots to make a pass over first to check."
Wetherbee says the airport was built in part on farmland that belonged to the Woolsey family of Northport, and the distinctive stone terminal was the family farm's creamery for decades. The airport's namesake is pioneer aviator and Northport native Clinton F. Woolsey, who served as a pilot in World War I and as a flight instructor — one of his last students was Charles Lindbergh. Woolsey died in 1927 at the age of 32 while piloting the Detroit in an attempt to complete the 22,000-mile Pan American Goodwill flight. The plane crashed near Buenos Aires. Woolsey died because he refused to leave his flight engineer who had no parachute. The aviator's father, Byron Woolsey, donated land to the township for an airport to commemorate his son. The airport is now in the process of becoming a designated historic site in Michigan.
Comment
Property Watch: Village Life On The Bay
The Leelanau Ticker found a spot on the sunrise side of the peninsula that allows for the ...
Read More >>
Signs Of Our Times: Follow Life In Leelanau County
Are you following the Leelanau Ticker yet? Join us on Facebook where we share daily and real-time updates ...
Read More >>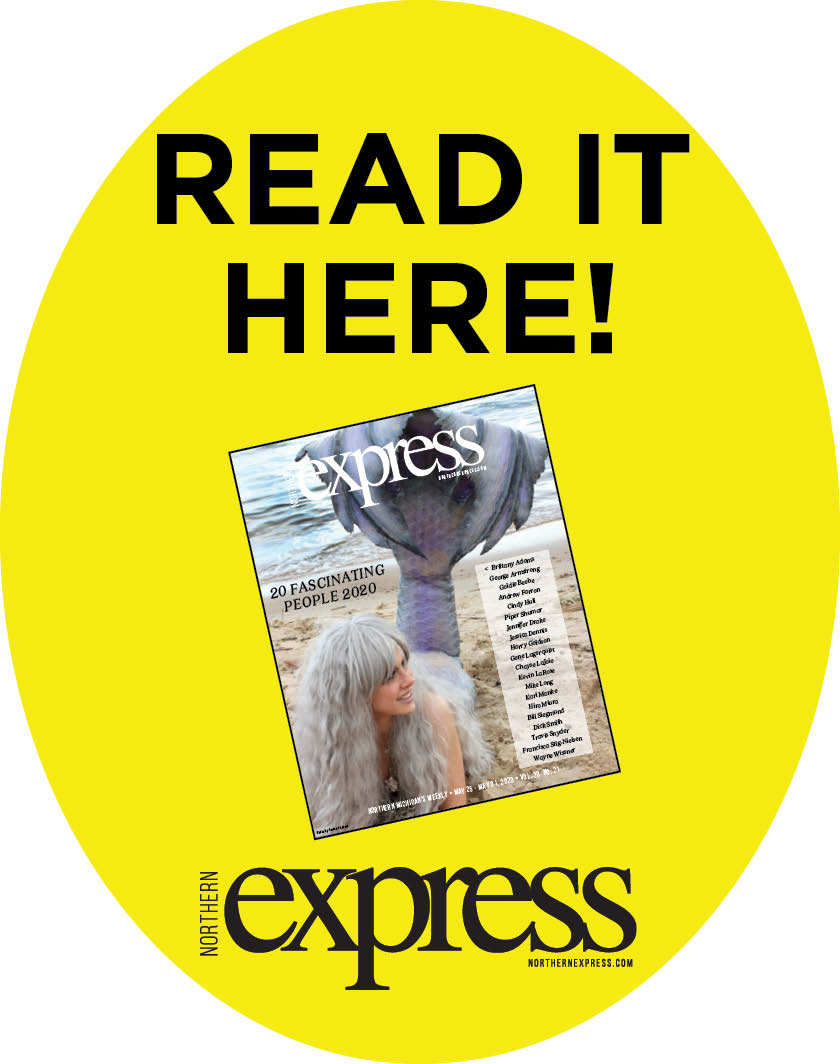 Mundos Eat House Opens In Former Gold Baby Biscuits Spot
In a whirlwind week — and decision — Dan and Melissa Clark, owners of Mundos Roasting & Co., and ...
Read More >>
Largely Spared From Health Crisis, GT Band Gets Back To Business
With zero coronavirus cases among its membership and $13 million in federal stimulus funding, leadership of the ...
Read More >>