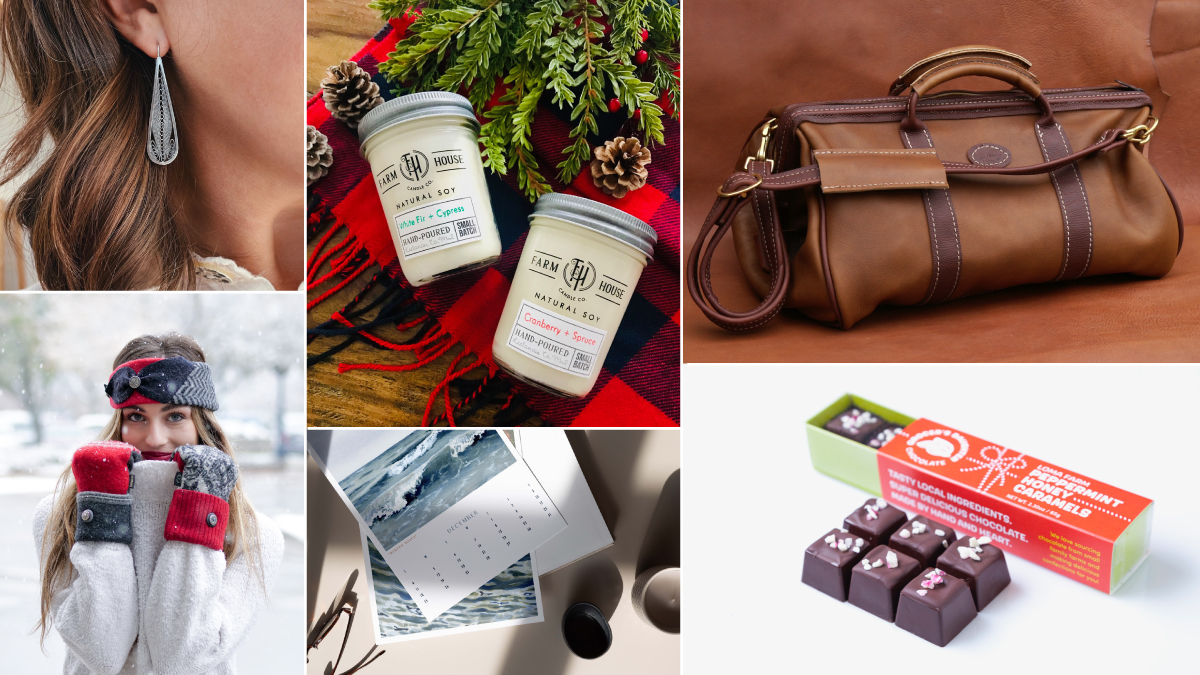 Shop Local: A Made-In-Leelanau Holiday
By Kandace Chapple | Nov. 26, 2021
Holiday shopping look may look a little different this year with people opting to shop more local than ever, especially amid global supply chain disruptions. The good news for those wanting to give "Michigan" this year? No shortage of items handcrafted here in the pinky in the Mitten State. It's fair to say after seeking out items stitched, imagined, painted, poured and produced right here in Leelanau County, we want the…one of everything.
Farm House Candle Company, Leland
Every Farm House Candle Company candle is hand mixed and poured in Leelanau County, "from 100 percent natural soy for a carbon neutral burn," says Beth Gross, owner.
Their winter collection has just been released and is offered through February. Don't miss the holiday fan favorites White Fir + Cypress (that quintessential fresh cut tree scent mixed with just a little sweetness) and Cranberry + Spruce, infused with blue spruce, citrus and peppermint.
"I gather inspiration from the simple things like a hike through the forest, a dinner out with friends or an autumn bonfire," Gross says. "I am continually inspired by this great place we call home." Shop their website for these Leelanau County creations.
Grocer's Daughter Chocolate, Empire
Jody Hayden, co-owner of Grocer's Daughter Chocolate, creates a secret combination of decadent chocolate mixed with local treasures grown and harvested in Northern Michigan. Their all-natural chocolates featuring dozens of local ingredients like dried flowers from Alchemy Farms (in Maple City); teas from Great Lakes Tea and Spice (Glen Arbor) and Light of Day Organics (Traverse City).
Perhaps the be-all, take-all chocolate with Leelanau-sourced ingredients is the Loma Farm Peppermint Honey Caramel. "The peppermint from Loma Farm makes it extra special," admits Hayden. Grocer's Daughter Chocolate has also created a dairy-free holiday caramel box this year. Hayden promises you'll never miss the dairy. Next week: They are releasing a line-up of special holiday truffles to celebrate the season. Shop their brick and mortar shop in Empire or online.
Baabaazuzu, Lake Leelanau
This shop offers the cuddliest option from Leelanau County you can imagine: A winter accessory line for men and women created from post-consumer wool garments. Baabaazuzu, whose headquarters and brick and mortar shop are in Lake Leelanau, is known especially for the warmth and durability of its mittens and fingerless gloves.
"Each of our designs is individually created and is one of a kind," says Sue Burns, owner and creator.
Baabaazuzu is also at these Leelanau County retailers: The Painted Bird in Suttons Bay, Two Fish Gallery in Leland, and The Secret Garden in Empire.
Kristin MacKenzie Design, Leland
Kristin Hussey, a watercolor artist, brings to life the landscapes of the towns along iconic M-22. Her art brings people a sense of nostalgia and "reminds them of special memories shared at those beautiful places," Hussey says. She just released her 2022 calendar, "Views From the Fresh Coast," a collection of 12 (of course!) original paintings of views along Lake Michigan. Also, check out her new holiday wrapping paper designs. Her work can be found online or you can arrange for pick-up at her Leland studio.
Kelsey Grape Jewelry, Leelanau County
Kelsey McQuown is an artist based on the Leelanau Peninsula creating hand-twisted filigree jewelry with a modern aesthetic. But what is filigree? An intricate ancient metalworking technique of finely twisted threads of metal to create ornate patterns. McQuown's "Shoreline Collection" offers designs which draw inspiration from the organic patterns and shapes prevalent along the waters of the Great Lakes region and Leelanau County in particular. Think: Shimmering waves, pebbly shores, undulating dunes — always changing. Our customers love how the texture of the filigree detailing shimmers in the light as the earrings move around!" McQuown says. She has several new designs debuting just in time for holiday shopping as well. Find her gorgeous work online.
Toile & Stripes, Suttons Bay
Toile & Stripes is a sustainable fiber, made-in-house, luxury clothing brand handcrafted in Suttons Bay. "We produce — in-house — tops, skirts, pants, dresses, and outerwear," Abby Foster says. "These garments are inspired by women of all walks of life and by the beauty that is Northern Michigan." Their bestseller is the Grandpa Shirt / Grandpa Dress, pictured.
"This top/dress is simple, comfortable, artistic, menswear-inspired, and easy to pair with anything for anywhere on anyone," says Foster. "It's hard to keep it in stock."
T&S has a special holiday-inspired candle collection, unique pottery ornaments, floral ornaments, and, as always, new clothing every two weeks. Their Holiday Market is Saturday, Dec. 4, from 2-6p.m. Featured artisans are: Katherine Corden, Jessica Angel from Spalted Home, Kristin MacKenzie, and Kelsey McQuown from Kelsey Grape. Buy T&S in their brick and mortar store in Suttons Bay or online.
Leelanau Trading Co., Empire
Ted Gilmer and his wife Ruth Gilmer established a leather studio in Empire in 1993 where Ted has honed his talent for creating soft, supple leather goods and gorgeous wood designs.
"People like our functional but simple designs," Gilmer says. "Most customers can recognize the quality of American leather and quality hand work."
One of their most popular products is the Duffle Bag — like Grandpa used to have — made from American tanned cowhide. Gilmer also handcrafts leather flask cases, purses, briefcases and leather-bound journals.
To see a touch of Leelanau Trading Company's wood-crafting magic, visit Orvis Streamside in downtown Traverse City, where on display, you'll find a handcrafted Christmas sleigh.
"It's totally functional — if you have a horse," Gilmer says. While their studio is located in Leelanau County, it is not open to the public. Instead, pick up your goodies at the Secret Garden in Empire, Two Fish Gallery in Leland, Blue North Gallery in Suttons Bay, Wool & Honey in Cedar, or Cottonseed Apparel in Glen Arbor. Each store offers a different selection of goods. "We are not on Amazon," Gilmer says. "We are downtown, please shop there!"
Comment
Larry Mawby Wants To Help Solve Leelanau County's Affordable Housing Puzzle. Here's How.
Meet Leelanau County's newest player in the fight for affordable housing: Larry Mawby. Of course, if you ...
Read More >>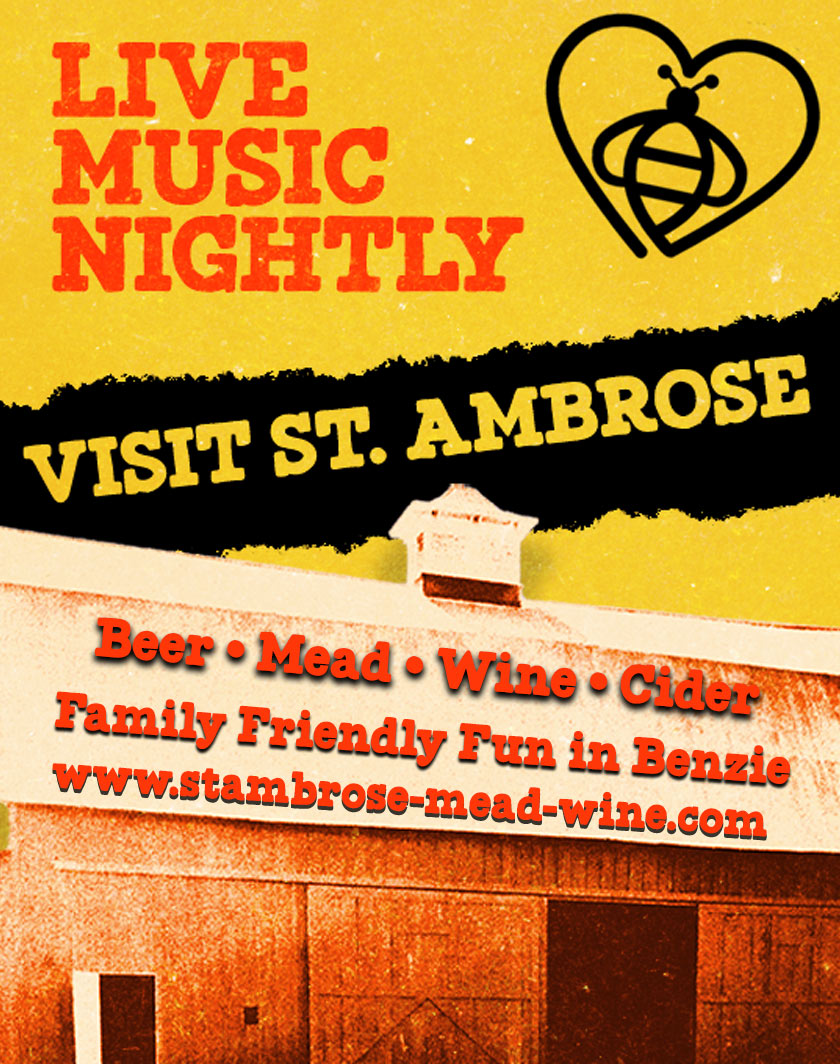 Property Watch: Benzie's Gwen Frostic Studio, Printing Presses & Acreage For Sale For $1.9M
This week we take a rare dip down into the hills of Benzie County, where Gwen Frostic's ...
Read More >>
Groomed Trails Plus (Outdoor!) Wine Events Popping Up In Leelanau County This Winter
A handful of Leelanau's vineyard managers have added trail groomer to their many hats, and now that ...
Read More >>