Cheers: A First Taste Of What 2021 Will Bring To The Leelanau Peninsula Wine Trail
By Emily Tyra | Jan. 4, 2021
From first-ever releases, expansions and pilot programs coming this season on the Leelanau Peninsula Wine Trail, there's a lot of news from the County's winemakers, movers and shakers in the coming year.
But first, a toast to hard work: Rick DeBlasio, president of the Leelanau Peninsula Vintner's Association (LPVA) and general manager of Shady Lane Cellars, tells the Leelanau Ticker, "I'm really proud of the way our membership was able to pivot and see success in the face of adversity this year. I think it is really telling that as a wine trail we were able to create a new event and maintain a longstanding one that brought a lot of people to the peninsula and did so in a way that was safe and without incident. It is a testament to the folks in our industry."
He says most wineries found a core way of operating to keep safety a focus and, "whether it was reservations, outdoor only service — that is where the stability has come from. Everything else kind of launched off of that."
But it certainly wasn't without a massive effort in communication: "Tracking down the details and having enough lead time to implement those changes all while trying to capture the business you can in a largely seasonal industry…it continues to be a challenge, especially with seasonal weather."
DeBlasio adds, "This isn't over yet, [but] I am confident that we are a resilient industry and will emerge strong in 2021."
So are the LPVA members.
Heading into 2021, Co-owners Dan and Lucie Matthies at Chateau Fontaine; Owner Paul Hamelin at Verterra Winery; and Mike Laing, "Director of MAWBYness" at Mawby Sparkling Wines each reiterated to the Leelanau Ticker that they are looking forward to welcoming guests into their spaces with the full and unique hospitality experience. And here's a look ahead to more business highlights:
Charlie Edson, Senior Winemaker, Bel Lago
We are really looking forward to our customers experiencing some of our aged reds from 2016 and 2017. These wines have been in barrels, gaining flavor, complexity and texture —Cabernet Franc, Tempesta, Pinot Noir, Blaufrankisch and Bel Lago Red —they are delicious! We are also looking forward to opening up our newly renovated and expanded tasting room (pictured above) that features a horseshoe bar with panoramic views of Lake Leelanau. We've also added a pizza oven and our tasting room manager Patrick has been working with Folgarelli's to create custom rustic style pizzas.
Betsy Sedlar & Tim Hearin, Farmers/Owners, Green Bird Organic Cellars
We began an internship program at Green Bird Organic Cellars [in 2020] that was such a success that we're expanding it to include focus areas in animal husbandry, vineyard management and winemaking. This allows us to both share our project with aspiring farmers and to help them gain hands-on experience at a diversified farm practicing regenerative agriculture. Application for positions will officially open in 2021. [In the meantime, those interested can email hello@greenbirdcellars.com.]
Gabe Marzonie, Director of Marketing, Leelanau Cellars
Leelanau Cellars will be launching its first ever subscription wine club in 2021. With five-tiered club options to choose from — one for every palate and pocketbook — customers will be able to dive deep into their preferred style of wines from a diverse array of options, including sweet, dry, fruity, bubbly and enjoy exclusive member events and offerings.
Rick DeBlasio, General Manager, Shady Lane Cellars
At Shady Lane Cellars, we are really excited about entering our second season with BRIO a product line we launched mid-summer last year. It is a fun, upbeat brand with products offered in can that are the perfect go-anywhere, do-anything package.
Susan Braymer, Owner, Laurentide Winery
After several seasons of Rosé, we are looking forward to the return of Laurentide Pinot Noir 2020 slumbering in new French oak barrels this winter!
Julie Lopata, Tasting Room and Venue Manager, French Valley Vineyard
Completion of our tasting room construction — fingers crossed — is set for mid-May. Once finished, the large warehouse style barn will have a charming rustic-industrial aesthetic. Additionally, we have been working on developing our own food/product menu and are really excited to show off all the work that has been done at our grand opening in the spring.
Paula Ciccone, Winemaker, Ciccone Vineyard & Winery
Ciccone Vineyard & Winery is looking forward to our new releases, increasing our ecommerce and online presence, seeing how the new planted hybrids do in the valley, and the tasting room reopening!
Matt Goodell, Operations Officer, Amoritas Vineyards
At Amoritas Vineyards in Lake Leelanau we will be putting in our first red wine grapes in spring of 2021, roughly two acres of Gamay Noir, Blaufränkisch, and Saperavi. These red varietals are in addition to the fourteen acres we currently grow, Chardonnay, Pinot Blanc, Pinot Gris, Riesling, Auxerrois, and Muscat Ottonel. While the new grapes are being established we will continue to produce our estate grown white wines, and red wines with grapes sourced from other Michigan farms and out of state.
Nic Schulte, Tasting Room Manager, Two K Farms
We've been working diligently and excitedly over the last year to get our first vintage of Pommeau ready. It finally is time! Traditionally originating from Normandy, Pommeau is a fortified beverage of unfermented fresh apple juice blended with barrel-aged apple brandy. This drink is typically served as an apéritif, but can be sipped on its own for dessert or paired with meats, and blue cheeses… we're estimating will be bottled and ready for purchase as early as the end of January 2021.
Tom Knighton, Co-owner, Blustone Vineyards
We're looking forward to exploring new and creative ways of connecting with our guests — stay tuned for some exciting changes to the Blustone wine and food experience. Due to the very productive 2020 in the vineyard, we will be able to offer our guests increased quantities of some of our artisan wines like Latitude, Gewurztraminer and Cabernet Franc Rose.
Dan Young, Co-owner, Cider Maker, Tandem Ciders
At Tandem Ciders we are looking forward to completing renovations on and moving into our new production facility, a building [formerly utilized as a horse barn] south of Lakeview Hills Road on Co. Road 641. We will not be open to the public there, aside from an occasional open house. Our tasting room will stay the same — [but] with more room. We also put in two varieties of cider apples, Yarlington Mills and Dabinett.
Christopher Lopez, Retail Sales Manager, Black Star Farms
We are very excited for the 2020 whites to start coming out this spring. 2020 was an excellent growing year and the wines from this vintage are exceptional. In particular, look for the 2020 Arcturos Pinot Noir Blanc, 2020 Arcturos Sauvignon Blanc and the 2020 Arcturos Pinot Gris. You will not be disappointed!
McKenzie Gallagher, Co-owner, Rove Estate
Rove is excited for another 5-acre planting of vineyards in the spring —Pinot Gris and Sauvignon Blanc. We are also excited to unveil some new experiences for our guests…stay tuned!
Dave Albert, Owner, Boathouse Vineyards
We are releasing our first Pinot Blanc, and looking forward to an exciting line up of live music on the river all summer long. Luckily, we've been able to install heaters on our porch and in the music stand so there are many outdoor options the winter months ahead as well.
Luke Pickelman, Co-owner, Soul Squeeze Cellars
Soul Squeeze has two new products we are particularly excited about — one is our still Gruner Veltliner. The fruit was remarkable this year and it will be an abstract take on the varietal, very full bodied and almost Burgundian. And a new cider — dry hard cider aged a year in used tequila barrels and then blended with agave and yuzu fruit. Super interesting, super yummy. It will be released in May.
Alanna Grossnickle, General Manager, 45 North Vineyard & Winery
Early 2021 we will be setting up an outdoor tasting space with firepits and heated igloos. We hope folks will come out and enjoy our beautiful 3-mile trail on the property and stay for a glass of wine afterwards. We have groomed trails for cross-country skiing and fat tire biking. We are also planting 5,000 apple trees in the spring. This will allow us to produce an all estate-grown cider lineup.
Nathaniel Rose, Winemaker/Owner, Nathaniel Rose
I'm excited to see the way 2020 evolves in the cellar — because it is by far the very best vintage I have ever seen; and for Chicagoland distribution in the new year. We're bringing on vineyard guru Tom Cariano and preparing for a grand opening (if the pandemic allows…we all need a good party). When we do open, it will be time to release dozens of wines we have had in cellar, several of which have taken some of the most prestigious accolades in wine. [Rose is known for his classical style and long-view in winemaking.] And, on a personal note, getting together with fellow winemakers and raising a glass together again.
Comment
Free Entry To Sleeping Bear Dunes To Celebrate Martin Luther King, Jr. Day
Sleeping Bear Dunes National Lakeshore Superintendent Scott Tucker is pleased to announce that the entrance fee to ...
Read More >>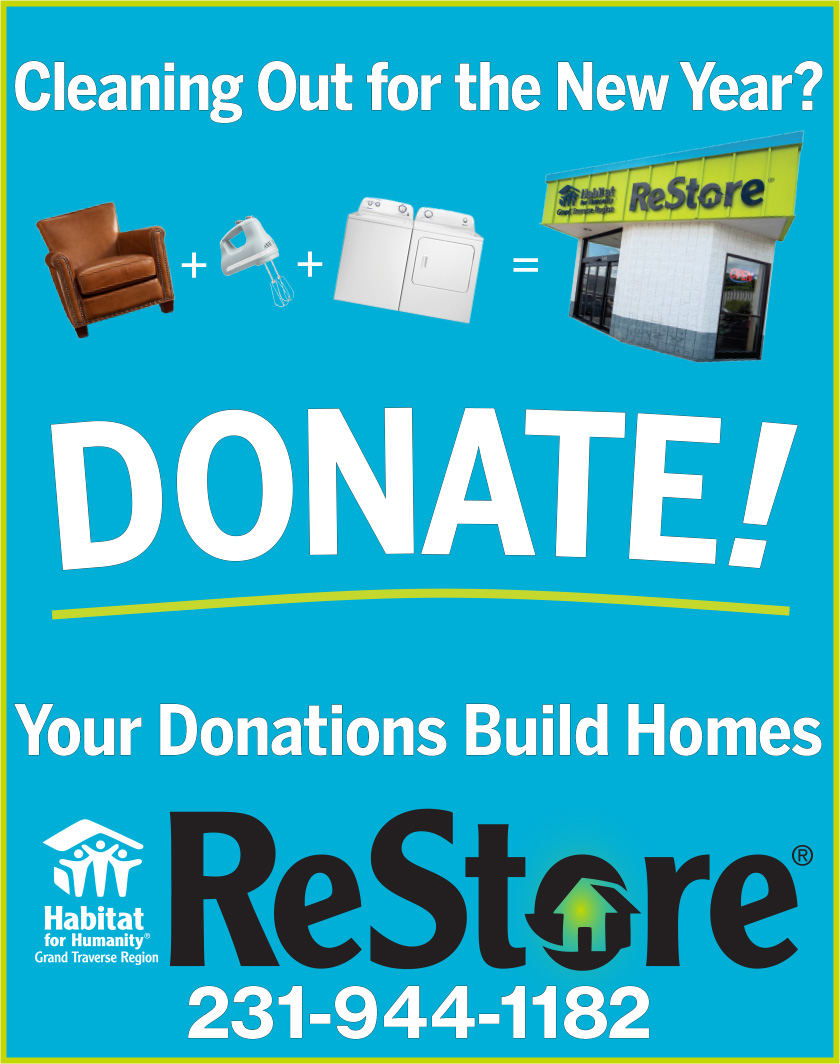 The Front Porch Seeks Support For Suttons Bay's Laundry Project
The founder of The Front Porch in Suttons Bay, Bobbie Eggert, will be honored the weekend of ...
Read More >>
Wineries Open Trails For Snowshoes, XC Skis And Fat Bikes (Plus Expand Winter Outdoor Service)
A handful of Leelanau wineries are inviting guests to make use of recreational trails on their properties ...
Read More >>