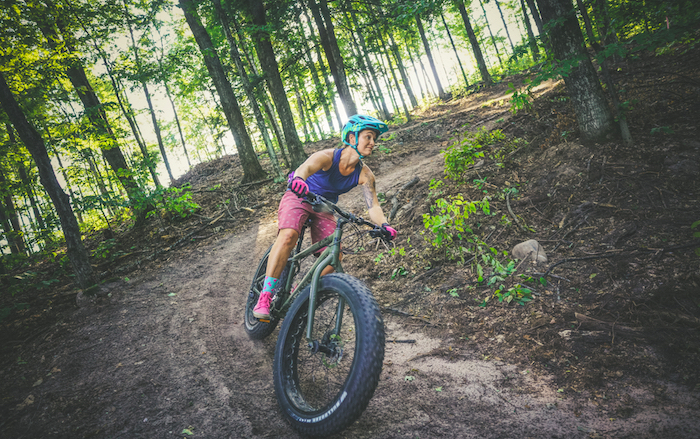 Get Ready For Palmer Woods 2.0, With 8 Miles Of New Mountain Bike Trails Built This Summer
By Emily Tyra | April 19, 2021
Trail construction will begin in May on three new loops at Leelanau's marquee mountain bike destination, Palmer Woods Forest Reserve, according to Chad Jordan, Leelanau Conservancy's property and trail maintenance specialist. Since the first two flow-style mountain biking trails were developed in 2018, Palmer Woods' roller coaster riding features have drawn thousands of riders to the area and ignited Leelanau County's love of mountain biking.
The construction planned this summer expands the current trail system substantially, says Jordan. "We will be more than doubling our current 5.75 miles of trails by adding just over eight more miles this summer, totaling nearly 14 miles of mountain bike trails by the end of the 2021 season."
Palmer Woods is the largest preserve held by the Leelanau Conservancy — at over 1,000 acres — and its 400 feet of vertical relief make the terrain suited for the continued development of mountain bike trails. Last year, the conservancy raised $3.5 million, which allowed the purchase a 350-acre addition to the original 721-acre Palmer Woods Forest Reserve near Maple City and preserved a five-mile border with the Sleeping Bear Dunes National Lakeshore. Those Palmer Woods 1000-Acre Project funds will also pay for the long-term expansion of trails on the property, including trails serving hikers and cross-country skiers. "Ultimately, 40 miles of trail is a target for total amount of hiking, skiing and biking trails for Palmer Woods," Jordan says.
The eight miles of new bike trails coming this summer (two beginner plus one intermediate loop) were designed to be a progressive, "big woods" experience, taking riders into the heart of Palmer Woods.
Jordan explains, "If you were to look at our existing mountain bike trails on a map of the entire 1000-plus acres, you will notice they are in a small area in the southeast corner of the preserve. Phase two of Palmer Woods will allow access to the center of the property by way of the gigantic Price Valley. The sheer size of the valley coupled with the thousands of acres of adjacent National Park gives the user a real deep woods experience."
Claire Wood, communications director with the conservancy, says while the existing mountain biking loops offer only intermediate level riding, the 2021 trails will be adding experiences for beginners. "The one-mile "Coaching Loop" is perfect for brand new riders, kids on balance bikes or an adult warming up or just getting into riding natural surface trails. And it's a closed loop — everything goes back to the parking lot — so kids can't get lost."
Wood notes that to create the new beginner loop, Jordan — himself a certified International Mountain Bike Association (IMBA) coach — "reached out to six coaches at Norte Youth Cycling asking what would be some elements that we could incorporate that would help aid them in their teaching."
The result? Six stations that riders can practice fundamental skills used in mountain biking. "Each station will be a 'session' loop," adds Jordan, "meaning a rider will be able to take a short cut back to the start of that particular skill station and ride it over and over until they gain confidence in that skill set."
Another 3-mile "true beginner loop" is planned, with some small technical features and subtle grades, "no major climbing like on the existing east and central ridge trails," shares Wood. Finally, a 3-mile, gravity influenced trail — currently dubbed the Darwin Loop — will be built to IMBA intermediate trail specs to be ridden as a standalone loop, and eventually connected to longer rides.
"Overall," says Jordan, "Palmer 2.0 will have a little bit for every level of riding. The 2021 Palmer Woods trails expansion will tilt the needle a little bit more into the fun zone."
The conservancy will release the name of the contractor who won the project this week, with Jordan noting "he has built many destination trail systems throughout Michigan and the nation and prides himself on sustainable trail building techniques."
Construction — including modifying the parking lot and creating a one-way clockwise entrance and exit on Wheeler Road — is set to begin in May and will continue the duration of the summer, but Jordan says it should not detract from current use: "We will make people aware of each of the projects as we near the start dates, but with the sheer size of Palmer Woods we are confident that people will still be able to use the natural spaces they have grown to love."
Wood adds that while single-use mountain bike trails are the focus for 2021, more hiking and ski trails will be coming 2022 and 2023. "The conservancy has made a commitment to provide the best experience for all users whether hiking or biking, and to prevent user conflict and reduce hazard." (This includes rerouting a few sections on the existing east and central ridge loops to eliminate inadvertent rider access to the Price Valley hiking-only trail.)
"Through our master plan layout, we've given enough space to make it feel like you are still alone on a quiet hike in the woods if you are on the hiking-only trails," she says.
Today kicks off the Leelanau Conservancy's Earth Week Celebration (April 19-24) which includes many options to experience Palmer Woods virtually. On April 20, local videographer and mountain biker Drew Palmer, @drewpalmerphoto, is taking over the conservancy's Instagram page with aerial tours and a mountain bike ride through Palmer Woods. And on Facebook, April 21, a video tour by the Boardman Review will take viewers to the majestic fern garden, a gully in the heart of Palmer Woods filled with rare ferns from all over the world.
Photo: Cody Sprattmoran (co-founder of Bike Leelanau) at Palmer Woods, by Drew Palmer
Comment
Hot Off The Apple Press: New Leelanau Releases For Cider Season
Right now, Leelanau County cideries are hard at work harvesting apples and getting all that magical fermentation ...
Read More >>
Northport Welcomes Back Scarlet Envy For Leelanau County's Oct. 2 Pride Event
Northport made such a dazzling first impression on drag queen Scarlet Envy, she's headed back to the ...
Read More >>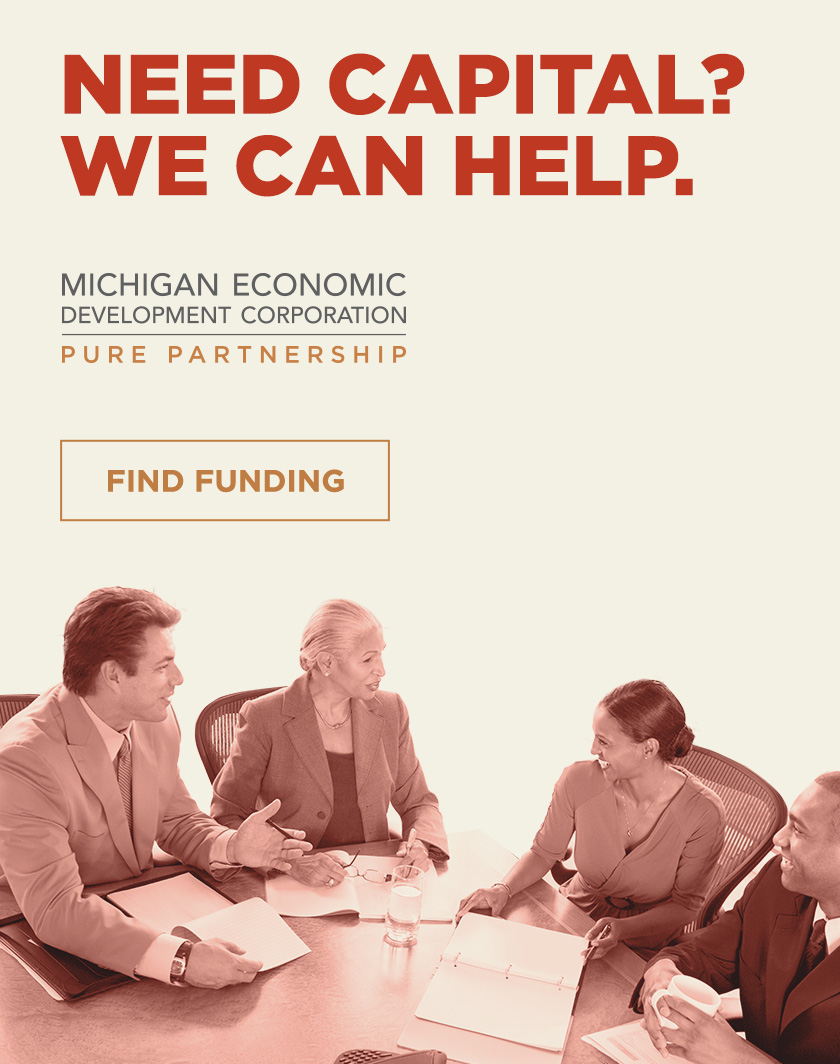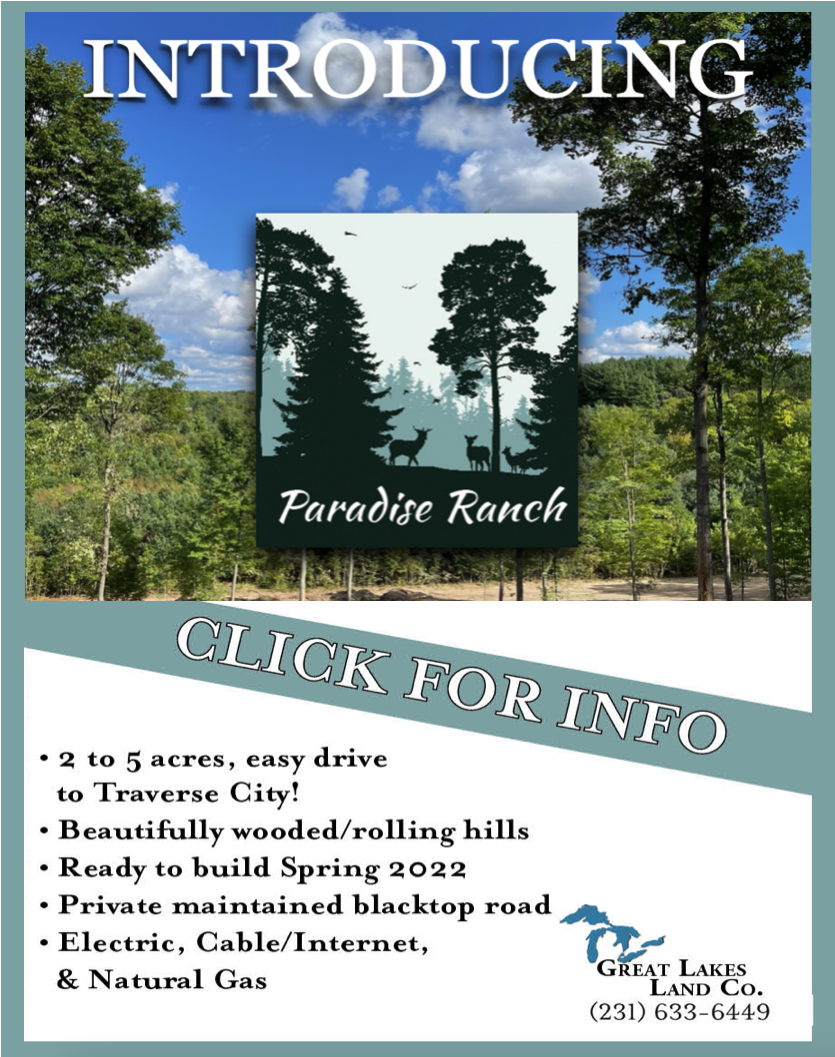 Property Watch: Little Cabin (And A Big One) In The Woods
Leelanau County? Check. Stunning setting? Check. Near Traverse City? Just eight miles away, so check. Beautiful inside ...
Read More >>
Party for the People: Leelanau UnCaged Is Saturday Sept. 24
There's a brief moment at the end of each September Up North, after the summer crowds have ...
Read More >>