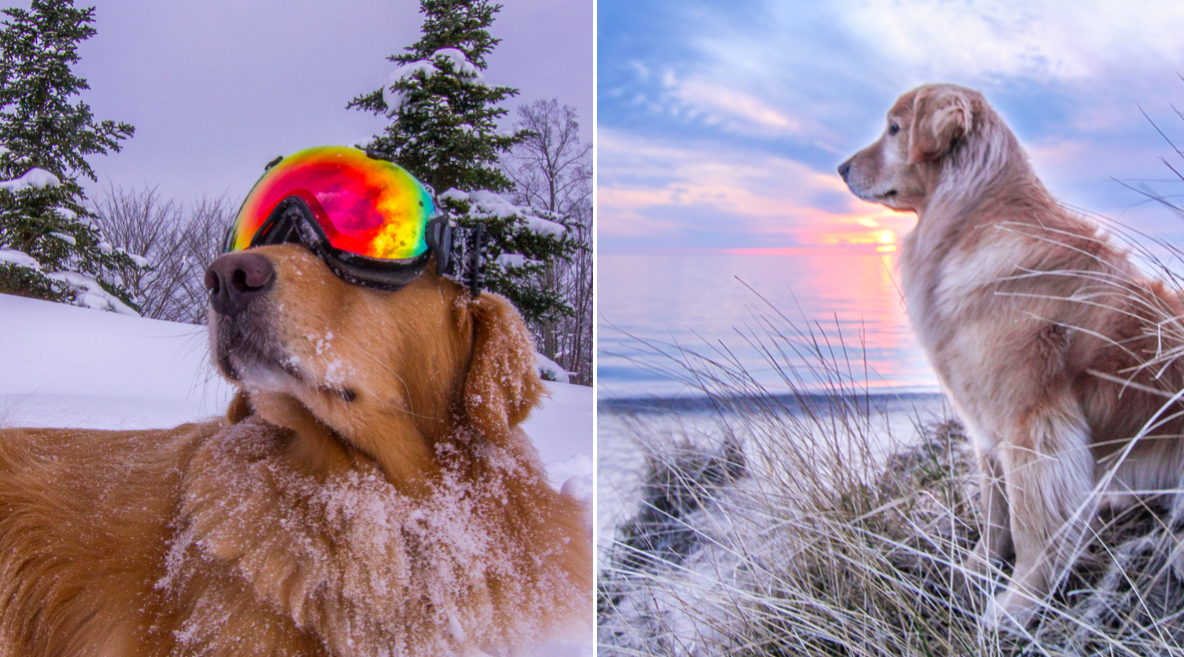 Glen Arbor's Most Famous Golden (And How You Can Be His Groupie)
By Kandace Chapple | Nov. 19, 2021
There's nothing about this group not to like. Except the strict admission policy: You must own a Golden Retriever. Or, minimally, borrow one.
"People ask me all the time if they can bring a Goldendoodle," club co-founder Jeff Rabidoux says. "I tell them to start their own group!" He's laughing, but he means it. That playful and open nature is exactly what makes Rabidoux the perfect guy to host Leelanau's most famous dog group: Northwest Michigan Golden Retriever Club.
Also, it helps that he has Glen Arbor's most famous Golden Retriever: Fisher.
You might have seen Fisher's cameo on the wine labels at Glen Arbor Wines. Or at Crystal Mountain Resort, where he is the Canine Ambassador. Or, at the 2nd Largest Gathering of Golden Retrievers.
Fisher's story is good: Where to begin?
Fisher, now 9, was named after the lake he lives on: Fisher Lake, which channels into Big Glen Lake. For years, Fisher was a mainstay at the office where Rabidoux worked as a real estate agent. Eventually, Rabidoux went to work at Crystal Mountain Realty and took an office at Crystal Mountain Resort. The only catch was, could he bring his dog?
That's where Fisher's fame really took off.
Initially, Fisher was allowed at the office, where he made an immediate impression on guests. "My office door connected to the lobby at the resort where everybody checks in," Rabidoux says. "I just let Fisher out there to do his thing."
Over time, the resort's policies no longer allowed animals in the workplace. Fisher was sent home…but about a year later, one of the guests at the resort stopped Crystal's owner Jim MacInnis and said, "Where's the dog?"
"What dog?" MacInnis asked.
"The dog my kids have talked about the last four hours in the car and can't wait to see!" he replied.
MacInnis headed to Rabidoux's office and offered for Fisher to come back if there were a way to do it and still meet HR's policy. "The bottom line, after researching other hotels, was that we had to hire Fisher as an employee – a Canine Ambassador," Rabidoux says. "The new HR director's first hire was Fisher."
In order to make it work, Fisher went through intensive training. He has an AKC Good Citizenship Certificate, which means he has excellent behavior in public settings. He's so good now that he will ignore guests' dogs at the resort – sometimes people think he's snubbing them, but he's doing what he's been trained to do.
He takes his celebrity in stride: Guests want photos with him, including out on the slopes in the winter and he's become famous online as well. (Follow his golden life on Instagram @resortk9.)
And about those "groupies," who are actually just 3000-plus dog friends and their humans: Northwest Michigan Golden Retriever Club started in 2017 as a spin-off of sorts from Rabidoux's friend, Betsy Van Westen's private annual gathering of Goldens in Leelanau County. Rabidoux saw the local interest for Golden Retrievers and proposed forming a separate group, open to the public. Jeff set up the club, started a Facebook page and organized several gatherings. Betsy is the group's co-admin-and-host.
"I met Jeff [because] our dogs are half-brothers – and they were regular attendees to my annual event," Suttons Bay's Van Westen says. "Jeff decided it would be fun to meet more often, and I had to agree!"
The club meets to hike, walk in parades or…try to set records.
"I heard about the Largest Gathering of Golden Retrievers in Golden, Colorado," Rabidoux says. "They had about 1,000 dogs, so we decided to go for the second largest gathering."
The tongue-in-cheek event hosted 148 dogs in 2019; their 2021 event this fall had 146 dogs. People came from all over Michigan – Ohio and Indiana too – to gather at Jacob's Corn Maze on M-72, in a huge field with a small pond for the dogs to swim in.
The group has launched many friendships: Rabidoux says the group rejoiced when WTCM radio producer Colleen Wares, who lost her beloved Goldens in the past few years, said her heart healed enough to finally adopt a new pup. "All of these people in the club can pick you up and love you and understand where you are," he says.
And as for how well behaved the group is? Rabidoux says some dogs can run free and be fine, while others are leashed. He embraces all the levels of craziness and says: "When someone gets a puppy, my one piece of advice is, 'don't stop training.' It's like a Journey song!"
Most of the club meet-ups welcome from 20 to 50 dogs. The group meets this Sunday (Nov. 21) for O Golden Night, Jeff says with a laugh. "What a corny name I came up with!"
For locals fortunate enough to have a Golden Retriever own you, meet at the Perry Hannah statue at the corner of Sixth and Union at 5:30pm for a stroll through the brightly decorated neighborhoods, and downtown Traverse City, concluding the evening with a holiday libation at The Little Fleet.
Next, on Dec. 4, catch the jolly group of Goldens in the Manistee Sleigh Bell Parade, where at least the people participating will walk dressed up in Old English garb. "We just let the dogs have fun," he says. "It is one of the coolest parades in Northern Michigan. If we happen to get a snowy night, it's like stepping back in time."
Join the Northwest Michigan Golden Retriever Club on Facebook to follow future meet-ups.
Photos: Jeff Rabidoux
Comment
On This Day In 1960, A Storm Stranded This Freighter Off South Manitou's Shore Forever
November 29, 1960 brought blinding snow squalls and wicked high winds to the Great Lakes causing the ...
Read More >>
Suttons Bay Bikes Is Matching Donations For New Herman Park Pump Track
The Northern Michigan Mountain Bike Association and Bike Leelanau are moving forward with their efforts to bring ...
Read More >>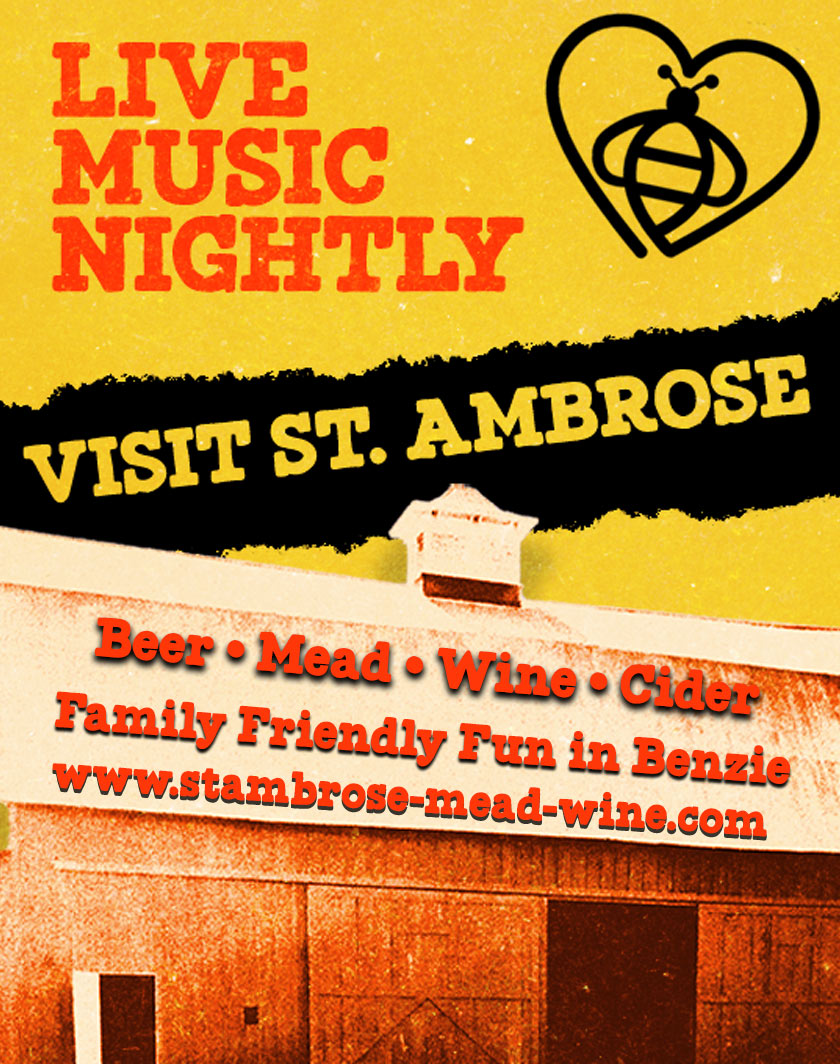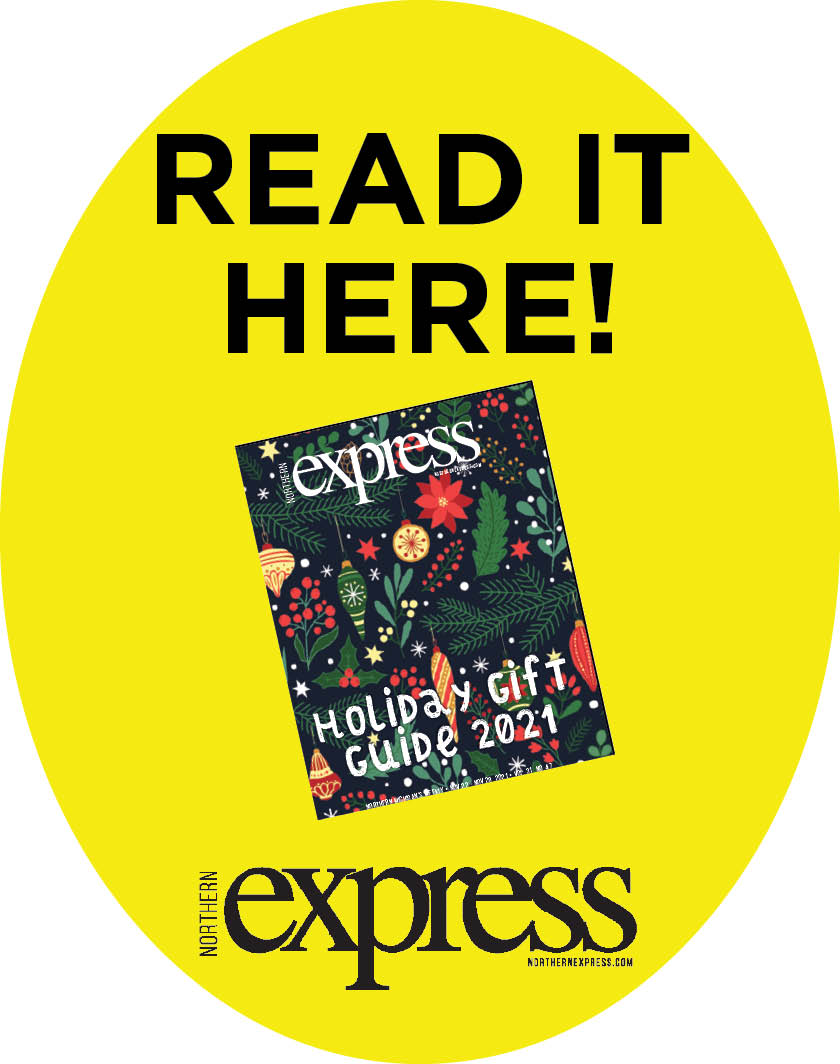 Shop Local: A Made-In-Leelanau Holiday
Holiday shopping look may look a little different this year with people opting to shop more local ...
Read More >>
Ice Rink Will Return To Hancock Field In Leland Thanks To Grassroots Support
The revival of the ice rink at Hancock Field last year (after a 10-year dormancy) was a ...
Read More >>