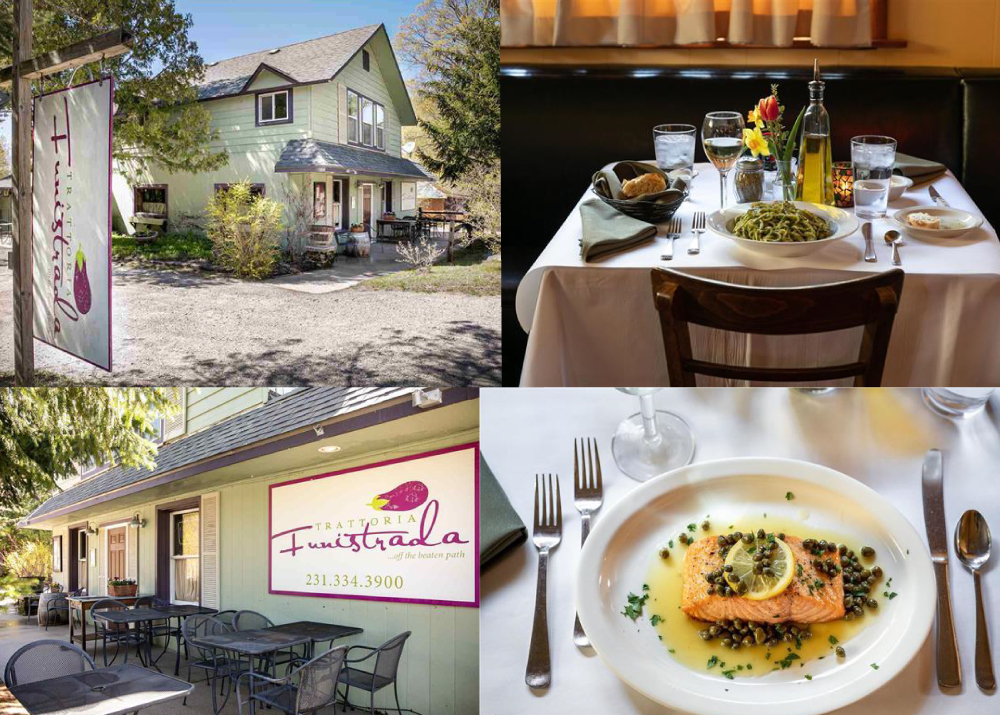 Leelanau County's Cherished Trattoria Funistrada Hits The Market After Two Decades
By Emily Tyra | May 28, 2021
Trattoria Funistrada, nestled a block-and-a-half from Big Glen Lake in Burdickville, was listed yesterday at $1,495,000, offering a chance to carry on a longtime destination dining spot in Leelanau County.
Betsy Webb of Serbin Real Estate — also the aunt of Trattoria Funistrada co-owner Holly Reay — says, "The Reay family has built this business with love, great food and good business sense since 2000, and is ready for their next chapter."
Webb, who is co-listing the 3,500-square-foot restaurant with broker Rob Serbin, adds this by no means is the end for "Funi," as locals refer to the dinner spot: "the business will be sold turnkey, and includes all licenses, fixtures, supplies, furniture and management help with the transfer of ownership."
It's also not yet last call for Funistrada's famed veal saltimbocca and notable wine list. "We are definitely staying open throughout the selling process," Holly Reay tells the Leelanau Ticker. "We are in for the long haul, no matter how long it takes."
The restaurant's Glen Lake locale is steeped in nostalgia, as Leelanau Ticker's sister pub Northern Express notes: in the 1970s and '80s, the building that Funistrada now occupies was a German restaurant called the Glen Lake Inn. Originally, a century ago, it was a dining hall for nearby cabins that didn't have kitchens.
Fate led couple Tom and Holly Reay to drive by the cottage-like restaurant — one of their favorite spots to go to dinner as "summer kids" in Glen Lake — and see a sign for an auction scheduled for that very day. They had been dreaming of opening a restaurant with that vibe they remembered from childhood, so they jumped, and made the winning bid that night.
The Reays' menu and recipes — which they are willing to share with their successors — are a tribute to the Italian American community in St. Louis, Missouri called "The Hill," near where Tom grew up.
Webb says of locals' initial reaction to the news, "the hope is whomever buys it continues the traditions, but of course it's ready for someone else's own take on it. Holly and Tom chose only to run it for dinner, but if the new owner is on board, there is great opportunity to expand sales and business."
Webb adds, "if the new owner is relocating to Leelanau County, as has been a recent trend, there is a darling upstairs apartment they could live in." This space is also an option for rental income or employee quarters.
Holly Reay says, "We're super proud that almost all our employees own their own homes and we've put our two kids through college." She adds, "The most meaningful part has been the people. Most definitely the amazing staff and that feeling that 'everyone is in this together', but also the customers and all the special occasions we've hosted and shared in. It's really been a community. That part will be hard to walk away from."
"Everyone knows them and loves them," says Glen Arbor resident and Glen Arbor Wines owner Lissa Edwards, of the patronage which allowed an off-the-beaten-path restaurant to be a year-round establishment. "In 21 years, Tom and Holly turned Funistrada into a destination restaurant. I've had customers who tell me they planned their vacations around when they could get a reservation."
Hospitality business opportunities elsewhere in the county have resurfaced, including Sugarfoot Saloon, a Cedar staple since the late 1960s. The 2,956 square-foot brew pub located on 1.34 acres has a $575,000 price tag which includes the Class C liquor license for on-site consumption and take-out, brew pub license and catering license.
Maple City's Little Traverse Inn and Gastro Pub — which went under contract two days after owner Graeme Leask listed it for sale — had its first purchaser fall through. Nicole Anderson of Coldwell Banker Schmidt Realtors says it, too, is being sold turnkey, as a "longterm operation with tenured staff, return guests, regular local clients, and growing revenues." The three-plus acre property includes the historic 1890's restaurant/inn with an 84-seat dining room, bar, beer garden and patio, plus a six-room bed & breakfast and innkeepers' cottage. All fixtures — fittings, furniture, inventory, POS system and licenses are part of the asking price: $1.9M.
Comment
Food Sovereignty Program Sees Third Harvest For Grand Traverse Band
The summer harvest is upon us, and out on a farm in Peshawbestown, good things are growing. ...
Read More >>
Personalities Of The Peninsula: Boatbuilder & Man About Town David Dean
You might have met David Dean out and about in Leelanau County, but there's so much more ...
Read More >>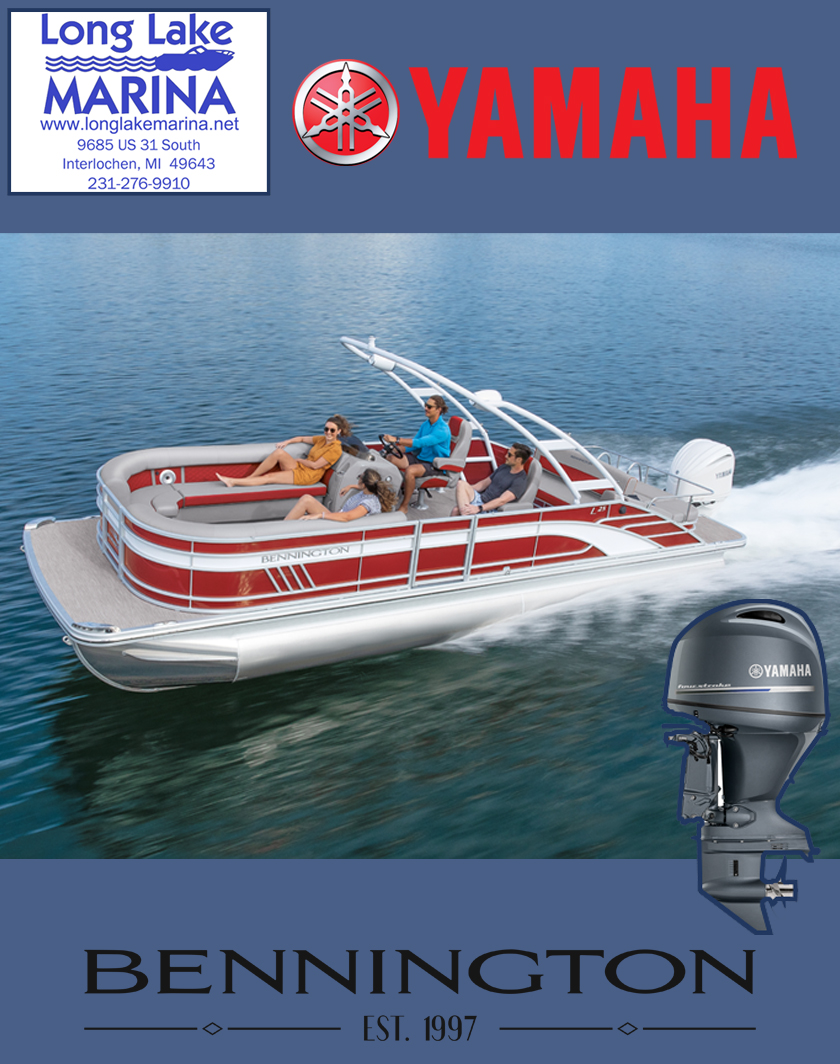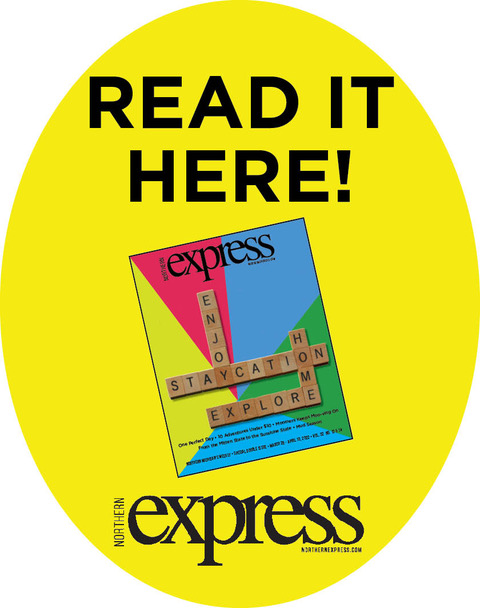 Potential Benzie Visitors Center, Seasonal Workforce Housing On Agenda For Sleeping Bear Gateways Council Meeting
In the past year, Sleeping Bear Gateways Council (SBGC) has begun a project to address the area's ...
Read More >>
Free Junior Ranger Program Inspires A New Generation of Anglers
Fishing for fun and knowledge? Why not? At Sleeping Bear Dunes National Lakeshore, the Junior Ranger Angler ...
Read More >>