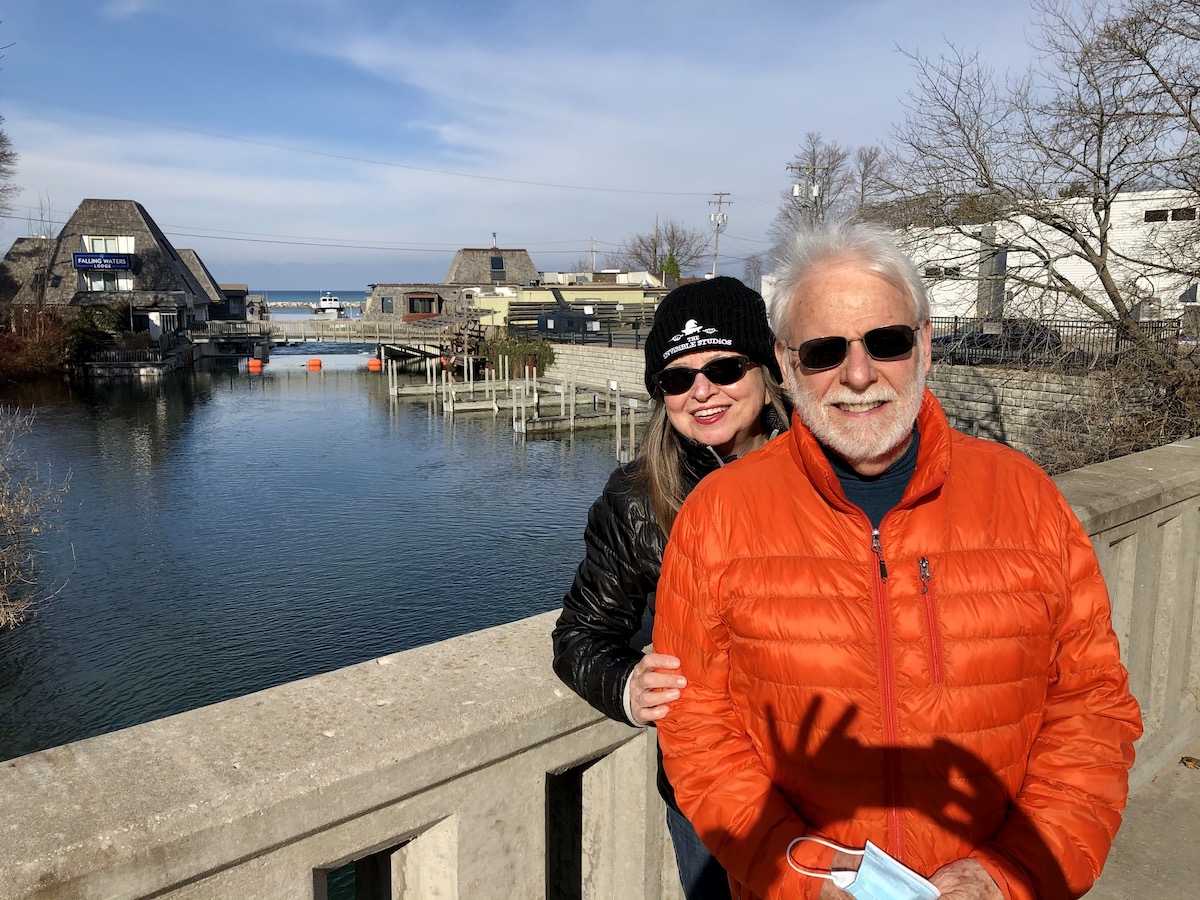 Leland, Michigan -- The Epicenter Of True Crime Podcasts
By Patrick Sullivan | Nov. 23, 2020
One of the world's most popular true-crime podcasts — "Hollywood and Crime" — was born four years ago here in Leelanau County. After decades working in film, television and theatre on both coasts and from their home base in Leland, Rebecca Reynolds and Jim Carpenter decided, four years ago, to use their own money to start a podcast.
They had not listened much to the then-nascent artform, but perhaps that fact helped them to reinvent the format. The couple launched a podcast franchise called "Hollywood and Crime," which was quickly picked up by the Wondery podcast network; their first series, "The Black Dahlia Serial Killers," debuted at No. 1 on the iTunes podcast charts. It is often credited with inventing the historical true-crime format that other podcasts emulate to this day: a blend of exhaustive historical research and dramatic reenactments tied together with suspenseful narration.
Since then, two more series the couple produce — "Young Charlie" and "The Wonderland Murders" — have debuted at No. 1 on iTunes, and they hope the same for "Death of a Starlet," which comes out on Wondery Plus tomorrow (November 24) and will be available to nonsubscribers beginning December 8.
In this week's Northern Express — our sister publication — writer Patrick Sullivan chatted with Reynolds and Carpenter from Leland, which has been their home since the mid-90s.
Express: What's the new series about?
Reynolds: It's about the death of Dorothy Stratton in 1980. She was just a beautiful young girl from Canada who was noticed by Playboy, and she became a centerfold, and she became the Playmate of the Year in 1980. And she fell in love with film director Peter Bogdanovich, and he was shooting a movie with her. Unfortunately, she was married to a really wacko guy. And — do you want the spoiler alert?
Express: [No spoiler!] What else can you tell us?
Reynolds: We hired a local writer for "Death of a Starlet." You probably will recognize her name, Mardi Link. It was wonderful working with her. We didn't know her before. I had attended one of her workshops at the Leland Library just because I was interested in her investigative reporting. And we were able to get her interested. And she was interested in the world of podcasting because, as you said, it's the going thing right now.
Express: What is your role in the production of a podcast like this?
Reynolds: Well, we are the creators of the "Hollywood and Crime" series, and we're the producers of the shows. A producer is more a combo person — you know, you don't really have directors [in podcasts]. If you listen to "The Dating Game Killer" [a six-part series about one of America's most prolific serial killers], in the credits, it says written and directed by Larry Brand and produced by us, with our host, Tracy Patton. Larry Brand was our late writing partner, writer/directing partner. He died in 2019. He was my longtime writing partner since our first gig back in the '80s.
Express: I'm sorry to hear about your loss. How was it that you three went from making films together to making podcasts?
Reynolds: I had never listened to a podcast, and Jim had listened to Marc Maron and some Terry Gross. But we had this idea, this "Hollywood and Crime" idea, that was sort of like "Law and Order." You know, it just had a ring to the title. We originally pitched it as a TV show to the ID channel.
We know people there, and they essentially said, "We're more about 'who done it' rather than 'why done it.'" And the 'why done it' was the part that interested us.
You may know the Black Dahlia [the nickname given to victim Elizabeth Short, whose graphic 1947 murder in Los Angeles gave rise to a media frenzy and years of public speculation that yet remains unsolved]. But you don't know that during the same period of time, 12 other women were also murdered and mutilated, because the Black Dahlia got all the press. So, we just knew that was a good, rich premise. We decided to just produce the pilot on our own.
Express: And you then you found yourselves making a podcast before you really knew what a podcast was.
Reynolds: We hired Screen Actors Guild actors because I'm Screen Actors Guild, and we're union. And, you know, we put our money where our mouths were. And then our host had just met Hernan Lopez, [a former Fox television executive who founded and] is the CEO of Wondery. And he listened to it, and he bought it. I mean, so this was one of those amazing flukes, you know? The timing was just right, and all of a sudden, we had a podcast.
Express: Have podcasts taken over your focus?
Reynolds: [Yes,] for a couple of reasons. Ninety-five percent of our time we can be here [in northern Michigan]. We're not having to raise money to produce a film. And then, of course, by bringing Larry Brand on to write and direct, our team was all gainfully employed. And other opportunities were on the horizon. But that took the wind out of our sails when he died suddenly. And so, we've just been happy to continue as we are right now.
Express: Where do you see podcasts going in the future?
Reynolds: Wondery has become a powerhouse company, and "The Black Dahlia Serial Killers" was their first No. 1 show, but they have grown exponentially. The executives from Wondery came from television, and now they're feeding into television with "Dirty John" or "Dr. Death." Podcasts are a breeding ground, or a training camp, for stories that could become television. It certainly is a less expensive way to find out if something is working or not. The other thing I think is fascinating about podcasting is we were their first original series on Wondery, and there weren't a whole lot of podcasts out. As you know, now they're all over the place, and they're in every shape. There are people doing them out of their basement, in the garage.
Express: Do you each have a favorite podcast?
Reynolds: I like the podcast "You Must Remember This." Karina Longworth is just great.
Carpenter: One that we discovered — we've been watching reruns of "The West Wing" on television — and there's a new podcast out, "The West Wing Weekly" podcast. It goes through episode by episode, so that's kind of fun to follow along with while we're watching the reruns.
Reynolds: Yeah, because I have to say, we don't have television. We just have Apple TV. So, with going through the election and the last debate and everything, in order to survive, we had to go to "The West Wing" reruns, only to find out that we weren't alone. One of our friends in Leland, they were going through it for the sixth time. And that's a bit excessive, but …
Comment
Free Entry To Sleeping Bear Dunes To Celebrate Martin Luther King, Jr. Day
Sleeping Bear Dunes National Lakeshore Superintendent Scott Tucker is pleased to announce that the entrance fee to ...
Read More >>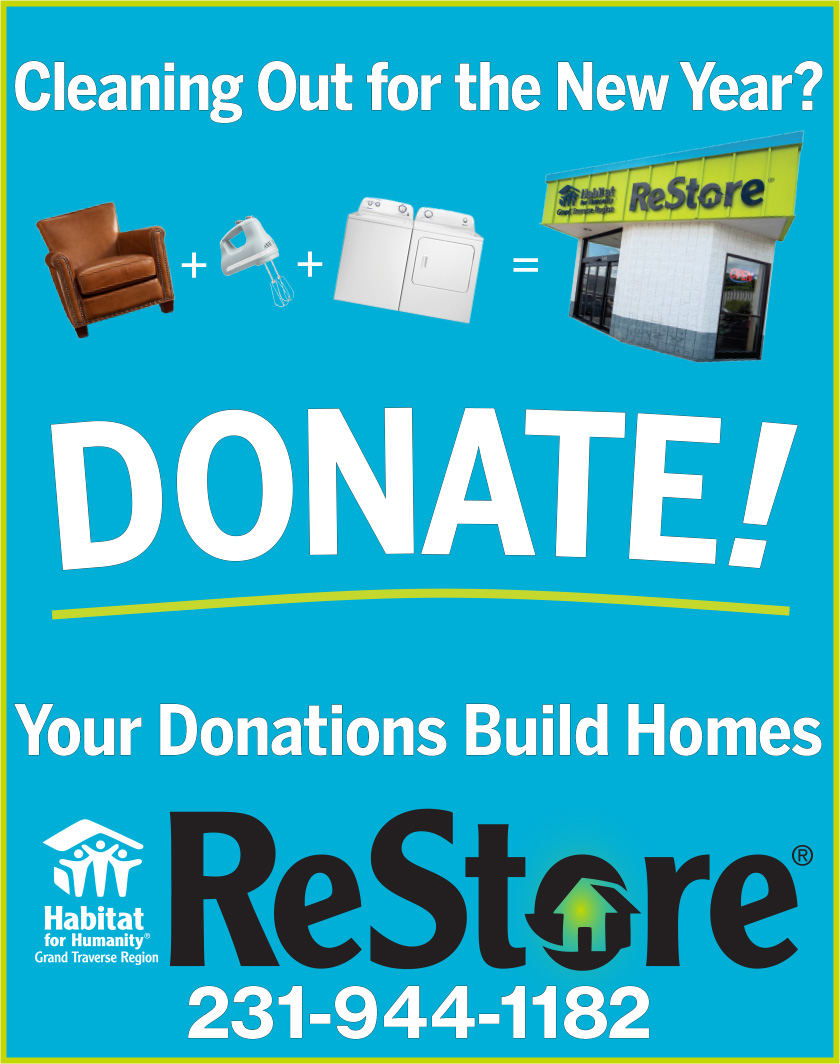 The Front Porch Seeks Support For Suttons Bay's Laundry Project
The founder of The Front Porch in Suttons Bay, Bobbie Eggert, will be honored the weekend of ...
Read More >>
Wineries Open Trails For Snowshoes, XC Skis And Fat Bikes (Plus Expand Winter Outdoor Service)
A handful of Leelanau wineries are inviting guests to make use of recreational trails on their properties ...
Read More >>