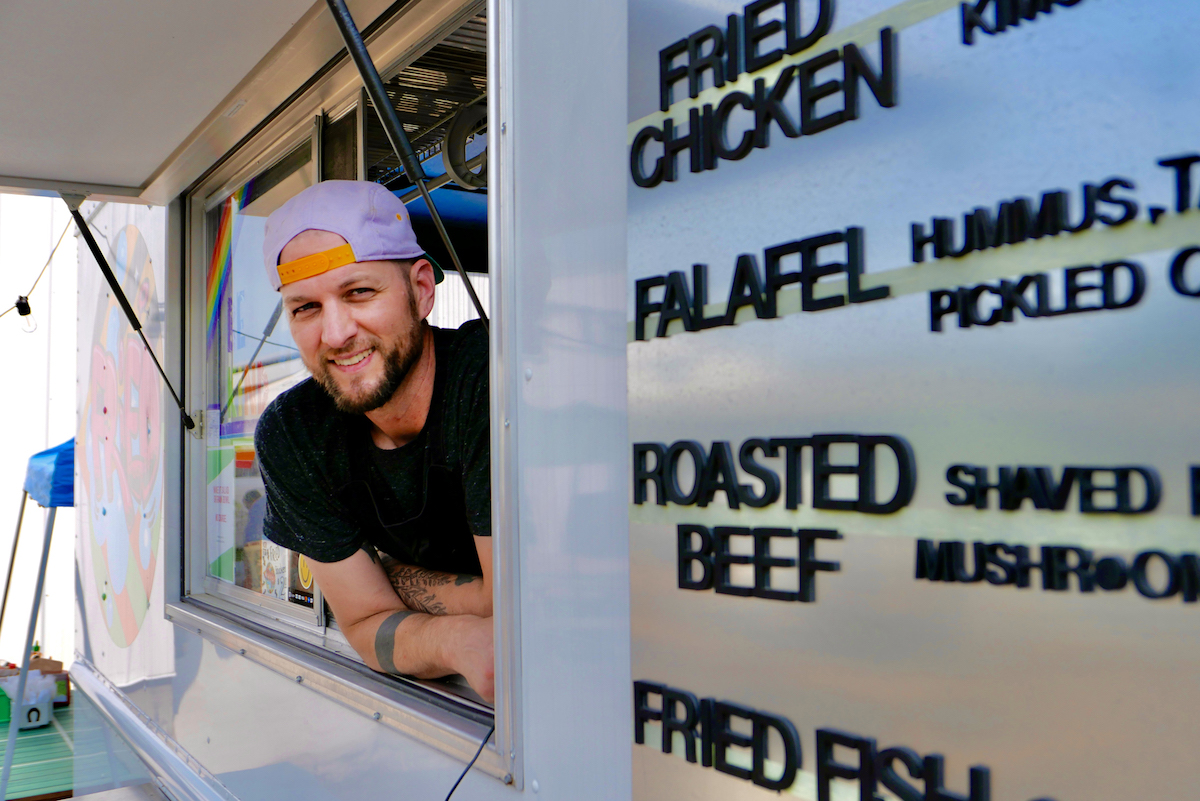 New Food Truck Lot Opens In The Crystal River Outfitters Recreational District; More Food Truck News From The County
By Emily Tyra | May 18, 2022
A new food truck lot comes May 19 to the outskirts of Glen Arbor. A Polish-cuisine food truck debuts in Cedar Memorial Day weekend. The county's long-loved taco stand, Cedar Sol, cracks open its window for a 13th summer on June 9. The Leelanau Ticker brings you the latest (food truck!) dish from around the county:
Katy and Matt Wiesen, co-owners of Crystal River Outfitters Recreational District, are reopening their newly rebuilt livery this month as well as a new food truck lot next door at Riverfront Deli.
Shares Katy Wiesen, "We are excited to announce that we will be bringing in two food trucks on a vacant lot we acquired next to Riverfront for the season in order to continue with unique and quality food options for this side of Glen Arbor."
The Wiesens purchased Riverfront Deli — a Glen Arbor staple for pizzas and homemade comfort food — last July, prior to an accident and fire at Crystal River Outfitters.
Wiesen explains the rationale for hosting food trucks this summer rather than re-opening the deli itself: "When we purchased Riverfront Deli in 2021, we had every intention of keeping it the same as what Tim and Sue Nichols had developed, but also planned to renovate the space during the winter," she says. "Unfortunately, the building needed far more extensive renovations than what we expected, which caused us to pause while we focused on rebuilding Crystal River Outfitters."
The Wiesens say they still have plans for the current Riverfront space but those will be tabled until fall 2022. "Our future plans will still include keeping the food trucks on this other parcel of land even when we move forward with reinventing Riverfront," she says.
Locals and visitors can plan on seeing two trucks daily throughout the summer and fall beginning late May.
The Recreation District's foodie lineup so far includes Fried, operated by regionally renowned chef Adam Raupp (pictured, above), serving 11:30am-7:30pm starting this Thursday, May 19.
Fried earned fans last summer while stationed at the outdoor lot at Short's Brewing Tap Room & Production Brewery in Elk Rapids. There Raupp, a Great Lakes Culinary Institute grad, brought his kitchen chops from Mission Table and the now-iconic Grand Rapids eatery Marie Catrib's to his fried-but-so-fresh food truck menu.
Living up to its name, Fried offers delectably crispy Great Lakes walleye with turmeric slaw, and a crunchy falafel plate with tabbouleh and hummus, plus pickled onion and pita. For dessert: chilled Turkish coffee and — a claim to fame — homemade chocolate pudding.
"Adam has a great culinary background and will be a fun addition to the Crystal River Outfitters Recreational District," Wiesen shares, adding, "We are still taking applications for the remaining food truck slot and moving slowly to make sure we land on a quality operator who will complement Glen Arbor. Ideally, we would love to have some sort of ethnic offering to stay unique but are open to quality food operators to be open six to seven days a week summer and fall."
With permits in hand, Cedar farmers and entrepreneurs Tom and Kathleen Koch share that they are on track for the opening of their Polish Heritage Farm food truck Memorial Day weekend.
It will operate this summer in the alley behind Polish Art Center, which is Leelanau's source for imported Polish pottery, jewelry, and delicacies. Hamtramck born-and-raised Tom Koch will now bring the cuisine of his childhood to the county, including sausages, pierogi (served with shredded beet and horseradish salad), bigos (a traditional hunters stew) mizeria (cucumber and dill salad) and golobki (stuffed cabbage). Those are handmade by Srodek's Campau Quality butcher shop especially for the food truck, with a mix of the Kochs' own Mangalitsa pork and beef locally raised by Dennis Garvin.
Kathleen Koch says a summery way to get acquainted with the food truck is the smalec tasting board. The Polish lard delicacy is accompanied by dill pickles, pickled vegetables, sliced homegrown tomatoes and Polish rye bread from Palace bakery in Hamtramck.
The county's "OG" seasonal taco stand, Cedar Sol, will be operating this summer in the same fashion it has since co-owners Michael and Nichole McHugh started it in Cedar in 2010. That is, with "a pre-smartphone era cash register, window service only, and informing folks of the terrain, topography and tacos." Tacos come with a choice of Michigan-sourced meat or wild rice and Michigan-grown black beans, plus cilantro, onion, lime, and housemade hot sauce on the side. The Cedar Sol Taco Stand will be open Thursday through Sunday, 3pm to 8pm beginning Thursday, June 9.
More topnotch street tacos can be found starting this Saturday at noon in the village of Northport at Antojitos ("little cravings" in Spanish). Josh Rutila (born and raised in Northport) and wife Ellie Rutila (who hails from a small town outside Mexico City) started their food truck in 2019, and for the 2022 season hope to add new times outside their typical Friday nights and Saturdays (stay tuned on social media).
Ellie Rutila says their best-seller "by far, are the chicken tacos, a traditional Mexican tinga in chipotle sauce." But she loves sharing real deal cochinita pibil, which is pork roasted to tender perfection with achiote, garlic, and a smattering of other Mexican spices. "That juicy pork topped with pickled onions…I just love it," she says. This summer she is debuting empanadas, "filled with mole verde and chicken or rajas, which is roasted poblano peppers with cream and corn." She is also bringing on her small-batch churros. "It's been my dream since we started the truck, and now I have the machine to make them — and the tools to fill them — straight from Mexico." Those who experienced her churro preview at Northport's tree lighting in December know they are crispy-on-the-outside, chewy-on-the-inside cinnamon-cloaked delights filled with either chocolate or dulce de leche.
Also in Northport, chef Pauli Penning and his eternally-buoyant summer crew are already firing up pizza pies and impromptu entertainment to pair with tasty Mitten Brewing Co. suds. North End Pizzeria — Home of The Big Hot Woody — one of the county's first food truck-style upstarts — opened in late April for the 2022 season in its seasonal spot next to the outdoor patio at The Mitten.
Rounding out Northport as a destination for food truck fans and families: Around the Corner Food & Fun continues with a year-round, eclectic playlist of from-scratch comfort food from its food trailer on Waukazoo Street. Outdoor seating and an Instagram-worthy graffiti fence go up this week. Northport Public School art classes are creating the inaugural fence design, which co-owner Laura Cavendish decribes as a "living, breathing mural, always changing." Around the Corner's in-progress indoor bar space is coming later this summer.
Comment
A 30-Foot-Wide Sinkhole Opens On Private Property Near Clay Cliffs In Leelanau County
High water, low water, and erosion are seemingly always on the minds of waterfront property owners in ...
Read More >>
After The 4th: Latest Leelanau Blotter and 911 Report
The Leelanau Ticker's post-July 4 weekend look at the most alarming, offbeat, or otherwise newsworthy calls ...
Read More >>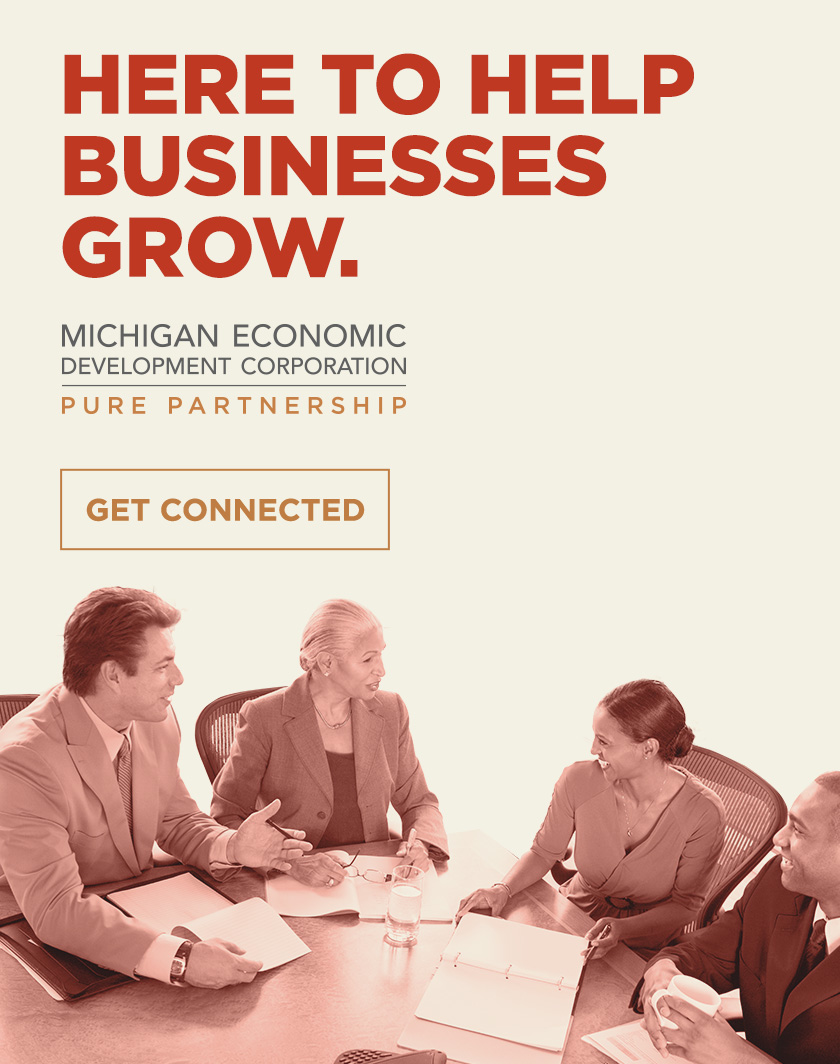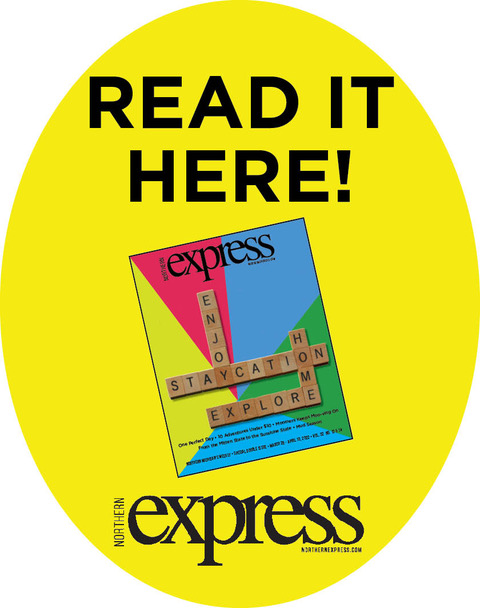 A Plan, A Van, A Boat (And Lots Of Hope): The Kitners' Year-Long Journey To Call Northern Michigan Home
Nathan Kitner and Lily Grant-Kitner beamed as they stepped through the door of their Lake Ann rental ...
Read More >>
The Latest Leelanau County Blotter & 911 Call Report
The Leelanau Ticker is back with a look at the most alarming, offbeat, or otherwise newsworthy calls to ...
Read More >>