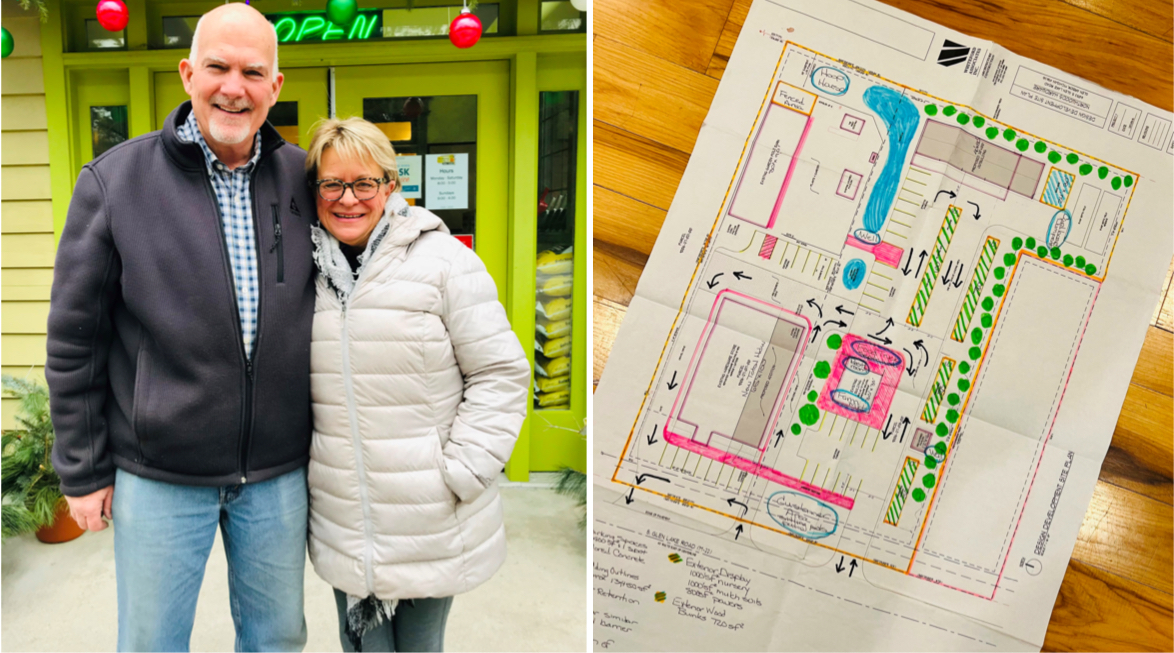 Northwoods Hardware Embarking On Expansion At Former Wildflowers Property
By Ross Boissoneau | Jan. 19, 2022
Maybe it's one of those so-called good problems. As business at Northwoods Hardware Home & Garden in Glen Arbor picked up, parking became problematic. Co-owner Jeff Gietzen knew he had to do something about it, but without additional space he was hamstrung.
Then Donna Burgan decided to retire and close her longtime Glen Arbor home décor store Wildflowers located next door. However, it was immediately purchased by a downstate developer. The plan was to build 12 condominium units dubbed "The Grove," starting at a cool $450,000 each.
The developer encountered challenges moving forward, and last spring approached Gietzen with an offer. "We got a call May 21 wondering if we were interested in buying one or both lots," he says.
The answer was an unequivocal yes. Gietzen and his wife Georgia decided to move ahead, with the idea that the additional space could provide a number of advantages. First and foremost, it would allay those parking challenges. He said during the summer, business increases by eight times, which leads some to park on M-22 across the street from the store. "We didn't like people walking across busy M-22. Parking was our biggest need," he says.
The plans don't stop there by any means. Besides the additional parking and improved driveway circulation, Gietzen envisions a 50 percent expansion of the hardware store, adding a new 40x80 storage building, increasing the lumber offerings, an enhanced screen shop and a new rental center, as well as a new drain field in the back.
The store will also offer more in the flower and garden supply area. "We will also be adding 10,000 square feet of nursery stock material for retail sale," Gietzen says. It will be managed by Chris Skellenger, who for several years ran his own nursery in Empire with his wife Sue.
Gietzen says the various projects will be done in phases. "We're clearing the lots now" for that additional parking, he says. Following will be the new storage building, the rental center, and the screen shop.
While the parking is the biggest current challenge, Gietzen says the additional on-site storage will be a huge boon. As an example, he points to the fact Northwoods took delivery of several Weber grills in December, which are currently being stored in a separate facility in Empire. "That will be a big benefit. We won't have to run down the road."
"We can use the added space for elbow room and more inventory," he continues. That includes offering a larger selection of lumber, though he notes, "It won't be a complete lumber yard like Honor Building Supply."
Gietzen says the rental center will feature equipment such as power floor sanders, log splitters, drills, ladders, portable cement mixers and other similar tools, not commercial equipment. It will service those in the area who would otherwise have to go to a much larger facility. "Seasonal summer (residents) don't want to go to Traverse City," he says.
That fits in with the direction the Gietzens have taken Northwoods since purchasing the store in 2010. It previously primarily focused on the needs of contractors; while the store still services that market, it's now geared more toward retail and working with a residential clientele.
That includes the front part of the store, which is largely given over to home goods. Gietzen's wife Georgia opened her Northwoods Home & Gift store on Western Avenue five years ago, with gifts, specialty food items and home décor. After her lease ran out, she wrapped it back into the hardware store.
Jeff says that is part of the store's draw, and part of what makes the expansion appealing. He and Georgia both have a background in grocery retail. Jeff was previously CEO of the D&W supermarket stores in the Grand Rapids area before the 25-store chain was bought by Spartan Stores Inc. in 2005. Georgia's grandfather, Roy Woodrick, co-founded D&W stores in 1943 with Sid DeVries.
In addition to carrying items like Fustini's Oils and Vinegars, Stonewall Kitchens products, kitchen items and the like, that background serves them well in terms of creating eye-catching displays. Gietzen says people who come in the store tell him it doesn't look like a hardware store. That carries over into the garden center, where the stock includes not only garden items but bird feeders, wind chimes, and décor for the outside of the home.
As the store continues to grow, both in terms of its space and its clientele, Gietzen says he eventually hopes to host various home improvement classes, led by both staff and area professionals. Down the road he's even envisioning adding a food truck. "Glen Arbor businesses get so busy that people want something quick. This will make [Northwoods Hardware] more of a destination."
Comment
Community Feedback Needed Prior To Renovations At The Center In Suttons Bay
The Friendship Community Center (The Center) of Suttons Bay will soon be launching a capital campaign to renovate ...
Read More >>
Newcomer Northern Michigan Rowing Club Expands To Two Leelanau County Lakes
The long, skinny boats of the Northern Michigan Rowing Club (NMRC) now have a second lake in ...
Read More >>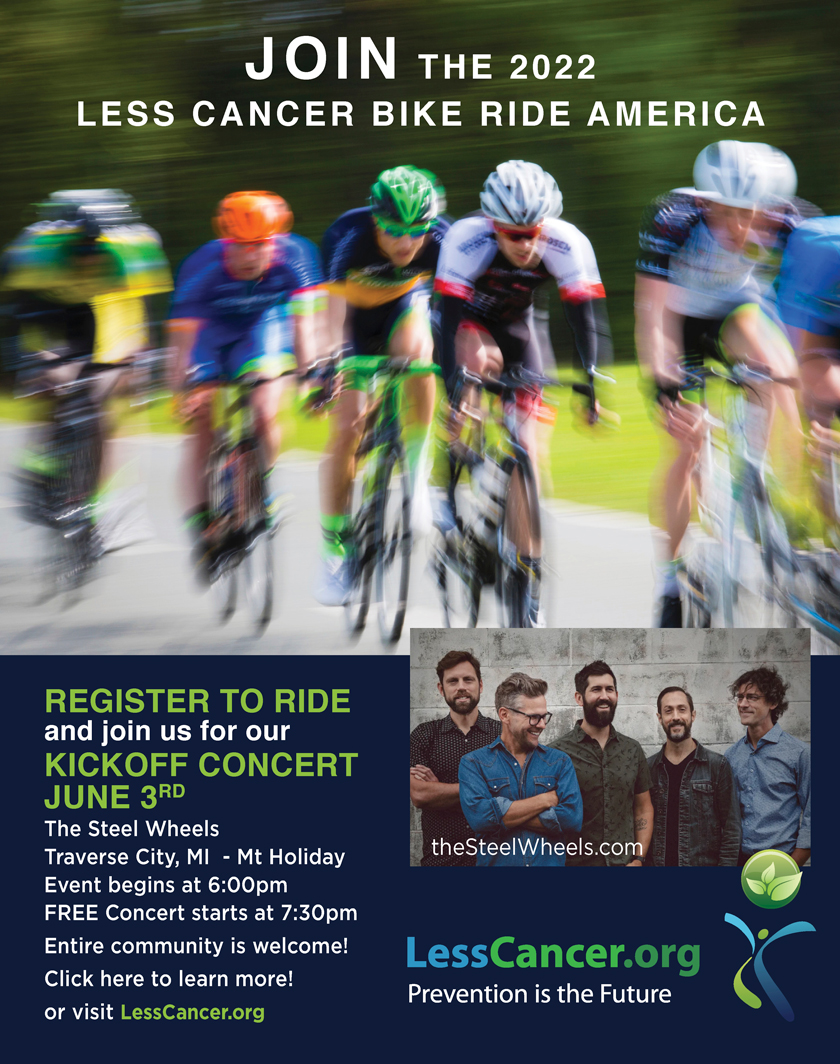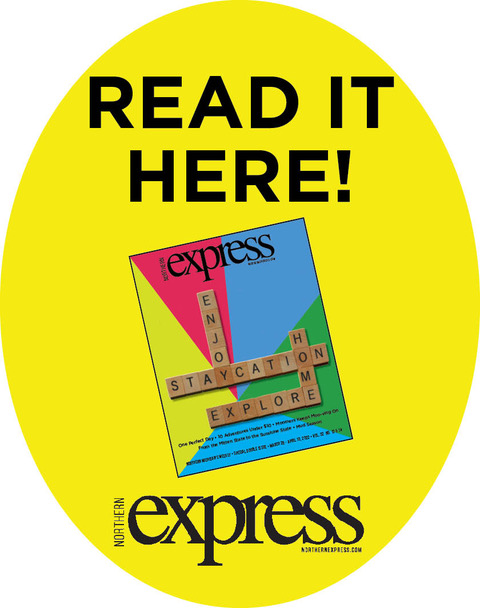 Just 17 Homes Sold In April In Leelanau County
While prices continue to escalate, the number of residential real estate sales continues to shrink, both due ...
Read More >>
Picnic Comes to River & Main; Fishtown Receives Governor's Accolade; LCC Gets A New Playground & More Scoop From Leland
It's the first day to snag some whitefish pâté at Carlson's in historic Fishtown, whose dedicated Fishtown ...
Read More >>