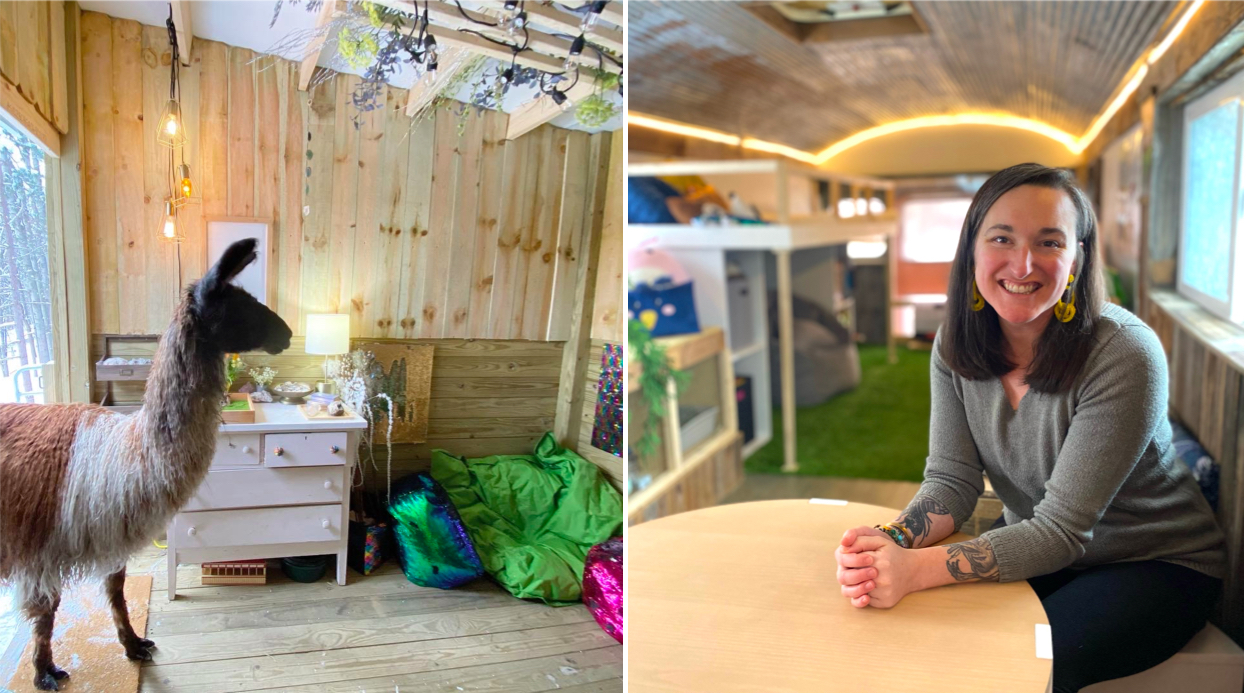 Startup Spotlight: Leelanau's Mental Health Care On Wheels (& How Llamas Teach Lessons)
By Kandace Chapple | April 11, 2022
Clinical social worker Meg Mertaugh-Graber recently opened Care-O-Van, a mobile mental health service that operates out of a retrofitted school bus. Plus, she's offering animal-assisted therapy sessions at her Leelanau County farm, AVEC Care Farm. (The French word avec means "with." Translation: With Care Farm.) That's where the llamas come in. With playful names like Fish and Sheepdog. But how exactly do a bus — and llamas — make for happier souls? Keep reading, we'll explain everything…
Leelanau Ticker: First, tell us what you do?
Mertaugh-Graber: I am a clinical master social worker (LMSW), and I specialize in early childhood trauma and childhood sexual abuse, LGBTQ-IA2S+, depression, anxiety and intergenerational trauma.
Leelanau Ticker: What is your focus?
Mertaugh-Graber: I often see adults who experienced early childhood trauma and offer support for how their past traumatic experiences impact their current functioning and capacity to parent. I am passionate about helping them find gentleness with themselves and become more reflective as a parent. We explore how their experiences play out within their interactions with their child. I help them navigate how the brain and body are impacted by chronic stress and trauma. And how to feel healthier, happier and more cohesive as a family.
I have experience in working with ages birth through elementary age and adolescents, as well as adults.
Leelanau Ticker: Why a bus and why now?
Mertaugh-Graber: The bus is mobile and confidential. That's my number one goal: getting out and reaching clients to provide a safe space, separate from their home.
At the time COVID hit, I was working at an elementary school. I immediately initiated telehealth to reach my clients, but the majority of the experiences were really tricky. Before, the kiddos had a confidential space at school that was separate from their homes. But, suddenly, they were always in their home with caregivers present, and stress levels skyrocketed. Oftentimes there was no access to a confidential space and, on top of that, many were in a traumatizing relational environment.
I thought, How can I create some kind of space to meet outside of the home or school? That is how the Care-O-Van was birthed!
Now I can drive out to a park and meet clients. Or park outside of a school and have kids come see me. Or go to a community group and provide a confidential space for those who are seeking support. The possibilities are endless.
Leelanau Ticker: What kind of therapies do you offer on the Care-O-Van?
Mertaugh-Graber: I specialize in offering expressive and experiential therapeutic methods that are hands-on, integrative and nature-based. I offer play, culinary, art, music, movement, nature-based and animal-assisted therapies. From my experience, some of the most profound healing is experienced in relationship with nature and particularly animals, where individuals can express, process and experience themselves beyond words.
Leelanau Ticker: Ok, let's talk llamas.
Mertaugh-Graber: Animal-assisted services is another part of my care model. When you come to the farm, the Care-O-Van is parked 200 feet from the llama barn and provides an indoor and confidential space to talk and process and, in general, acts as therapy office on site.
Leelanau Ticker: Can you give an example of an interaction with a llama?
Mertaugh-Graber: It's really about clients enhancing their awareness of others and of themselves, by learning how to respectfully and safely interact with animals. Clients learn empathy, social-emotional skills the capacity to self-regulate as well as advocating for themselves.
For example, I teach about the llamas' nonverbal language. Just as we each have our own body language and cues, so do animals, which invites conversations about how the client relates with peers, family and others in their lives. The llamas' behaviors might be showing someone, "Hey, I need space!" or "Oof! Your voice is loud!" or "Your body is surprising when it moves so quickly!"
Clients are invited to learn and practice self-awareness, impulse control, and self-regulation skills in order for the llamas to feel safe enough to approach them to interact.
Leelanau Ticker: So are the llamas about learning to be calm?
Mertaugh-Graber: No, it's many things. Let's look at another example, such as someone who may have experienced harm and may struggle with emotionally and physically shutting down, and remaining present within their body. Just observing where someone may put their feet when interacting with the llamas may show how much body awareness they have, ways in which they advocate or do not advocate for their own body boundaries and safety. [This] gives me a ton of information to assess what support is needed.
These interactions are so pure and can teach you a lot about yourself. Clients gain more self-awareness and practice in a safe environment with therapeutic support, how to advocate for their own boundaries and feeling safe in their body. This work unfolds into profound learning, healing and growth.
Leelanau Ticker: What's next?
Mertaugh-Graber: My goal is to hold sessions at AVEC Care Farm two days a week, and then spend three days located at various school and community sites throughout our rural region to enhance access to services. I am working to create a "mental health fund" for our community members. I am actively seeking sponsors to finance Care-O-Van's services for those who have barriers to care.
Leelanau Ticker: And last but certainly not least, what are your ties to Leelanau County?
Mertaugh-Graber: I live in Leelanau County at the base of the peninsula, on four acres where we've started our little family farm. I was born and raised here…my parents are Dr. Tom and Dr. Karen Mertaugh [who] started the Animal Medical Center near Chum's Corners. I grew up inside the clinic, and that's where my relationship and experience with animals was strongly founded. We had llamas as well as many other animals, who all became my confidants, teachers and guides growing up. My hopes are to give back to the community that raised me in similar ways, by offering healing services that are in partnership with the spectacular nature and community work already being done here.
Reach Mertaugh-Graber (and her llamas) via her website.
Comment
Leelanau Cheese Aims For Education And Awareness With Second Annual Cheese Fest
Northern Michigan already has a massive cherry festival and a popular, beloved asparagus festival. So why not ...
Read More >>
Nominations Now Open For 17th Annual Hagerty TCBN 40Under40
June is upon us, so it must be time to make your nominations for this year's Hagerty ...
Read More >>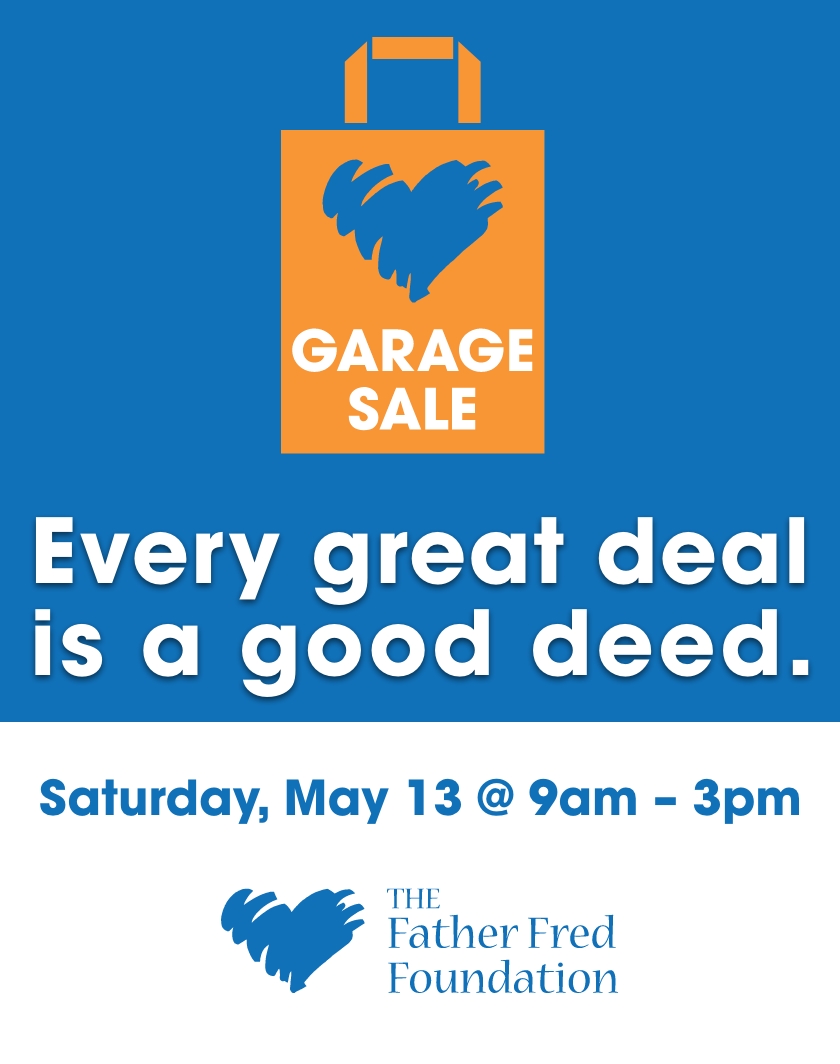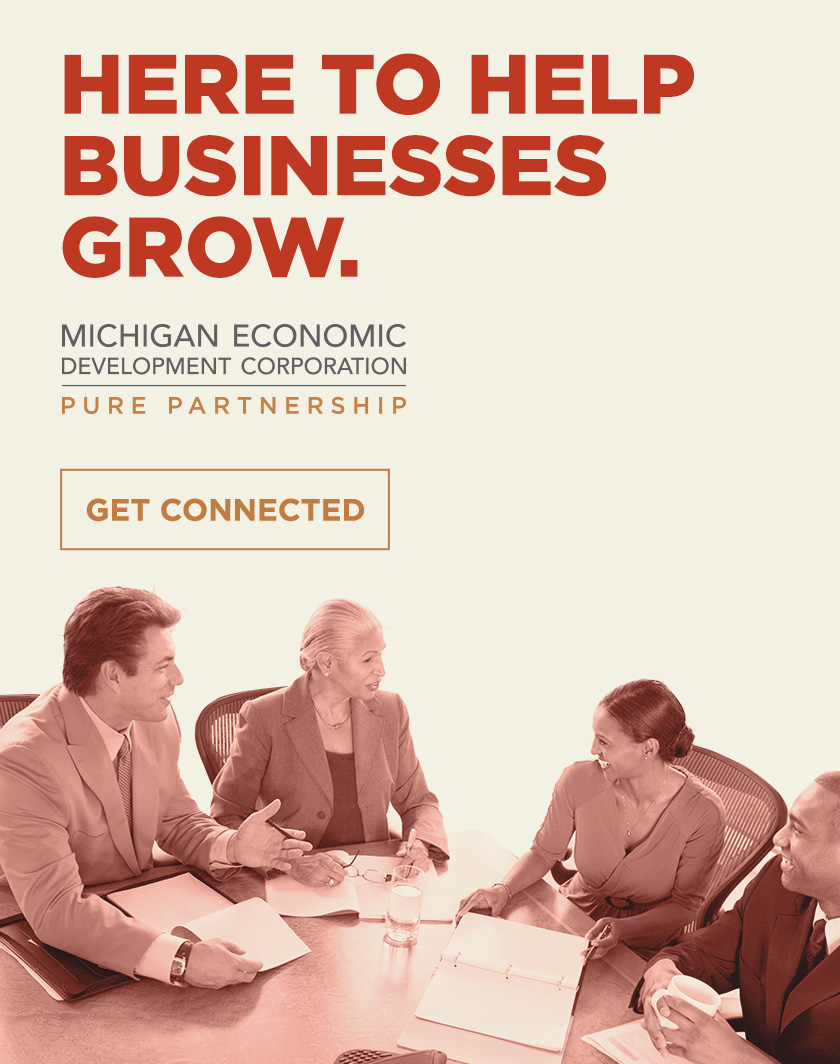 The Latest Leelanau County Blotter & 911 Call Report
The Leelanau Ticker is back with a look at the most alarming, offbeat, or otherwise newsworthy calls ...
Read More >>
Property Watch: Affordable, In The Heart Of The County
No, it's not tiny house living. But the word cozy does come to mind, as this home ...
Read More >>