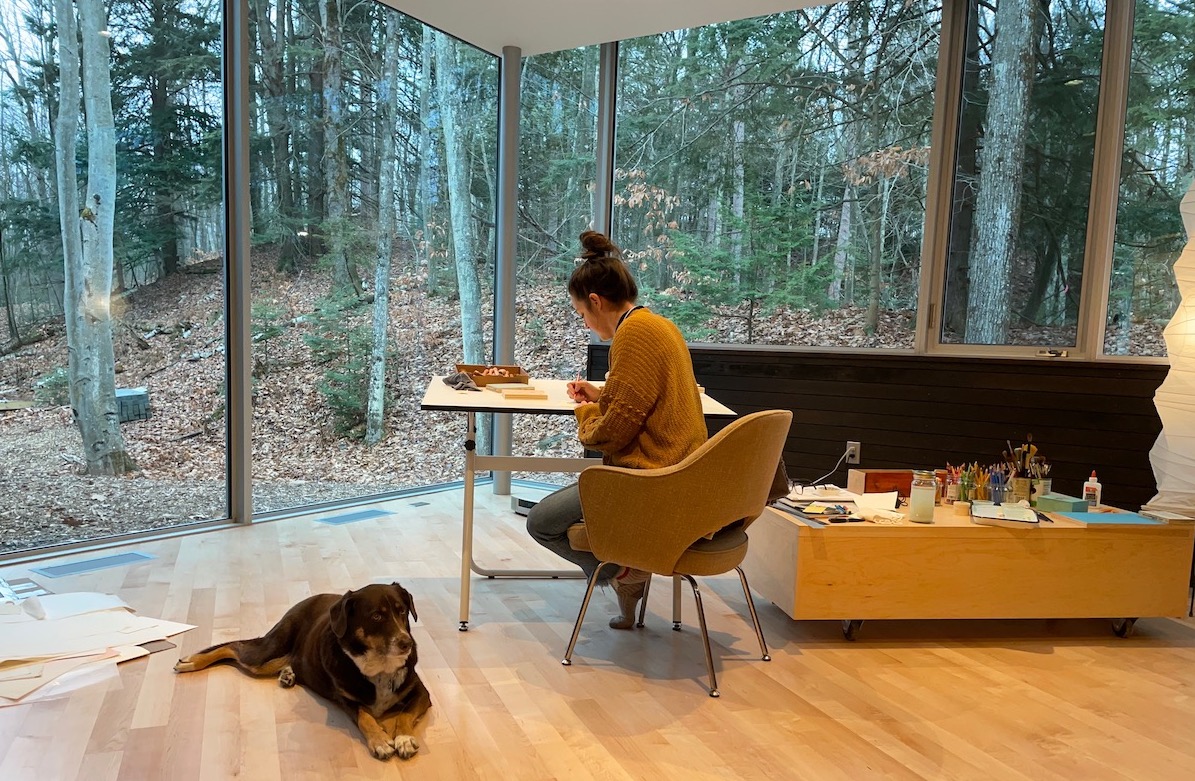 Tusen Takk Seeks Feedback Of Pilot Artists Before Launching Residency In 2021
By Emily Tyra | Jan. 1, 2021
Tusen Takk, a new art studio and guesthouse integrated into the forest near Leland — across the road from the famed modernist architectural site by the same name — kicks off its artist-in-residence program in 2021.
Maggie Pavao, assistant director of the Tusen Takk Foundation, says eight artists across the country have been selected and are confirmed to be in residence between March and December of this year. The nonprofit organization is dedicated to giving individual artists, writers, and composers the solitary time and place to create significant work.
But before the program becomes "official," founders Geoffrey Peckham and Patricia Melzer have invited a shortlist of pilot artists, including Traverse City illustrator Brianne Farley (pictured above), who worked and lived in the space this December. There will be one more, Dan Webb, in January, for a total of four pilot artists before the launch.
Peckham and Melzer live year-round in the main private residence on the property, designed by their friend, renowned architect Peter Bohlin, who created the iconic Apple store design and designed the homes of Steve Jobs and Bill Gates. The Tusen Takk residence has been featured in both Dwell and Architect Magazine.
After moving in six years ago, Peckham and Melzer immediately felt called to share this place and its wooded coastal landscape with others. So Peckham worked with Bohlin to design a new artist residency space.
Artists-in-residence have a place to live and work, with 24/7 access to the foundation's studios, which include a fully equipped digital photography studio and analogue darkroom, an etching studio for printmaking, a 63" Glimakra Swedish floor loom, and a painting studio able to accommodate making large works.
Peckham says that Farley — whose current focus is as an author and illustrator of children's picture books — was part of the open call for artists that closed in September. Farley has an MFA in illustration from the Savannah College of Art and Design and worked as a designer for Random House Books for Young Readers and Schwartz & Wade Books in New York before moving to Traverse City, where she now lives with her husband, Jonathan Timm, and dog, Buster. (Yes, he accompanied her during her residency.)
"She happens to be local, but Brianne was one among hundreds and hundreds who made the final cut, so the thought came to [Tusen Takk assistant director] Maggie and me to invite her for the pilot residency," Peckham says.
Farley had just a couple of weeks' notice to prepare to move in at Tusen Takk; once there, she says, the residency became "a time for incredible focus — both having time to focus on art and time to go for a walk and let the brain wander a little bit."
It also gave her accountability: she was able to ship a draft for her next picture book to her agent in Chicago.
She refreshed her passion for print making, too, "and I have the seed of an idea for another picture book…." She adds that part of her hope was also to "make mistakes — to make some ugly things!"
She says the Bohlin-designed space itself offers inspiration you would not get elsewhere. "The way the view of the woods reveals itself to you, is really cool, and subtle. It's architecture as art, like living in a sculpture."
The guesthouse is separate from the studio spaces, but, she says, "that separation is magical. When you go from the house into the painting studio, for example, it smells like cedar and oil paint. It's gorgeous."
For Peckham, the pilot residency was meant to be a career-boosting time for artists and a chance to play without time constraints, but also, for him, a crucial way to finetune the forthcoming residency program.
The kinds of feedback they are seeking from the pilot ranges from the aesthetic (making all the artwork on the walls changeable); and practical (dialing in a universal height and width of the sinks in the etching studios).
"In a very good way, they are helping us break in the house and studio. It can be anything from 'I can really use this size pot for boiling eggs,' to having the first fire in the woodstove. It spurs us on to get the place completely finished and turnkey in every respect."
Peckham says he's reaching out to the Northern Michigan artist community at large, too — Melanie Parke, Pier Wright, and Glenn Wolff have all given off-the-cuff feedback — and he hopes to keep a running list of "Friends of Tusen Takk," fellow artists who could be available spur of the moment to meet up with those in residence.
"We are not a public facility here, so if I were [in a new place] as an artist and needing some social outlet, I might want the names of other photographers to meet up with at the coffee shop," says Peckham.
Each of the resident artists create something to leave behind; Farley made the Tusen Takk Christmas cards — a block print of an angel flying through the woods.
The pieces left add to the patina of the space, and are fitting with the meaning of Tusen Takk, which is "a thousand thanks" in Norwegian. Farley adds, "I was saying to Geoffrey, the artists who stay here 15 years from now might use the colander someone who stayed here made — and maybe it's shaped like a hippopotamus. That's really rad."
Comment
A Historic Great Lakes Mapping Project, Right Here In Leelanau County
Contrary to popular belief, the oceans aren't the only bodies of water on Earth hiding a few ...
Read More >>
Property Watch: Gateway to the Forest
How'd you like it if your backyard butted up against a sprawling, 1,000-acre plus tract of forest ...
Read More >>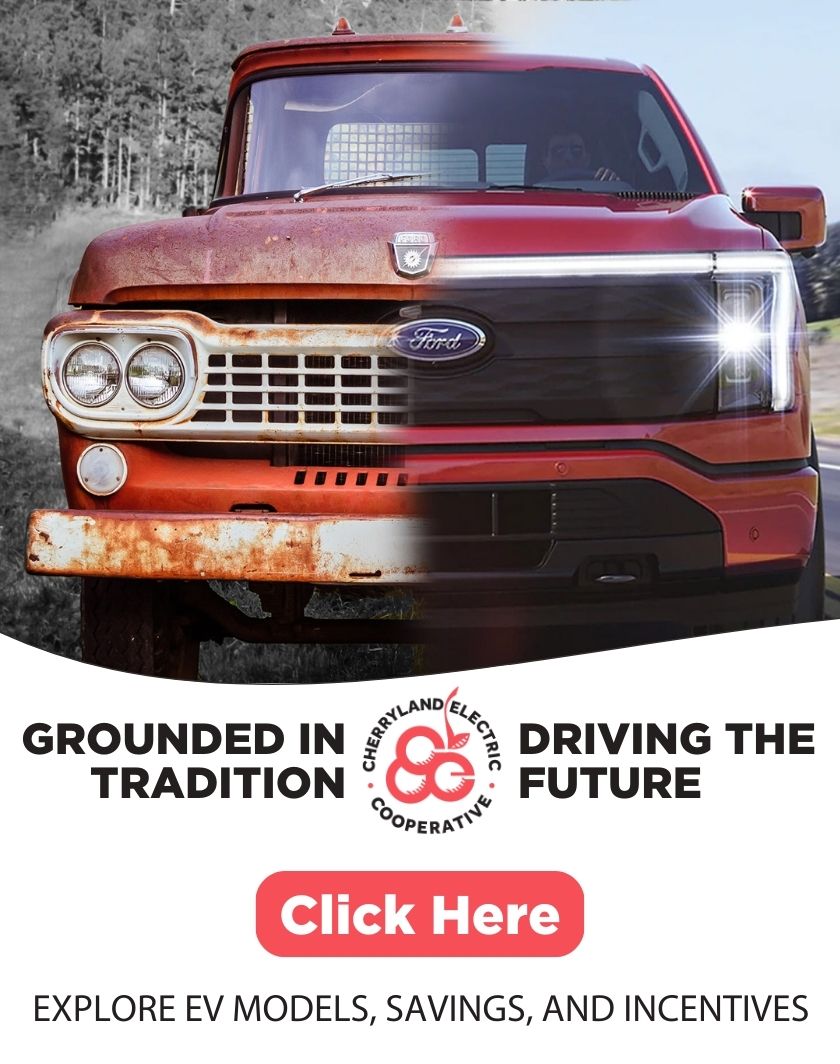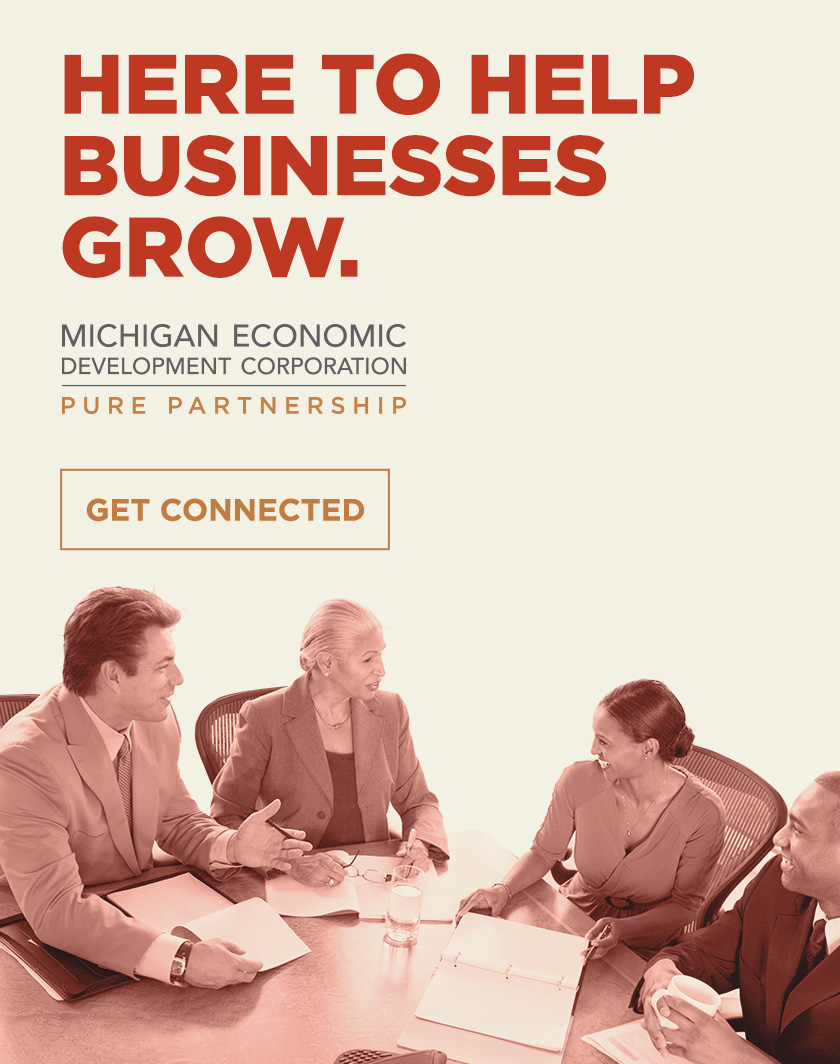 Bridging the Signal Gap: Verizon, T-Mobile Plan More Cell Towers to Boost Coverage
Dropped calls, undelivered texts, and sluggish data connections throughout Leelanau County have prompted frustration and raised concerns ...
Read More >>
Leland Township Considers USDA Financing For New Offices, Future Expansion Project
A loan from the United States Department of Agriculture (USDA) could save Leland Township more than $10,000 ...
Read More >>