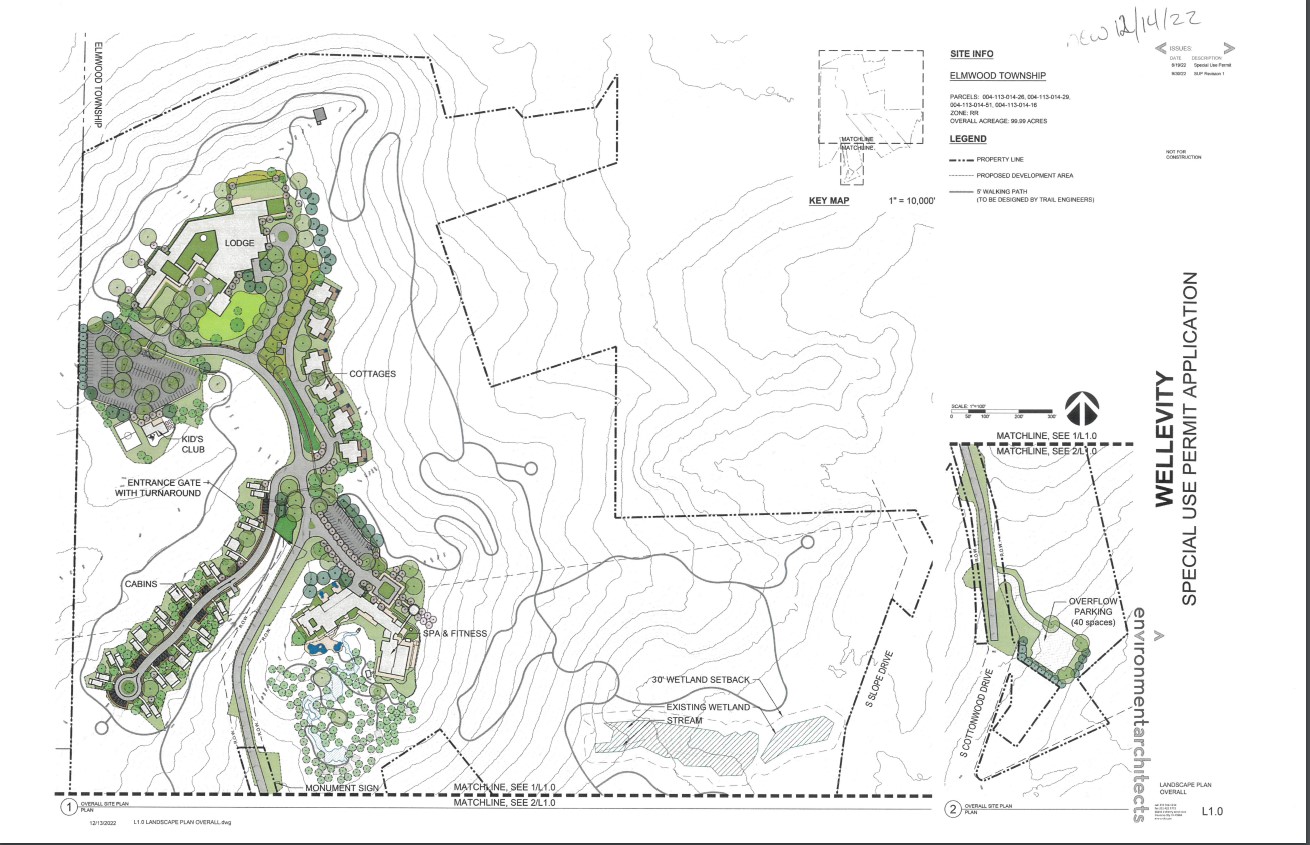 Ambitious New Wellness Resort Proposed, Spurring Debate In Elmwood Township
By Craig Manning | Jan. 6, 2023
A long-dormant piece of the Timberlee property in Elmwood Township could soon become the home of a new wellness-focused resort. The development would bring a hotel, residences, spa services, a restaurant and bar, and other amenities to one of Leelanau County's most desirable hilltops. But a small-but-vocal contingent of local residents say the project – particularly its private road access point – would have an enormously negative impact on neighboring homeowners, and therefore should not be permitted to move forward as envisioned. The fate of the project could be decided at a special meeting of the Elmwood Township Planning Commission on Wednesday, January 18.
Developers of Wellevity are seeking a special use permit (SUP) to develop 100 vacant acres at the top of the Timberlee property, zoned as a "rural-resort" district. Wellevity is described in township application materials as "a full-service wellness resort that will address the core components of health, wellness, and thriving to create an environment of self-care and healing." The resort would purportedly offer "all facets of holistic wellness in one place," including fitness classes, spa services, guided meditation, yoga, wellness retail, and more.
"You no longer need to go to a gym, a special grocery store, and a spa to achieve balance," Wellevity proclaims in its SUP application. "[Wellevity] is a place of learning, support, relaxation, connection with nature, movement, and tranquility. Our goal is to create a place where the community can gather with friends and family and make healthy decisions together."
If approved, Wellevity will boast multiple hospitality-related components and amenities, all owned and operated by the resort. Those components include a spa and fitness center, a "meditation dome," a retail market, a restaurant and bar, a multi-use event space, a greenhouse, outdoor pavilions for weddings and other celebrations, cabins and cottages available for rent, a kids club, and a main lodge with hotel guest room accommodations.
While the property would offer lodging – township materials indicate 30 guest rooms between the lodge and the spa buildings, as well as 20 cabins and cottages encompassing a total of 58 rooms – the Wellevity application repeatedly stresses that the concept is more "community center" than hotel. The majority of amenities and services proposed – from spa services to fitness classes to food service – would be open to anyone, not just overnight guests, and the property's trails and outdoor recreation areas would even be open for anyone to use at any time, free of charge. Specific outdoor recreation opportunities welcome on the property, per the SUP application, include hiking, running, snowshoeing, cross country skiing, foraging, bird watching, stargazing, and more.
Paid services slated to be offered include fitness classes with certified personal trainers; "medically and scientifically-based" spa treatments, such as lymphatic massage, red light therapy, and floatation therapy; cooking classes; guided meditation; yoga and HIIT classes; VO2 max testing; body composition scans; mobility assessments; and more. The open-to-the-public retail market component would "primarily support local farmers and community products" with an inventory of "ingredients and products that align with health goals." An on-site kids club would provide a place for guests to drop their children off "for a day of adventure and connection," with programming touted as having "a strong outdoor orientation" and focusing on "the tenets of wellness."
Finally, Wellevity plans to offer multi-use spaces both in and outdoors for business conventions, retreats, classes, family reunions, weddings, and other events. Application materials note that musical options "such as a DJ, acoustic or amplified bands may be offered in these spaces," but that Wellevity would always "intend to maintain a peaceful and serene environment on campus" and would align its outdoor music hours with other venues in Elmwood Township.
While the developer behind this project is not based locally – Wellevity, LLC lists a Columbus, Ohio address on its application – the application repeatedly stresses the developer's desire to minimize the impact on the environment and on neighboring property holders. Developers say they were enticed to bring this resort concept to northern Michigan due to the "immense natural beauty" of this area, that they are working with an environmental consultant "to advise us in conservation design and habitat preservation/restoration," and that every design choice will be made "with the lens of sustainability and conservation."
Despite these statements, Wellevity has ignited backlash from some homeowners who live near the site. On December 20, the Elmwood Township Planning Commission held a public hearing for the project, and multiple homeowners were on hand to voice their disapproval.
While residents raised a variety of concerns – ranging from questions about the estimated two-year, single-phase buildout process, to worries about how much light and noise pollution the resort would generate once built – most comments had to do with the issue of access. As designed, Wellevity would require visitors to enter the property by traversing a pair of private roads: Cottonwood Drive and Timberwoods Drive. Residents repeatedly described both roads as narrow, winding corridors that become icy and treacherous in the winter months and that see considerable pedestrian traffic from neighborhood residents throughout the year.
Speaking at the December 20 public hearing, Ansel Bowden – who described himself as "a resident who lives on Timberwood Drive" – suggested that developers should have to build an access road off the public Fouch Road rather than "funnel all of this traffic through a neighborhood that takes five minutes to drive through."
"Both in the morning and evening, I pass pedestrians as I go to and from work," Bowden said. "Because there are no sidewalks, pedestrians walk right in the middle of the road. All the residents are used to it: we slow down, we are cautious… My concern is that, at some point, it's inevitable that there is going to be a casualty [from increased traffic on this road], whether it's a person or a dog."
Bowden also raised concerns about the already-deteriorating private roads and questioned whether Wellevity would be paying its fair share to maintain or improve the infrastructure going forward, given that roads are not the responsibility of Leelanau County.
Also speaking at the hearing, Marc S. McKellar, an attorney with Traverse City's Kuhn Rogers who represents Wellevity, assured residents that his client has "every intent" of respecting nearby homeowners and their property rights, roads, safety, and quality of life. "I have not come across a developer who actually is this in tune with what is best for the project area, the environment, the neighborhood," he said.
Wellevity has not yet received SUP approval to move forward. The planning commission voted in December to table the conversation until they could review a batch of recently-received materials from Wellevity more thoroughly. That conversation will pick up at a special planning commission meeting scheduled for Wednesday, January 18 at 7pm. In the meantime, Wellevity's full SUP application and other materials can be viewed here.
Comment
Leelanau Cheese Aims For Education And Awareness With Second Annual Cheese Fest
Northern Michigan already has a massive cherry festival and a popular, beloved asparagus festival. So why not ...
Read More >>
Nominations Now Open For 17th Annual Hagerty TCBN 40Under40
June is upon us, so it must be time to make your nominations for this year's Hagerty ...
Read More >>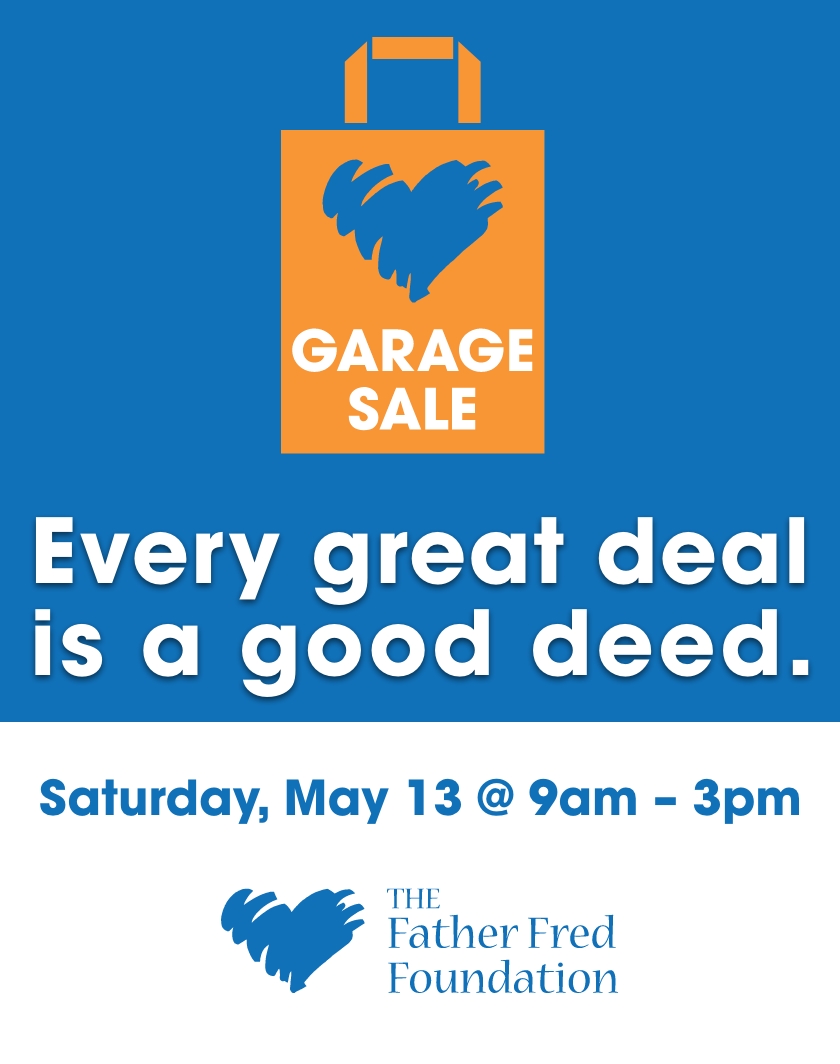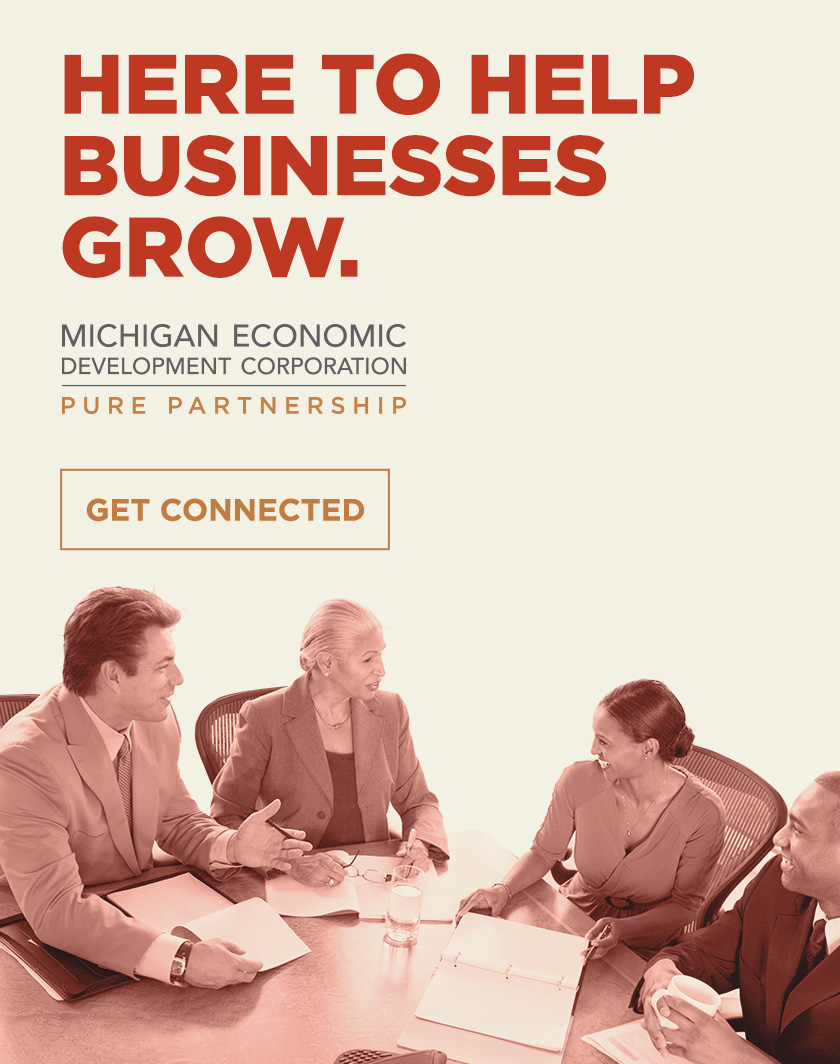 The Latest Leelanau County Blotter & 911 Call Report
The Leelanau Ticker is back with a look at the most alarming, offbeat, or otherwise newsworthy calls ...
Read More >>
Property Watch: Affordable, In The Heart Of The County
No, it's not tiny house living. But the word cozy does come to mind, as this home ...
Read More >>