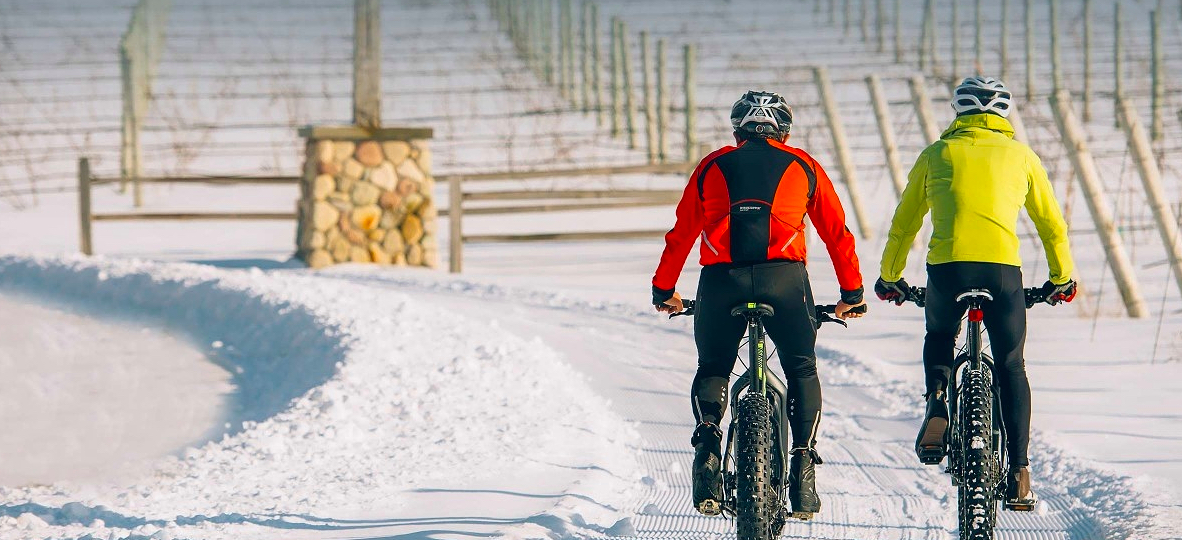 Wineries Open Trails For Snowshoes, XC Skis And Fat Bikes (Plus Expand Winter Outdoor Service)
By Emily Tyra | Jan. 18, 2021
A handful of Leelanau wineries are inviting guests to make use of recreational trails on their properties in snowy conditions — a perk for locals seeking ways to stay active, safely socialize, and support business across the peninsula. Meanwhile, more wineries have recently ramped up outdoor seating options for socially distanced imbibing this winter.
45 North Vineyard & Winery was among the first trailblazing wineries to invest in and groom a multi-use, all-seasons trail through its property. According to General Manager Alanna Grossnickle, "We've had the trail since the early days of the winery. Founders, late Steven Grossnickle and Lori Grossnickle, loved and love everything Leelanau and wanted to share the beauty of the land beyond wine tasting."
The same topography that makes the vineyard prime for fruit-growing gives the 3-mile trail its varied peaks and valleys to explore. "Our area is known for its drumlins and this property is no exception," says Grossnickle. "It's very scenic with all the rolling hills, snow-covered trees through the woods, a winding stream, and of course vineyards and an apple orchard."
The trail evolved significantly in the last five years with Brian Grossnickle, 45 North's vineyard manager, and Jay Briggs, its winemaker, partnering with nonprofit SEEDS — which specializes in after-school programs, a youth conservation corps, and energy and environment analysis — to create a mountain bike/fat tire trail. Explains Grossnickle, "both are bike enthusiasts and really wanted to see the trail evolve to include an International Mountain Bicycling Association (IMBA) certified trail — in part to enjoy themselves and to share with the mountain biking community around here."
She adds that there aren't many trails in the area that have the uphill climb the winery's does. "It can be challenging and can be a fast course in the right conditions." She notes, too, "there are plenty of areas just to try out fat tire biking without getting into more technical or difficult areas."
Novices can take advantage of fat tire bike demos the winery hosts with Nick Wierzba of Suttons Bay Bikes. Fat tire bikes can be rented from his shop, along with snowshoes and cross-country skies.
Grossnickle adds they will also hold cross-country ski clinics led by Leland Public School teacher/Nordic ski instructor Karen Kirt this winter, though "we don't have anything on the books yet since snow has been light…we will get all of these clinics posted on our social media."
Grossnickle says they are ready for après-ski guests with extra safety protocols plus a new-this-season snow village consisting of five igloos, and multiple fire pits, but she adds "the community is welcome to enjoy the trail system whether or not they are staying for wine. We have people on the trail every day — it's their go-to outdoor workout — not everyone stops after. And that's okay, just come back another day to enjoy a glass of wine if you don't want to mix wine with your workout."
More Winery "Trails"
45 North's trail connects directly to neighboring winery Blustone Vineyards' 1.5-mile BlustoneTrail offering hilltop views of the Lake Leelanau valley. Blustone is currently serving wine and cider with limited firepit seating on a first-come, first-served basis.
Rove Estate, too, offers a snowshoe and cross-county ski trail through its vineyard and surrounding property to wintertime winery guests (and has since 2017), with Co-owner McKenzie Gallagher telling the Leelanau Ticker that the winery added more fire pits over the weekend, in addition to the heaters and open seating available on the covered deck.
Managing Owner Sherri Campbell Fenton at Black Star Farms in Suttons Bay says the inn and winery's three miles of trails are always open for the public to use for hiking, snowshoeing, skate skiing or fat tire biking. "We have gentle to moderate trails, so something for everybody, with great views of forest, orchard, vineyard and bay." The winery is currently open daily for retail sales and wines by the glass on the patio.
Two K Farms is the newest on the trail bandwagon, with Tasting Room Manager Nic Schulte telling the Leelanau Ticker, "we are excited to announce that we will have some marked trails along the farm, vineyards, and orchards this winter." The staff plans to ease into the trails' public use by hosting cross-country ski and snowshoe events ($10 with a glass of mulled wine and a fire to warm up around after) with dates to be announced via Facebook and Instagram. Currently Two K Farms has an enclosed patio plus four heated igloos that can be reserved or acquired first-come, first-served. There is also a gas fire pit/patio that can accommodate groups, "or for the hardiest of visitors on nice winter afternoons," Schulte adds.
Leelanau Wineries (And Hard Cideries) With Winter Outdoor Accommodations
While most wineries are still offering curbside and retail sales, in response to Michigan Department of Health and Human Services (MDHHS) epidemic orders, many have opted also to ramp up outdoor services with enhanced safety protocols. Still others have installed igloos this season.
Hours vary and are evolving, and many require reservations, so double check the websites and social media before making a trek to visit.
A snapshot of those wineries with winter outdoor seating as of press time:
45 North Vineyard & Winery; Amoritas Vineyards; Bel Lago; Black Star Farms; Blustone Vineyards (limited); Boathouse Vineyard; Chateau Fontaine; Glen Arbor Wines; French Valley Vineyard (limited); M-22; Mawby (limited); Rove Estate; Shady Lane Cellars (limited); Suttons Bay Ciders; Tandem Ciders; and Two K Farms.
Photo: Trail at 45 North Vineyard & Winery by Tom Balazs
Comment
New Owners For Glen Arbor's Landmark Bicentennial Barn, With Roots That Go Way Back
It's a good thing Greg and Heather Ford are well acquainted with home renovations, because their next ...
Read More >>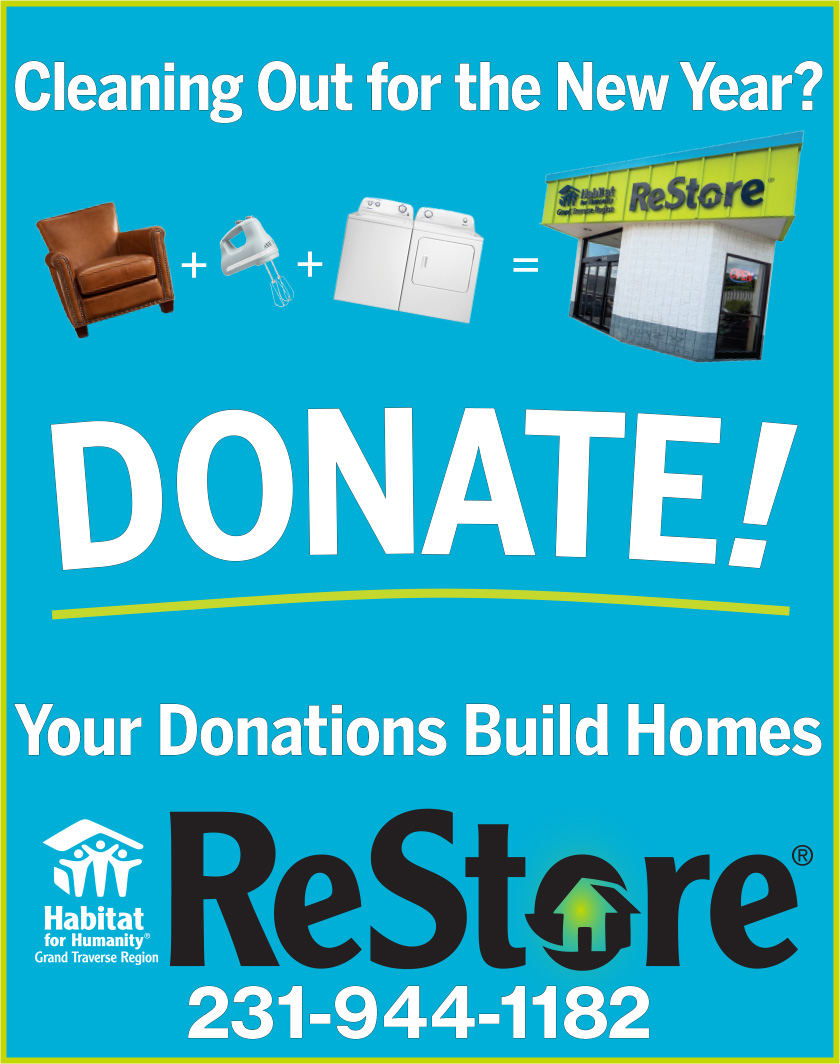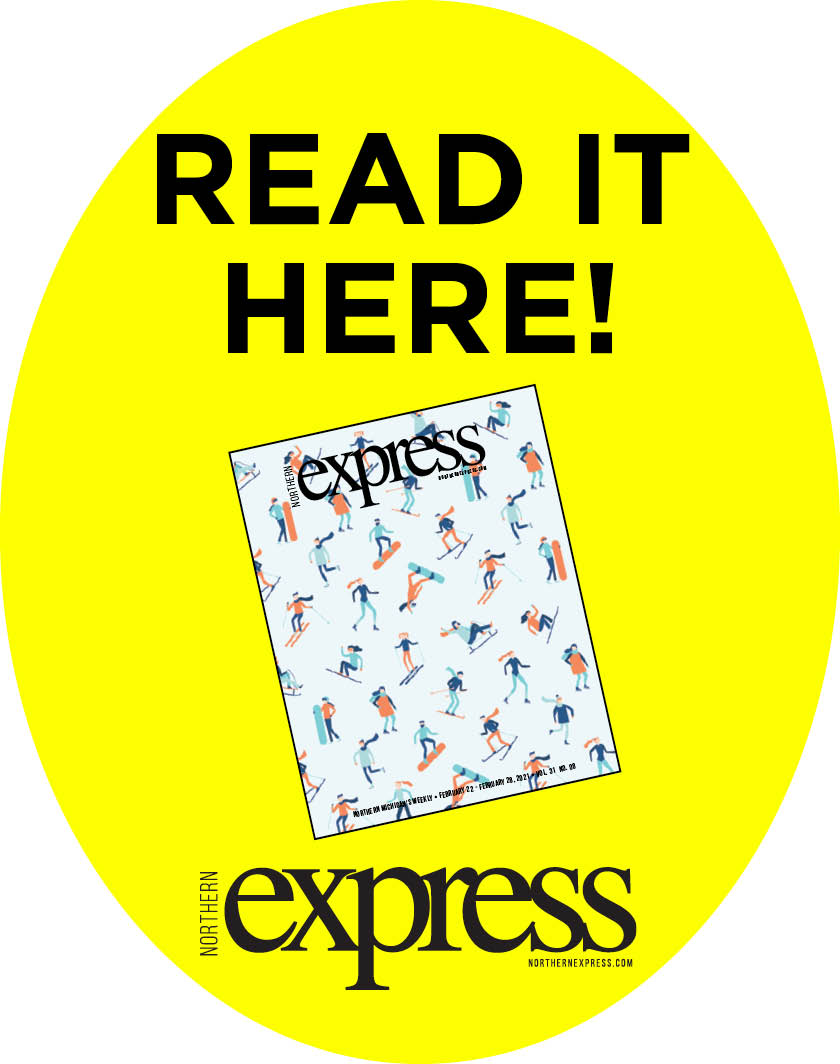 Leelanau County's Allison Merrill Preps 100 Care Packs For Retired Military Working Dogs
Allison Merrill, who owns and operates SunDog, a day camp and boarding facility in Leelanau County, will ...
Read More >>
Meet The Eleven Artists Who Will Live And Work At Leland's Tusen Takk In 2021-22
Eleven artists from across the country have been selected by a jury for solo residencies at Leland's ...
Read More >>