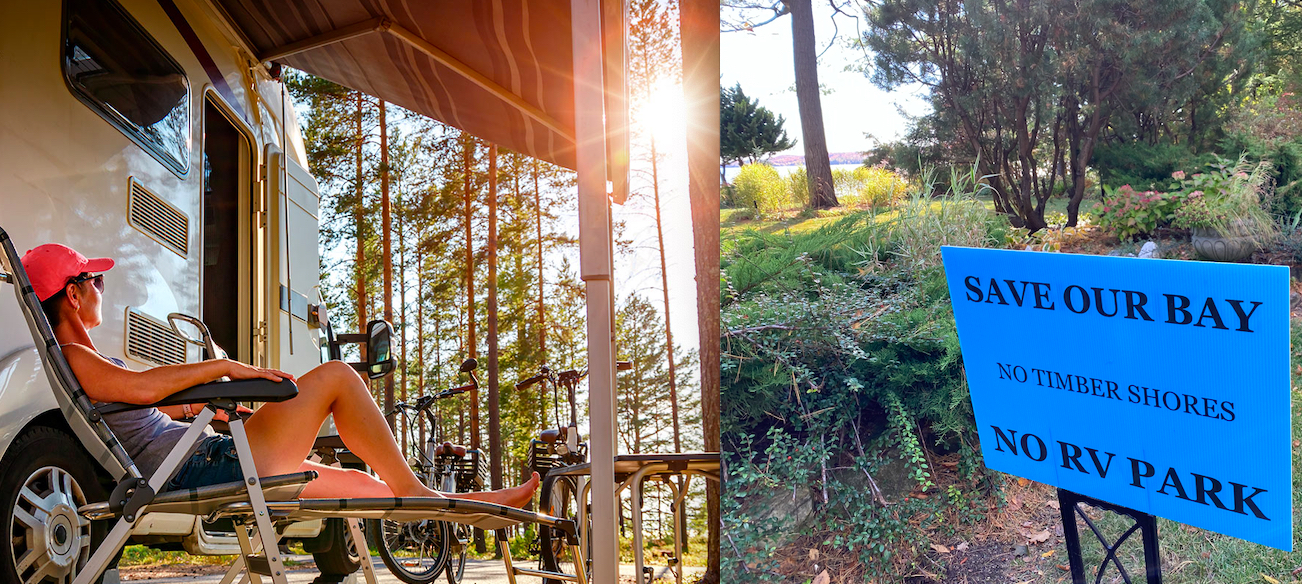 An Impassioned Public Hearing On Deck Tomorrow As Proposed Zoning Ordinance Amendment Puts Northport RV Resort On Pause
By Emily Tyra | April 7, 2021
Since the moment a site plan and special land use application for the Timber Shores Family RV Camping & Beach Resort (Timber Shores) was submitted to Leelanau Township in March 2020, locals have been vocal. Many who remember the original Timber Shores RV park from the 60s and 70s can't wait for a modern revival of the campground and the jobs and vacation dollars it brought to the area. Others share concerns over its scale and impact on the watershed and neighboring properties — most visibly via the "Save The Bay – No RV Park" signs dotting coastal properties from Omena to Northport.
Lively public comment should once again be expected at the regular meeting of the planning commission, tomorrow April 8, at 7pm.
A public hearing will be held virtually regarding an ordinance already passed by the township board, along with a similar zoning ordinance amendment under consideration by the planning commission. Both impose a 180-day moratorium on applications for RV parks and campgrounds in the commercial resort zoning district in Leelanau Township.
At the crux of the debate? Whether the six-month moratorium is intended merely to put a pin in the Timber Shores project — or to kill it altogether.
The site for the proposed RV park is comprised of nine contiguous parcels along West Bay that are owned separately by two entities, with Fred Gordon as their managing member and developer. Timber Shores proposes to establish and construct 300+ RV sites, 15 tent sites, an activities building, laundry and bath facilities, and staff housing on property that was previously an RV park until the late 1980s. (At its peak, the original RV park on the property had more than 500 campsites.)
RV parks/campgrounds are currently permitted in Leelanau Township's commercial resort zoning district, subject to special land use and site plan review and approval.
In mid-February, the Timber Shores applicants received a memorandum from the township — after a review of their application by the engineering firm Williams & Works — evaluating its completeness and sufficiency for planning commission review.
Leelanau Township Zoning Administrator Steve Patmore says, "Leelanau Township had our attorney and a professional planner review the application submitted by Timber Shores. They found that it was significantly lacking information that the township needed in order to perform our thorough review."
At that point, according to the attorney for Timber Shores, Richard Edmonds, the developers believed they had 90 days from receiving their returned application to correct any deficiencies before a planning commission review — per the standard procedure outlined in the current Leelanau Township zoning ordinance. (Section 11.6, B, 3)
Meanwhile, on March 17, after a closed session, the Leelanau township board adopted the ordinance to impose a temporary moratorium on RV parks and campgrounds in the commercial resort district.
And now, after the public hearing tomorrow, the planning commission will discuss and potentially adopt a similar zoning ordinance amendment.
What's the rationale behind the moratorium? As the township's legal counsel Robert Thall tells the Leelanau Ticker, "It has been over 15 years since the Leelanau Township zoning ordinance has been studied with regard to recreational vehicle parks and campgrounds as a special use within the commercial resort district. It would allow the study of the public health, safety, and welfare concerns regarding the special use…and allow for any needed zoning ordinance update and implementation process to occur."
The township's position, says Thall: "The moratorium[s] provide greater public input into this issue and allow for the respected consideration of the planning commission," adding "the Timber Shores property will need to comply with whatever comes out of the moratorium process regardless of any current application status."
Proponents of the RV resort — including Omena resident Ruth Steele Walker, who is also a local consultant to the Timber Shores development group — have put out a battle cry for their neighbors to show additional support for the project. She says she sees no reason to halt the application process. "We can't figure it out. Every concern that relates to health, safety and welfare will be addressed in the normal course of the planning process, which includes requirements for local and state agency permits."
The developers, who have now created a "Support Timber Shores" page on their website, say rewriting the zoning ordinance during the moratorium could change rules in the middle of the game and stop the owners from using the property for its intended purpose.
Steele Walker says this puts at stake the economic boost that Northport and Omena need. She tells the Leelanau Ticker, "The building costs of this RV park will be at least $15 million — more than 60 percent of that is expected to be spent locally. The current staffing plan projects 20 part- and full-time jobs with a projected total payroll of $500,000 a year. Operating expenditures will be $1.5 million a year. Property and municipal taxes are estimated at $168,000 a year plus the local share of state, sales and income taxes."
Edmonds, Timber Shores attorney, says though there have been no specific accusations made, he has heard anecdotal rumors about supposed groundwater contamination from a wastewater treatment system to be specifically designed for the site.
He stresses that any system will be permitted by the state and will require ongoing monitoring by licensed operators. He also notes that the developer and his investment partners have had previous plans to develop the property approved by the township, including a condominium development with hundreds of units. Each of those residences, he notes, would have individual septic tanks, that — aside from installation and real estate transactions — may not be inspected again.
One more point to consider, according to Edmonds, is the lawfulness of the original application (along with the $10,000 Timber Shores paid to the township for fees associated with its review) being rejected outright rather than simply being placed in abeyance. Edmonds says, "We believe that we have a vested interested in our application. Typical procedure is that when the moratorium is over, we pick up once again, and they give us time to comply with any new rules that have been enacted."
Patmore maintains, "Our legal counsel believes that the township board moratorium and upcoming planning commission zoning ordinance amendment are defensible."
While hope on all sides of the issue is for a healthy forum at the public hearing tomorrow, Edmonds notes it's challenging to do remotely. "It's easy for people to sit in homes and not realize what's out there in front of them. A public hearing works in a public setting where people clap, and people boo, and you get the whole range of feelings of the community."
Comment
Get Ready For Palmer Woods 2.0, With 8 Miles Of New Mountain Bike Trails Built This Summer
Trail construction will begin in May on three new loops at Leelanau's marquee mountain bike destination, Palmer ...
Read More >>
Suttons Bay Art Students Raise $2,900 To Support Local Eateries and Fight Local & Global Hunger
Written by Keegan Monroe, 11th Grade, Suttons Bay High School
Getting a community to come together for ...
Read More >>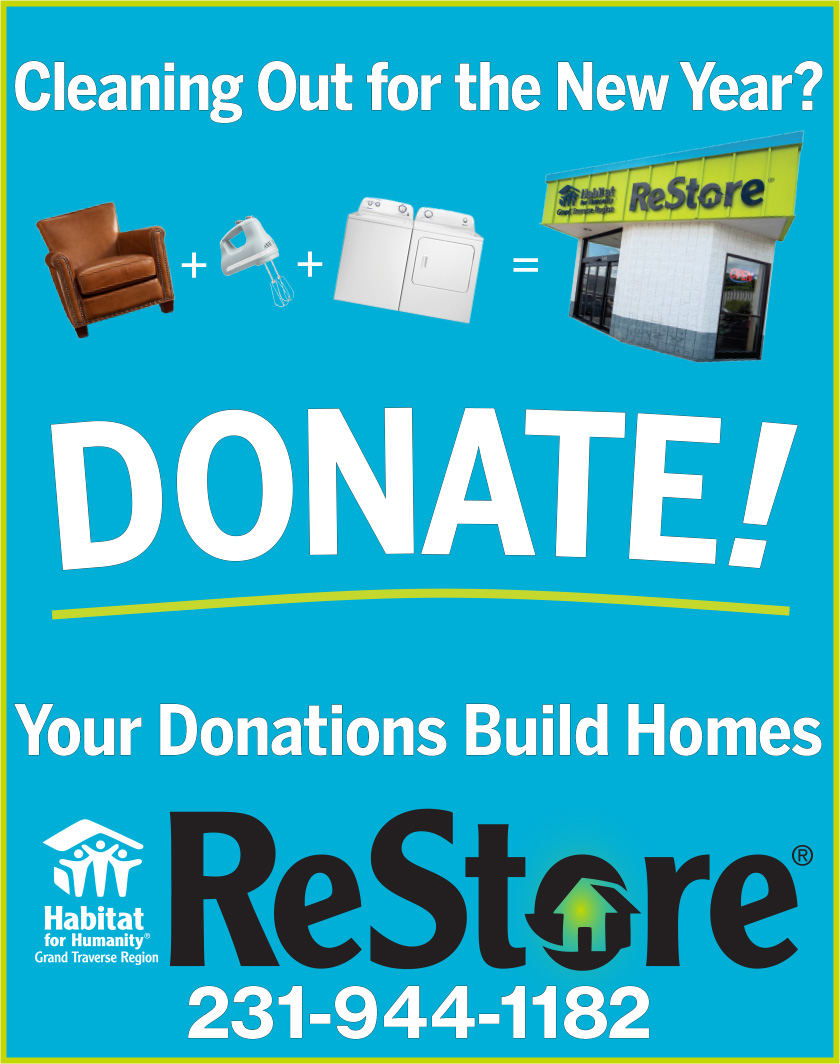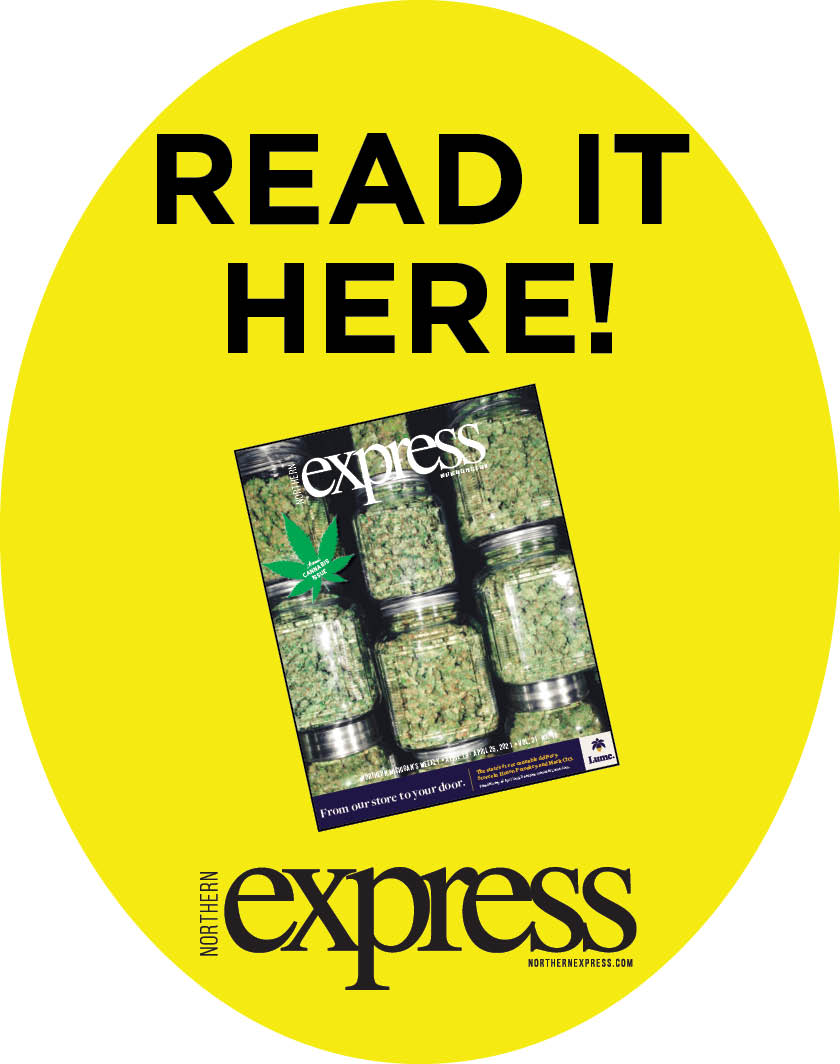 Memory Quilt In Progress To Honor Owner Of Cherry Country Quilters And Others Lost To COVID-19 In Leelanau Community
At the end of March, the Benzie-Leelanau District Health Department reported the 16th COVID-19 death in Leelanau ...
Read More >>
By The Numbers: Leelanau Continues On A Real Estate Tear
Real estate sales continue to show nearly unprecedented growth in the county. Last month, residential sales topped ...
Read More >>