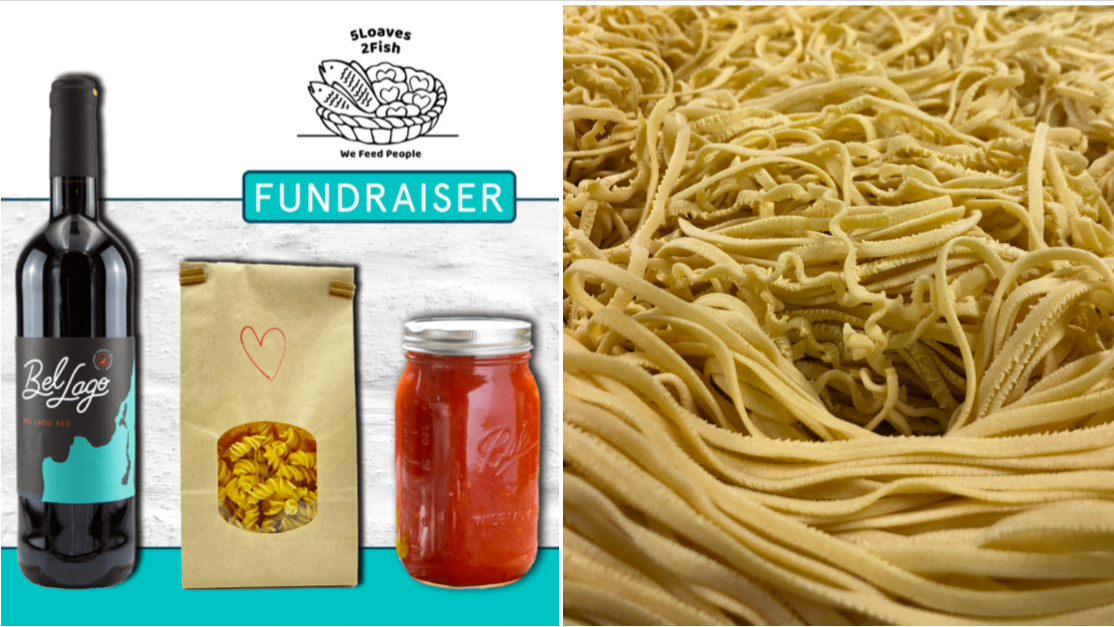 Get A From-Scratch Pasta Dinner (With A Bottle Of Bel Lago Wine) And Support 5Loaves2Fish
By Emily Tyra | April 7, 2021
There is a special twist on a classic spaghetti dinner fundraiser happening now in Leelanau County: a Spaghetti & Wine Dinner Kit to support the Leland-based nonprofit 5Loaves2Fish. Bel Lago Winery in Cedar is providing the wine pairing for a pasta dinner prepared from scratch by the founders and volunteers at 5Loaves2Fish, which serves the region's vulnerable populations with a food outreach program.
5Loaves2Fish cooks approximately 150 meals from scratch a week out of the Leland Community United Methodist Church's commercial kitchen. On Mondays food is provided to people experiencing homelessness and food insecurity in Traverse City and on Fridays they stay closer to home, providing meals to Leelanau County families. Those who follow 5Loaves2Fish on Facebook or Instagram know that all of their dinners are from scratch — with a focus on providing love and hope through food. The volunteer-prepared meals often benefit from donations of fresh local ingredients from neighbors, fishermen and farmers, plus the time and gourmet stylings of chefs in the county.
Over the winter 5Loaves2Fish was gifted the professional Italian pasta machine that once upon a time churned out fresh noodles for the famed seafood Alfredo at The Leelanau Country Inn. John and Linda Sisson were its next stewards. It later found its way to Skip Telgard of The Bluebird Restaurant who passed the impressive — and heavy — machine along to the 5Loaves2Fish to aid in its food production efforts. The team at Van's Garage lent a hand — and a hoist — to lift it up for some necessary repairs.
5Loaves2Fish Co-founder Michelle White says, "We feed people. And everything we do here we do with love. When we started with the pasta machine we got lots and lots of requests for seconds," she says of trying out the big rig for the first time.
"We're so excited to put this well-loved machine to work for this fundraiser and to offer the community a chance to actually taste our cooking. Teaming up Bel Lago to add a great bottle of wine was a no-brainer and a great opportunity to work side-by-side with a business devoted to the people in our area."
Freshly made pasta and red sauce for two plus a bottle of wine for $30 is available for pre-order now through April 15. Pick-up and delivery will be Wednesday, April 21 with all proceeds benefiting 5Loaves 2Fish. To order email info@bellago.com or call 231-228-4800.
White adds that they will also be selling fresh pasta at The Merc in Leland starting April 8, with proceeds to support the charity organization.
Read on for more about the 5Loaves2Fish phenomenon and how the small acts of a few people across Leelanau County created possibilities bigger than they ever imagined.
Comment
Get Ready For Palmer Woods 2.0, With 8 Miles Of New Mountain Bike Trails Built This Summer
Trail construction will begin in May on three new loops at Leelanau's marquee mountain bike destination, Palmer ...
Read More >>
Suttons Bay Art Students Raise $2,900 To Support Local Eateries and Fight Local & Global Hunger
Written by Keegan Monroe, 11th Grade, Suttons Bay High School
Getting a community to come together for ...
Read More >>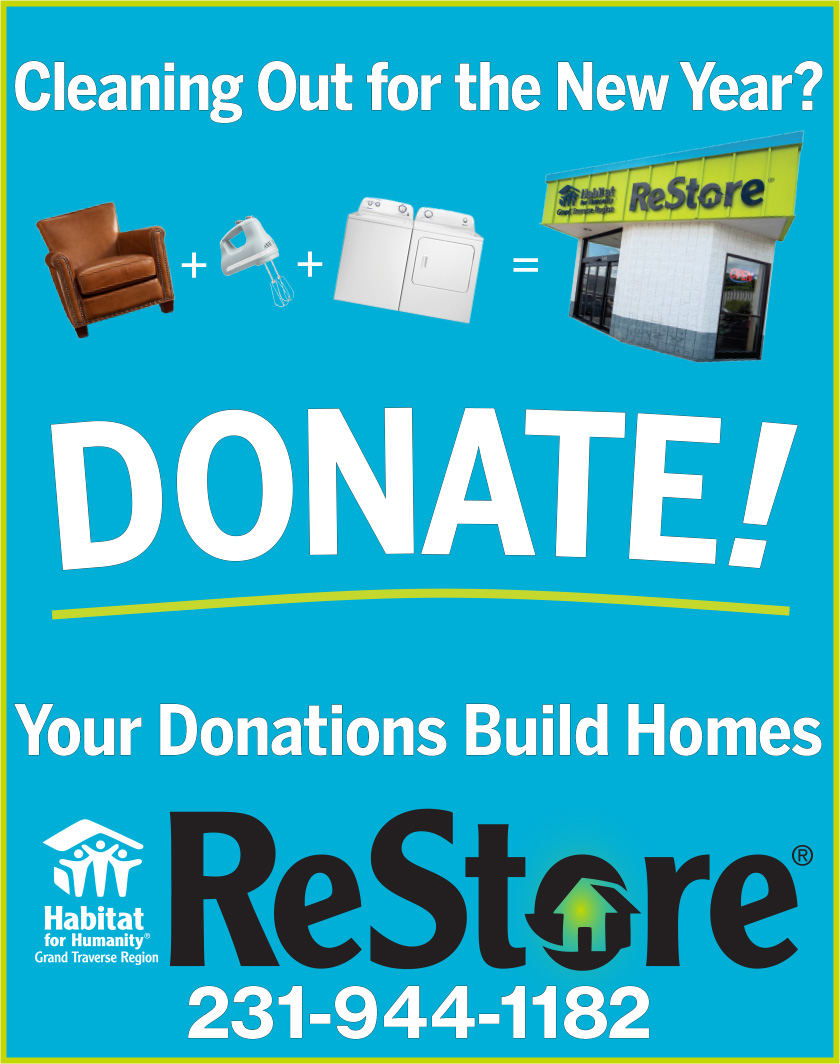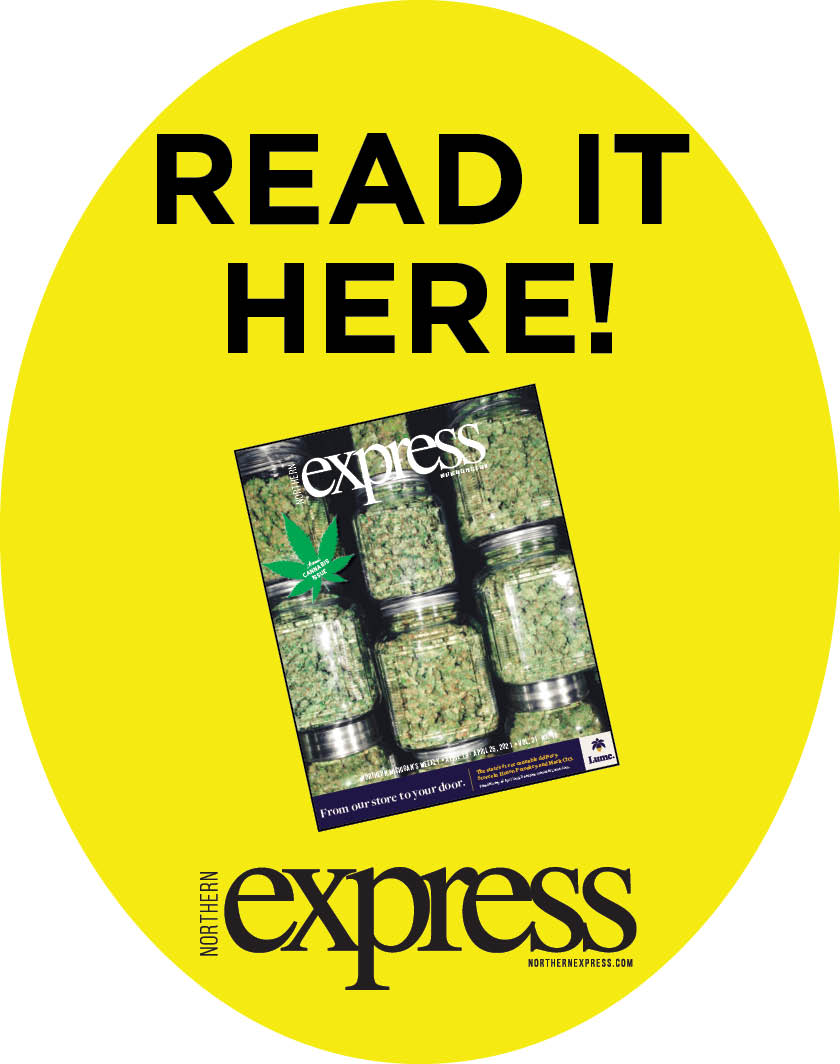 Memory Quilt In Progress To Honor Owner Of Cherry Country Quilters And Others Lost To COVID-19 In Leelanau Community
At the end of March, the Benzie-Leelanau District Health Department reported the 16th COVID-19 death in Leelanau ...
Read More >>
By The Numbers: Leelanau Continues On A Real Estate Tear
Real estate sales continue to show nearly unprecedented growth in the county. Last month, residential sales topped ...
Read More >>