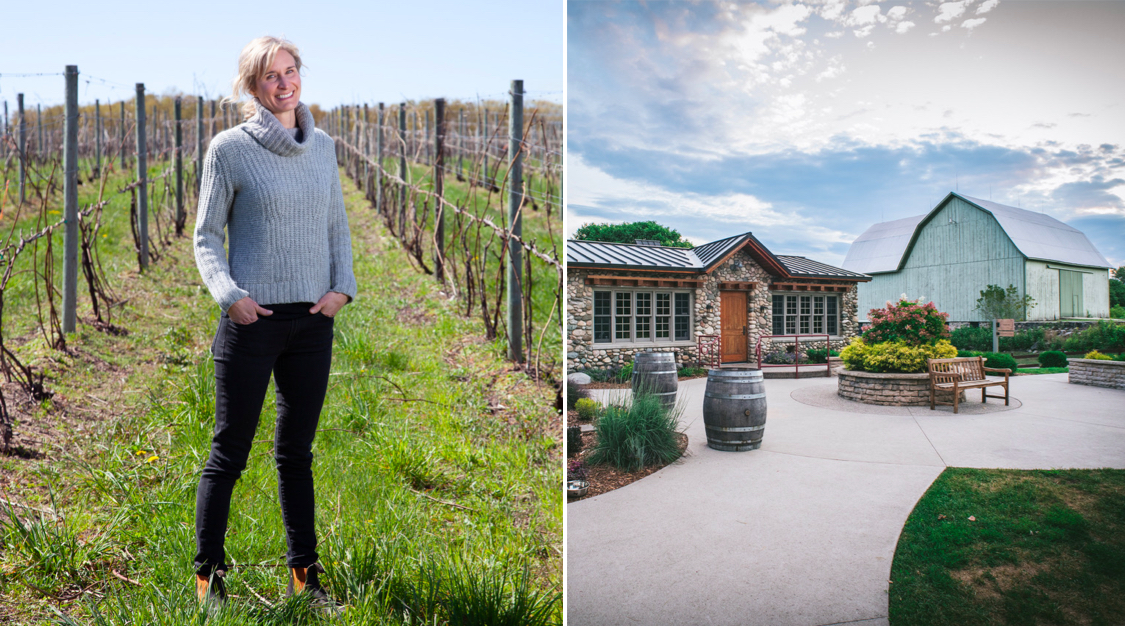 She Makes "History In A Bottle:" Meet Shady Lane Cellars' Winemaker Kasey Wierzba
By Patty LaNoue Stearns | May 9, 2022
It has been a nerve-wracking week for Kasey Wierzba, the celebrated 43-year-old winemaker at Suttons Bay's Shady Lane Cellars. She's been putting the finishing touches on her 2021-vintage array of wines, and before they're bottled, they have to be perfect.
Wierzba's 20-plus wines, from Rieslings to reds, have made a big splash at Shady Lane, witnessed by the accolades that keep pouring in. The winery and vineyard earned a rare Sustainability in Practice, or SIP, certification in 2020, a strict, non-negotiable program dedicated to responsible, sustainable practices, from the soil to the bottle. In 2021, Shady Lane Cellars was named a "winery to know" by Wine Enthusiast. The winery also was featured in Food & Wine as one of "The Five Best Wine Road Trips in the U.S.," and last summer Wierzba was highlighted as a "woman in wine" in SEEN magazine.
Of course, that heady period also paired with the major rollercoaster of COVID-19. Wierzba worked full-time during the pandemic, taking care of the winery and keeping her work team spread out. Because wine is classified as a food product, Wierzba and her team were considered essential workers — they couldn't leave the grapes to rot, nor would they want to.
During that same time, Wierzba also maintained her family life, helping her husband Nick Wierzba (owner of Suttons Bay Bikes) homeschool their two sons, Liam, now 13, and Adrien, 9, making meals and getting the laundry done, etc., etc. There was no time off.
As one of an elite handful of female winemakers in Michigan, Wierzba acknowledges that winemaking is not the easiest career path for a woman. But she loves every minute of her work: "It's so multifaceted. It's a three-legged stool of science, craft and artistry."
Wierzba has not only thoroughly mastered the art of cold-climate winemaking, but before joining Shady Lane in 2016, the Traverse City native worked summers in the vineyards at Black Star Farms in Suttons Bay, and after college spent seven years learning the foundations of warm-climate winemaking in the arid heat of California's Napa Valley — as a viticulturist for Niente Winery and Nickel & Nickel Winery, as an enologist at Rudd Oakville Estate and as vineyard manager at Frog's Leap Winery.
Each climate has its unique challenges, Wierzba explains: Michigan has a short growing season with fear of frost in the early phase; California battles severe lack of water and moisture in the air. But Wierzba, who holds both bachelor's and master's degrees in horticulture from Michigan State University, says grapes are grapes, no matter where you grow them. You just have to figure out what works. "All these foundational qualities lead you to the same answers you're seeking around that growing area."
As for cold climates like Michigan, one of the biggest challenges is site selection: "With our variable climate and harsh weather, if it's a poor site you've set yourself up for failure."
Since 2017, all Shady Lane Cellars wines are made exclusively from grapes grown on its vineyards.
Shady Lane is noted for its Riesling wines, but increasingly its reds. "We're one of the handful of people around here that grow and produce wine from the Blaufrankisch grape — what's used for Austria's flagship red wine," says Wierzba, adding: "We're still introducing it to people who are not as well-versed with cold-climate wines."
Wierzba, who grew up on the east side of Traverse City near Spider Lake, describes the grape as a late-ripening variety known to produce rich red wines with a peppery or spicy character. "Our wines hinge more on old-world Burgundian wines."
She calls each of her creations "history in a bottle," and her goal is to "present the grape variety in its most true form — the most beautiful from that variety, that vintage and that year. Basically time and place. It's history in a bottle and every year it's different."
Her 2017 Pinot Noir is one historic example she'll never forget. "It was such a crazy growing season. Cold, cold summer, no beach days — then 85-degree days through September and even into October — I was at the beach on October 6. The grapes responded so well to that late warmth with so many layers and layers of flavor."
Speaking of history, the 52-acre winery, founded in 1999 by Dr. Joseph O'Donnell, sits on 150 rolling acres that were once home to a fruit farm dating to the 1900s. Owner Richard Fortune purchased the vineyard in 2012.
Visitors can sip Wierzba's creations inside a 100-year-old fieldstone tasting room — once a chicken coop — or outdoors in the covered-patio tasting pavilion with a fireplace.
Wineries of the Leelanau Peninsula Wine Trail — including Shady Lane — are celebrating Rosé All May this month. Ticket holders will receive a pour of select Rosé from over 20 wineries on the Leelanau Peninsula along with a signature glass souvenir. Tickets for this anytime-in-May wine trail event are available here.
photos by Beryl Striewski
Comment
Community Feedback Needed Prior To Renovations At The Center In Suttons Bay
The Friendship Community Center (The Center) of Suttons Bay will soon be launching a capital campaign to renovate ...
Read More >>
Newcomer Northern Michigan Rowing Club Expands To Two Leelanau County Lakes
The long, skinny boats of the Northern Michigan Rowing Club (NMRC) now have a second lake in ...
Read More >>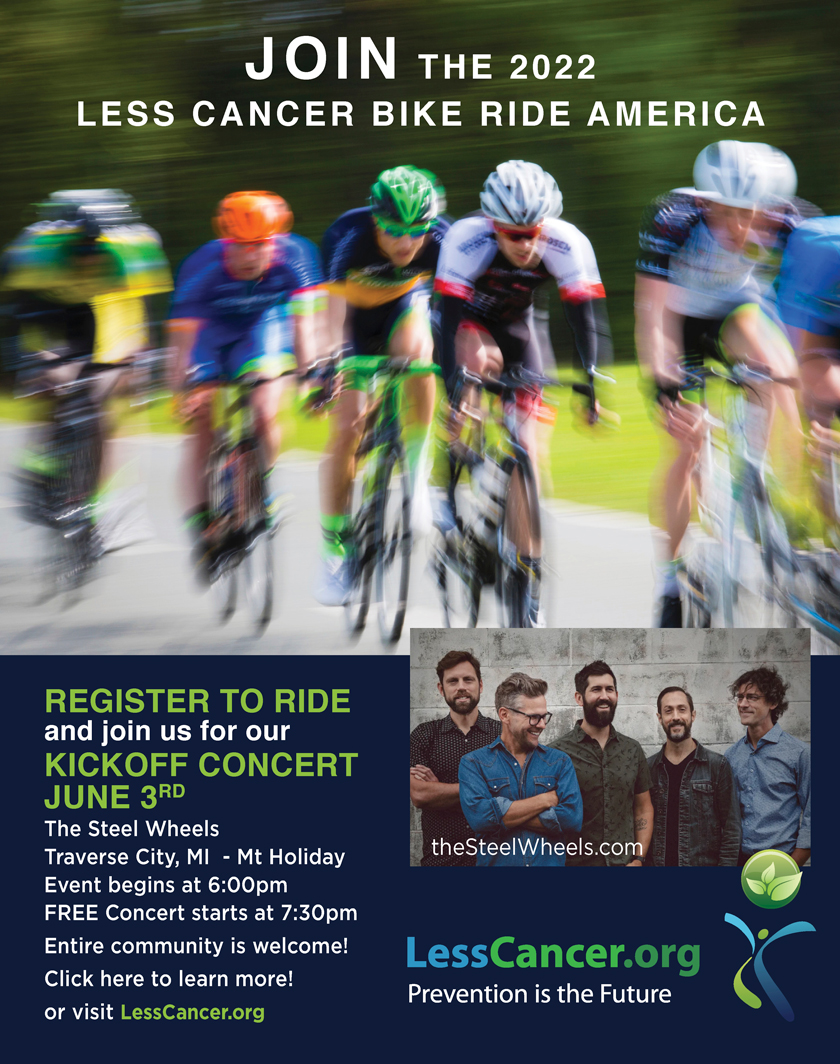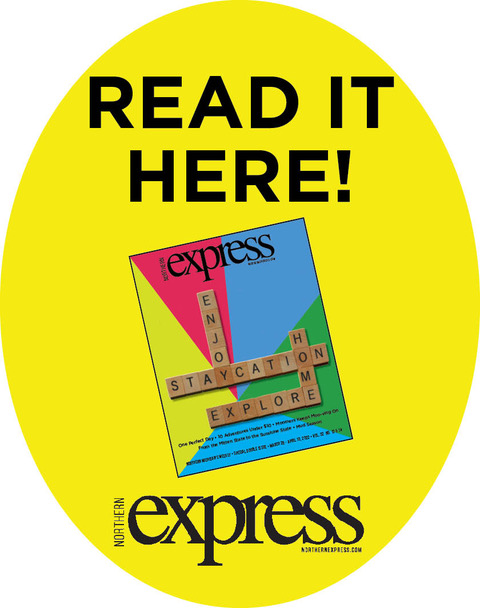 Just 17 Homes Sold In April In Leelanau County
While prices continue to escalate, the number of residential real estate sales continues to shrink, both due ...
Read More >>
Picnic Comes to River & Main; Fishtown Receives Governor's Accolade; LCC Gets A New Playground & More Scoop From Leland
It's the first day to snag some whitefish pâté at Carlson's in historic Fishtown, whose dedicated Fishtown ...
Read More >>