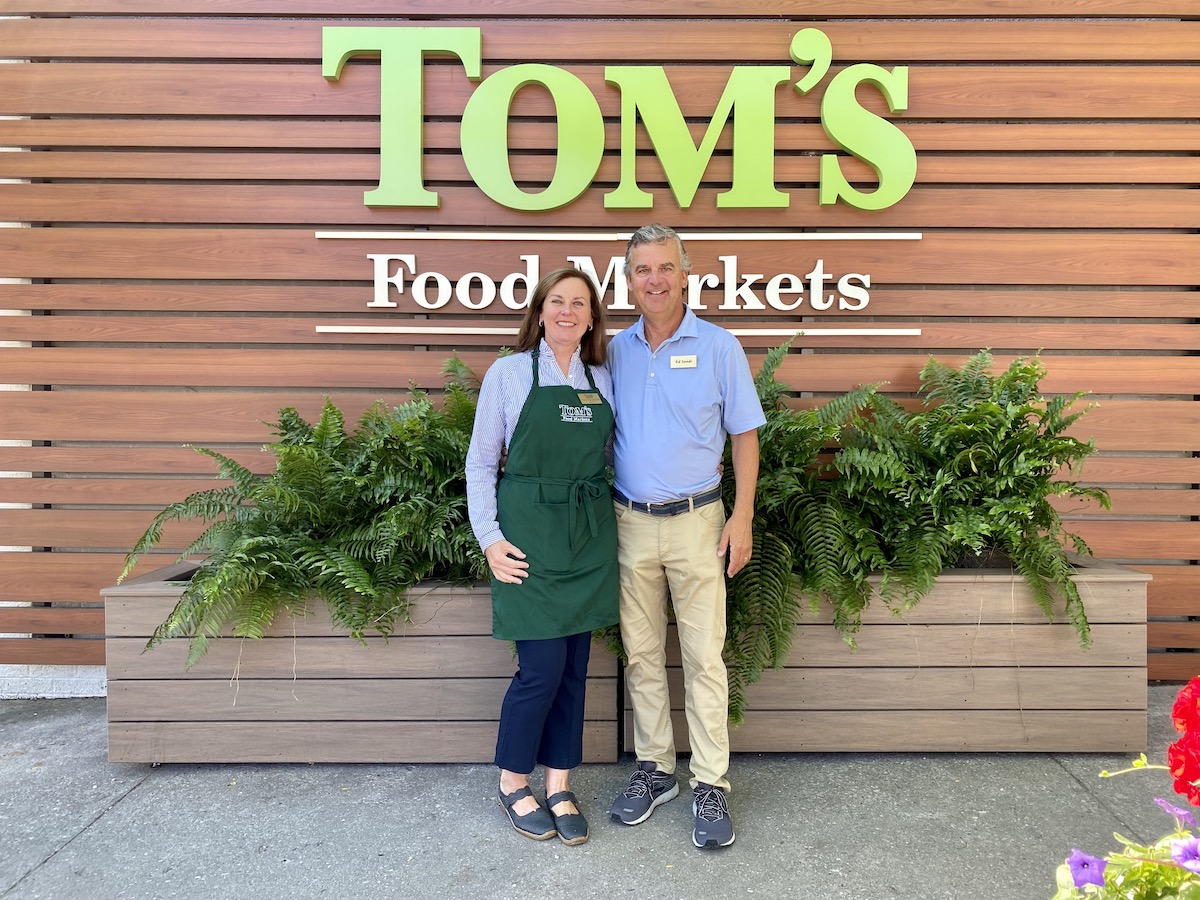 Remodel Of Tom's Food Market In Northport Shows Commitment To Close-Knit Community
By Emily Tyra | Aug. 29, 2022
Renovations and a refresh are in the works at all five Tom's Food Markets, with Northport's 10,000-square-foot market leading the way with a top-to-bottom transformation.
"We plan on doing a dedication in late September," shares Ed Sands, a strategic consultant to the company and husband of Tom's Markets president Nancy Deering Sands. The Northport store "will be formally dedicated to Nancy's Dad – Dan Deering – who spent a lot of time in the community over the years."
The companywide brand refresh was spearheaded by Nancy Deering Sands, who stepped into a leadership role in 2020 to continue the now 76-year-old legacy of her family grocery business. Deering Sands grew up in the business, walking after kindergarten from Glenn Loomis to the 14th Street store. "I worked the rest of the day with my dad."
The grocery store roots go back to Empire, where Deering Sands's grandparents Tom and Eva Deering had a cherry farm. "It was bumper cherry crop in 1945 that gave my grandparents enough money to be able to purchase and open the first original Tom's (then called Deering's) on the corner of 11th and Maple. My grandparents moved into Traverse City with their three children and lived above the store, and then next door." The farmland remains in Empire. "It's very meaningful to our family."
Tom's history in Northport dates back nearly 30 years. Dan Deering opened a store in 1993 after a fire and rebuild of the Dame's grocery store that formerly occupied that spot. The cherry-embellished Tom's golf cart parked out front of the Northport store today is a Dame's-era relic and nod to those early days.
Now the 15-month-long Northport renovations with partners Cornerstone Architects and VELL Construction, reveals an old-fashioned hometown market vibe with all modern touches. Refreshes are also underway at East Bay and 14th Street Tom's. "West Bay will be next, with Interlochen to follow," says Deering Sands.
The changes were precipitated by Deering Sands' return to her hometown. Her father Dan Deering passed away in 2019, followed by the unexpected passing of her sister, Christy Kuhnke, in January of 2020. "I came back a few weeks later and took over as president." Four Deering sisters now own Tom's Food Markets. "I jumped in with both feet right into the fire. I had to come up to speed quickly, and I'm super thankful for a terrific corporate team that supported me," she says. "Minus the circumstances, I absolutely love it. And I'm so thankful that my husband loves it as well."
As principal of his own consulting firm, 45° North LLC, Ed Sands is focused on technology and supply chain projects for Tom's stores. He most recently worked in the global supply chain industry in Philadelphia and served on leadership teams at retailers such as Urban Outfitters and Williams-Sonoma.
"With my husband's career we moved eight times; and we shopped different grocery stores all along the east coast. And that gave me perspective on how I wanted to update and refresh our brand…how I wanted to modernize things," says Deering Sands.
What new at Northport? Everything from self-checkout to energy-efficient refrigerated cases, dark-sky compliant lighting, a new bank of UV-filtering windows to protect produce, a façade refresh, and a "total reset of the store and the selection," shares Sands. "The Northport store is a quarter of the size of West Bay…mix is very important."
To that end, Deering Sands bought a refrigerated van entirely dedicated to running freshly made bakery and deli from their commissary in town up to the Northport Tom's, six days a week.
She explains, "I realized when we were looking at the products for this market and even the specialty products — whether Grand Traverse Pie Company pies, or White on Rice sushi — that time is so precious." Whether on vacation or working on a construction crew or living in Northport year-round, "people are excited they don't have to spend the time in their car or battle the weather or spend the gas money."
Sands notes they now "fully understand the impact that this market has in this particular community. It's remote…though it's becoming less and less of an island."
Indeed, the village's recent renaissance — thanks to several new retailers and restaurateurs and the revitalizations of landmark properties — means more pressure on the grocer to help power the local economy.
"We are here to support them," says Deering Sands, "with the additional volume they are doing." This can be anything from a last-minute call from New Bohemian for bags of Great Lakes potato chips, to keeping citrus stocked for Garage Bar's new cocktail mavens, or "knowing how many heads of cauliflower NPG is going to go through."
Northport locals particularly love their Dot's Pretzels, Sands notes, "and they purchase a lot of half-and-half." They clamor for local produce too. Of note: Gingergold apples will arrive within the week from Bardenhagen's nearby orchards.
"Supporting local entrepreneurs was important to my dad. And he stayed up here in Northport every weekend. He was super proud of this market, and he just had such an appreciation and a love for the community."
She says she and her husband have "developed that exact same attachment," after working in the Northport store every weekend, from Memorial Day through September. They — and their miniature poodle Willow — stay in a Sprinter van every Friday, Saturday and Sunday night, and "though we are running around and working, it's just more chill here in Northport," reflects Sands.
Says Deering Sands, "Northport customers now know us by our first names. It's in our family blood to be in this business. My dad had us seeing every side of that, and working every hard job there was. My dad always wanted me to come to work for him and I chose a different path — I'm thankful for that adventure — but you never know how your life can change overnight. I love being here. And I know my dad and my sister are looking down, and yeah, they're cheering for me."
Comment
'Spectacular' Summer Weather, Breathtaking Fall Color, And A Visitor Count 'Reset': 2022 In Review At Sleeping Bear Dunes
After two consecutive years of record-breaking traffic, Sleeping Bear Dunes National Lakeshore got a bit of a ...
Read More >>
Leelanau Makers Share Holiday Works And A Sneak Peek At 2023
It's the season of local artisans and creators, full of new and limited pieces, collaborations, and ideas ...
Read More >>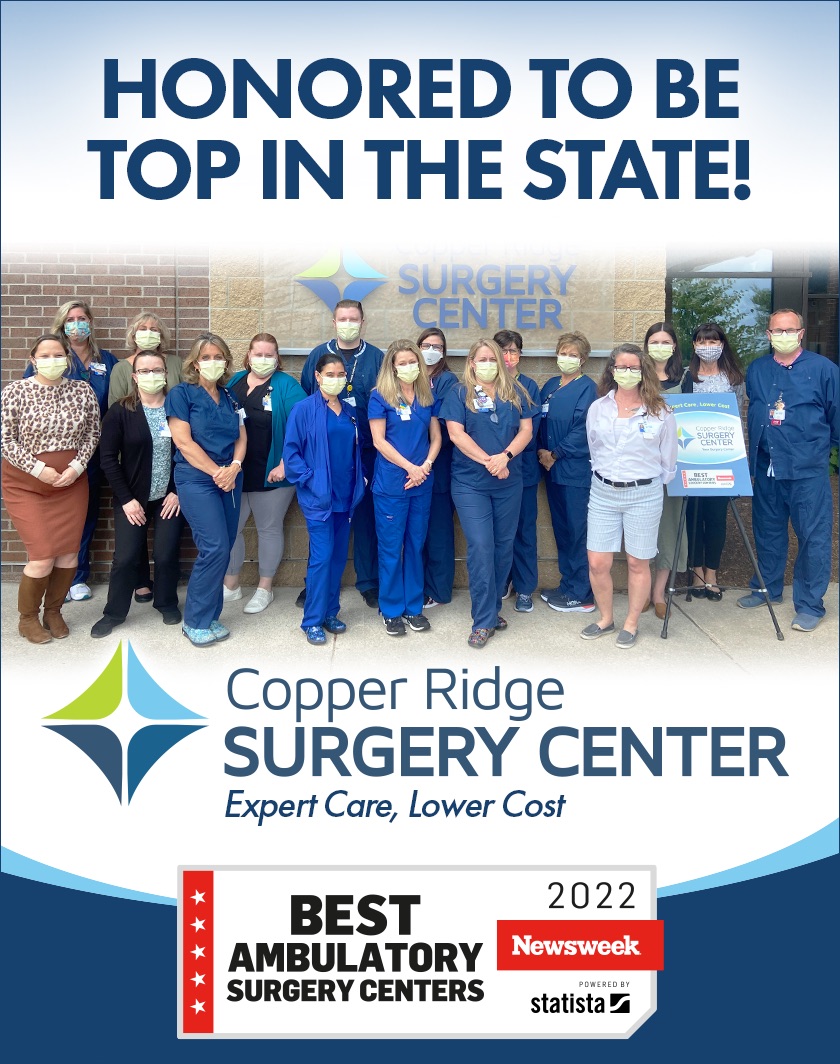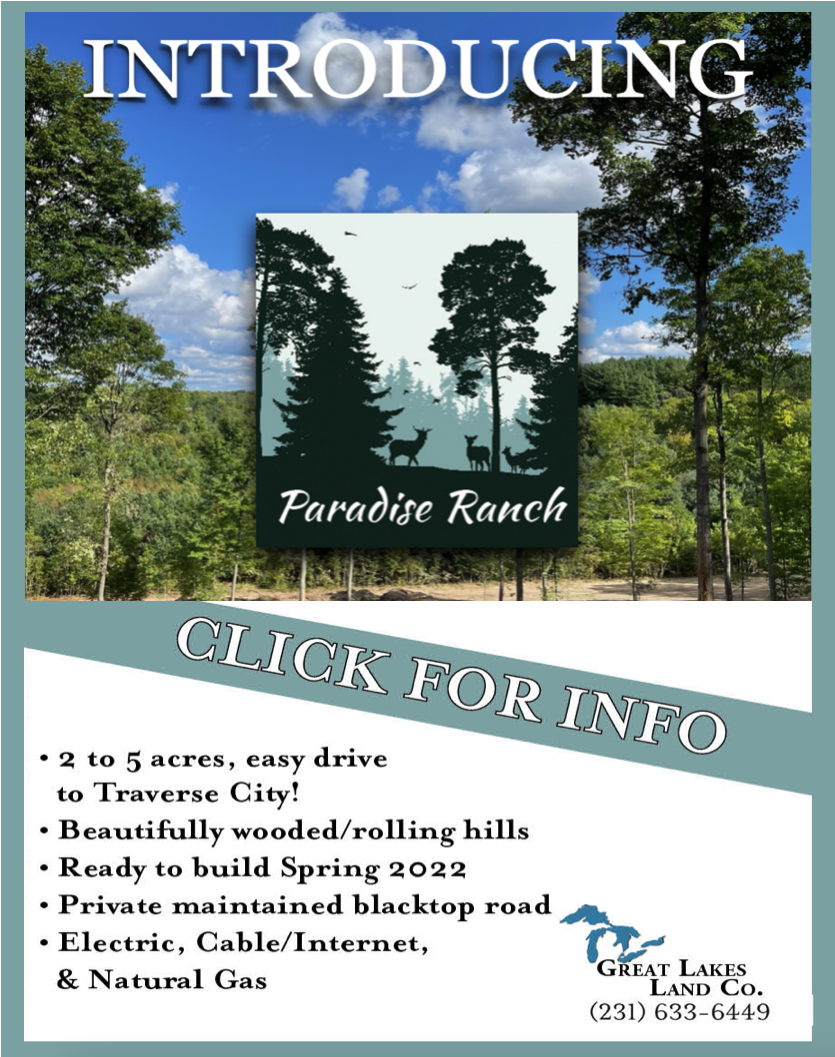 Strolling Lights And Northport Nutcrackers: Your Guide To Leelanau County's Holiday Events
It's beginning to look a lot like the holidays in Leelanau County. After a massive snowfall this ...
Read More >>
The Latest Leelanau County Blotter & 911 Call Report
The Leelanau Ticker is back with a look at the most alarming, offbeat, or otherwise newsworthy calls ...
Read More >>