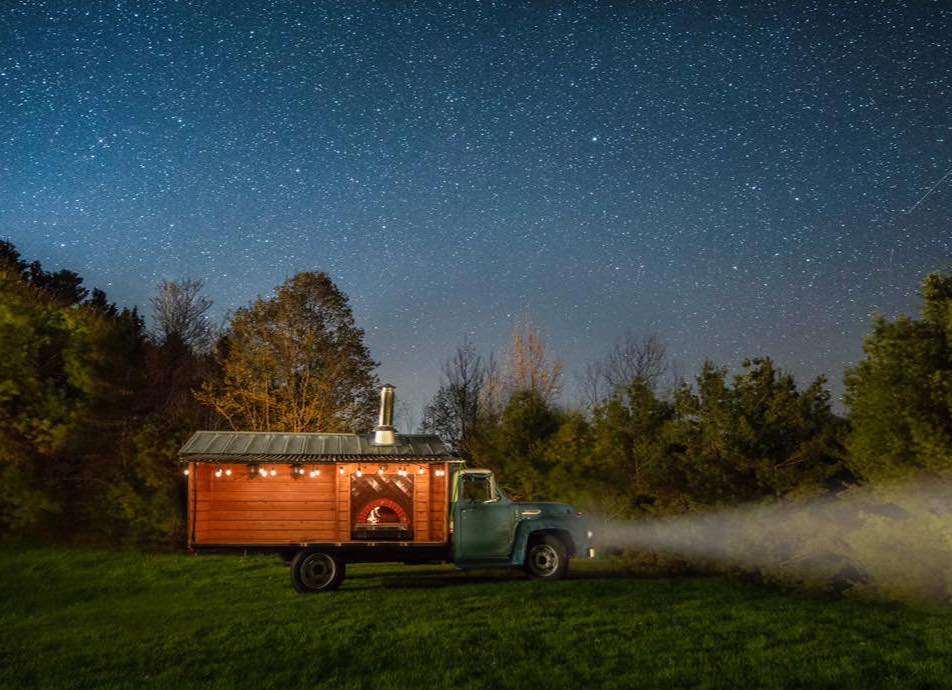 Sink or Swim: The County's Food Truck Startups
By Emily Tyra | July 6, 2020
Catering jobs this summer all but vanished for these Leelanau County entrepreneurs due to COVID-19, so what did they do? Found a food truck and the inner pluck to give a new business a go. Here's more on the new rush of food truck startups across the county.
An aptly named From The Ashes food truck popped up in the PlantMasters of Suttons Bay parking lot, run by the co-owner of Lake Leelanau's Island Thyme Catering Kristy VerSnyder and her teammate/chef Matt Fitzke-Loll. Says VerSnyder, "We were set to have a pretty stellar 2020 season, with 33 weddings on the books. Once we were down to four weddings — everyone else postponed — I realized if I don't have a job for Chef Matt, I was going to lose him. We had two choices: sink or swim.
VerSnyder's husband and business partner Vince Tomczak bought a 1953 Ford F-600 wood fired pizza truck from his brother, who used it as part of his pizza restaurant in North Carolina. Fitzke-Loll gets credit for the name, which he texted to VerSnyder in a late-night brainstorm: "We needed something fun but also about perseverance. I don't know anybody that is not struggling — maybe at different levels and for different reasons. Let's all rise from this together."
From The Ashes serves wood-fired pizza and salads made with seasonal local produce. "Chef Matt and I wanted to keep the farm-to-table relationships we had, so much of the produce is sourced from Loma Farm and we use cheese made by Boss Mouse in Kingsley. It's been a great way to supplement each other, and to do networking and cross-marketing."
Business is strong, says VerSnyder.
"I don't have numbers to compare it to, but we hit a goal on Tuesday that we didn't think we would hit until the end of July." Adds VerSnyder, who was born and raised in Lake Leelanau, "I'm discovering the joy of return customers. Most of our wedding clients are from out of town or out of state, and after the event I don't get to see their faces again. Having friends and family members and neighbors able to support us…I have never felt so much Leelanau love."
Since their unexpected side-hustle is off and running, VerSnyder and Fitzke-Loll are discussing the food truck's future when their catering business resurfaces. It may become part of their event offerings, or perhaps remain a stand-alone venture, "with the addition of more employees. We jokingly call ourselves 'magical unicorns' on 20-hour days, but we do need to sleep and to eat." Follow From The Ashes on Instagram and Facebook for updates. (Editor's note: As of July 8, From The Ashes has moved from PlantMasters to a new home base location at Fountain Point Resort.)
Daniel Nedow and George Twine, the co-owners of Northport's Abundance Catering, also started a food truck in late June, with the intent to "make up for the COVID-19 cancels and reschedules for our 2020 season," says Nedow. After Twine consulted with the owner of Antojitos, another recently opened Northport food truck, the business partners decided to go for it. (Look for Antojitos serving authentic tacos at The Mitten Brewing Co and Northport Marina.) Twine and Nedow's rented truck, called The Bite At The Bight is currently parked at 12271 East Woolsey Lake Road in Northport, close to the local coastal landmark locals refer to as "The Bight."
Nedow says while he is the man behind the curtain, keeping the books, doing food sourcing and vendor runs, Twine is "loving being back cooking on the line" and finessing the sandwich menu much to the delight of his longtime followers (beside their joint venture with Abundance Catering, both Nedow and Twine have long food industry careers at several Leelanau peninsula eateries). They have even added an employee — an industry friend who had been out of work with Tucker's closing.
But the plot thickened quickly, says Nedow. "We were very new — the open flag had been flying only a few hours — when we started to get a lot of last-minute inquiries for weddings — calls from planners and couples trying to piece their 2020 wedding plans back together." Nedow and Twine's quick solution to the influx of weekend catering jobs is to operate the truck from noon to 3 pm on weekdays only, unusual hours that actually work in their favor. "There is a need for a workman's and locals' lunch without the rush of tourists," he says.
Also officially joining the Northport food truck scene is Around the Corner Food & Fun, a food trailer parked at the lot at 115 South Waukazoo Street, now open Mondays, 4-7pm and Tuesdays, 12-7pm (it is open today, July 6, from 12-7pm for the 4th of July holiday). This venture isn't a pivot, but rather two couples partnering to follow a dream. Kelley and Ken Radeke of Aurora, Illinois, and Laura and Thomas Cavendish of Northport are redeveloping the former Stubbs property (see the site plan here) with a bar, a locally-driven menu served from a food trailer, outdoor seating, games and village activities, and family entertainment, such as free outdoor movie night.
Says Laura Cavendish, who also owns the Lord and Lady Construction in Northport with her husband, "We are in the process of building a structure that will house our beverage area, with some indoor seating, and bathrooms. Our grand opening was supposed to be last weekend. We have had so many delays because of COVID, but we wanted to swing with it and make something happen."
So, for now the Around the Corner food trailer will be open for takeout on Monday and Tuesdays, days other area restaurants tend to be closed. The menu is what Cavendish calls inventive comfort food: deep-fried pizza sandwiches, burger-mac pasties, gazpacho, fresh pickles, broccoli-strawberry salad and desserts from scratch. Cavendish adds that the new timeline for the lot and the bar to be complete is September and hours will expand "as soon as we can add employees."
Photo: From the Ashes food truck by Meg Paxton of Paxton Photography
Comment
Popular Christmas Tree Farm Feeling the Squeeze
One of the county's most popular and beloved Christmas tree farms may need to shut down for ...
Read More >>
Leland Township Planning Commission To Decide Fate Of Proposed Mixed-Use Development
The Leland Township Planning Commission could finally vote this week to approve or deny a controversial mixed-use ...
Read More >>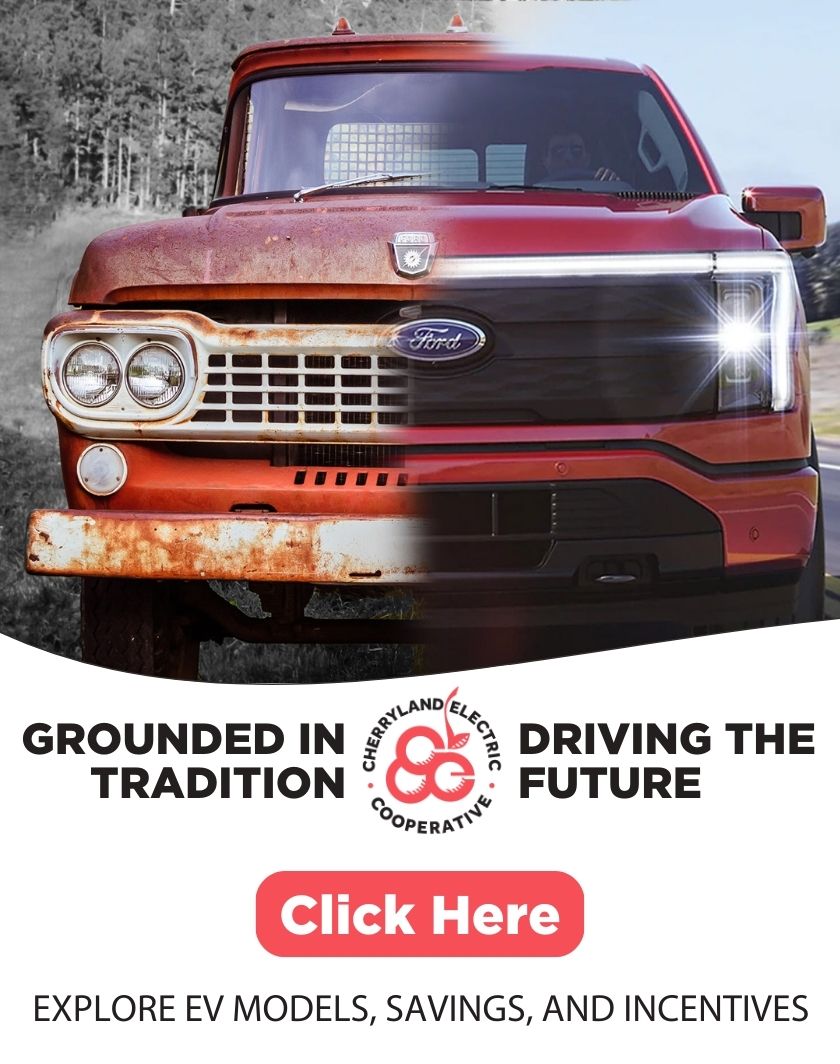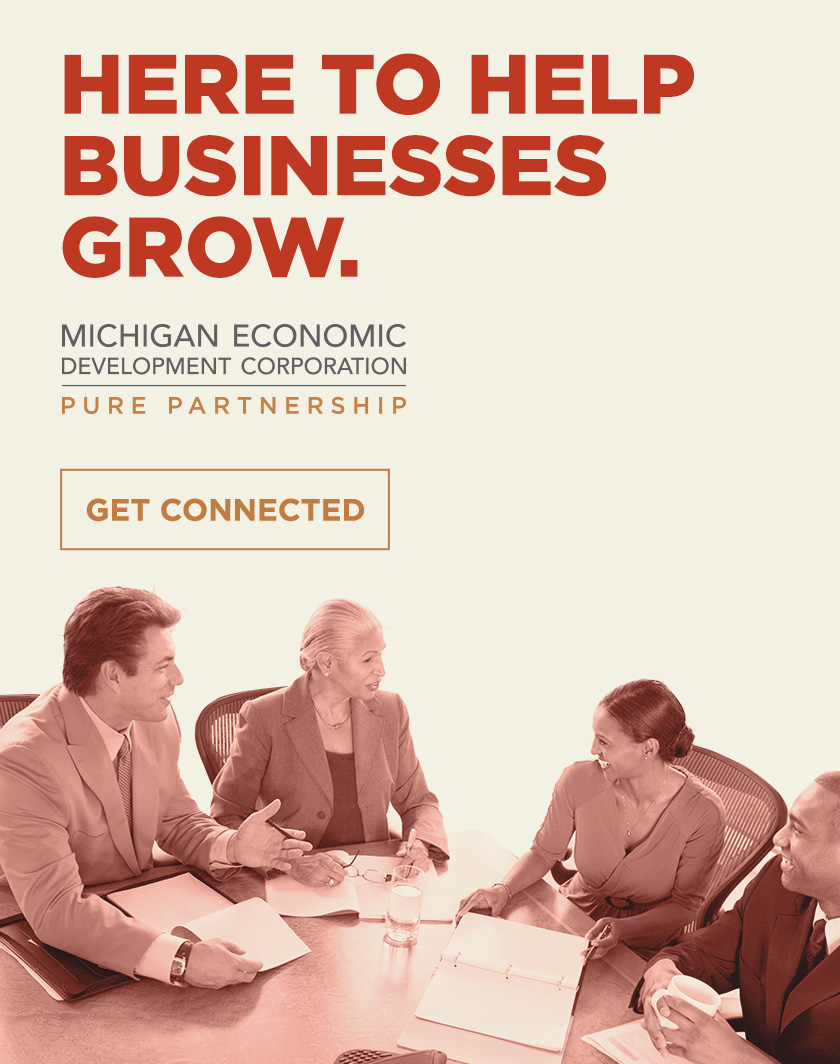 The Latest Leelanau County Blotter & 911 Call Report
The Leelanau Ticker is back with a look at the most alarming, offbeat, or otherwise newsworthy calls ...
Read More >>