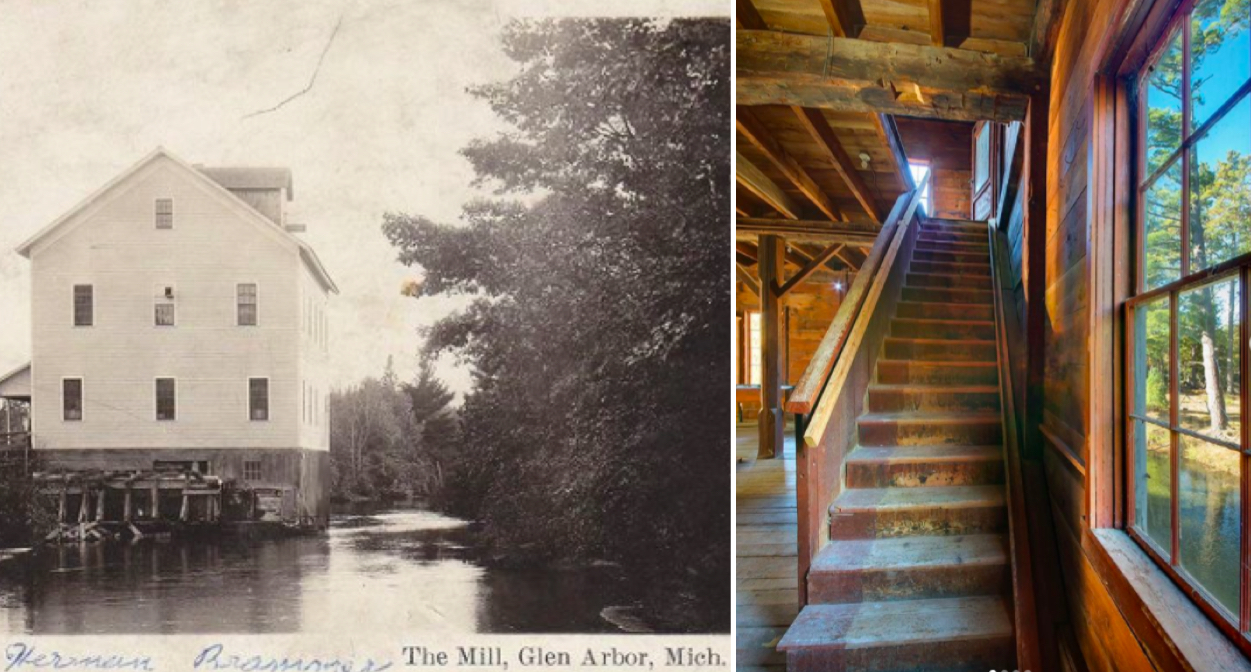 The Glen Arbor Mill Saga Rolls On: Zoning Of Adjacent Property Heading For Public Vote
By Emily Tyra | March 31, 2021
The complex community debate surrounding the revitalization of Glen Arbor's historic grist mill — specifically the recent rezoning and plans for its adjacent property — will come to a head in early August.
Glen Arbor Township Clerk Pam Laureto tells the Leelanau Ticker she has vetted the signatures on a petition circulated by those affiliated with the 501(c)(4) group Love Old Glen Arbor (LOGA). The petitioners asked to bring the rezoning of the Brammer property to a township vote.
"They were required to have 100 qualified signatures and they received 123, thereby meeting the requirement to place the question on the August 3rd [special] election," Laureto says.
Turner Booth, who owns and acts as steward for the mill property — and has been restoring the 1897 relic — says the mill is currently undergoing a preservation and adaptive-reuse effort to be reopened as a museum, café, and center for community, health, and wellness.
He requested rezoning on the adjacent parcel ("The Brammer property"), owned by his family members, from residential to recreational. This would bring the Brammer property's zoning in line with that of the mill and allow for a restoration of — and a variety of uses for — historic structures on that property.
The Glen Arbor Township Board of Commissioners convened on February 16 and voted to approve Booth's rezoning request, to the vocal dismay those affiliated with LOGA.
LOGA members had made their concern known at township and county meetings that changes at the mill and adjacent property – including parking, restaurant operations, and short-term rentals – could risk an irreversible commercialized atmosphere in a mostly residential area.
Glen Arbor resident and LOGA member Paul Holtrop stated, "As we feared, the Glen Arbor township board members did as the planning commission members did. They were so wowed by the mill being restored that they acquiesced to the site and zoning request and gave scant attention to citizens' concerns." LOGA members also maintain there were already questions about whether the mill site itself was currently zoned residential or recreational.
Meanwhile, they took to the streets of Glen Abor to drum up support and secure signatures to get a referendum for the rezoning of the Brammer property on the ballot.
Kathleen King O'Brien, an attorney affiliated with the LOGA group, tells the Leelanau Ticker that while they were actively speaking with township voters in public spaces, Glen Arbor Zoning Administrator Tim Cypher sent an email to three people associated with LOGA, drawing their attention to Glen Arbor Ordinance No. 1-2011, which prohibits vendors on public sidewalks, open spaces and streets.
Cypher's email, which was provided to the Leelanau Ticker by members of LOGA, stated "while admittedly the solicitors are not offering to sell goods or services, we are troubled by the fact that these individuals are paid contractors engaged in commercial activity and performing the activity on public property."
King O'Brien says Cypher himself admitted in the letter that they were not offering to sell goods or services, and there was no violation of what's known colloquially as the township's "hot dog stand" ordinance.
"This is America, and that's just the way democracy works," says King O'Brien. "The email did not curtail us from obtaining the signatures, but his writing it while wearing his zoning administrator hat was definitely an interference with democracy and a veiled threat, in my opinion, to try to get people to stop getting signatures." She adds that she is not aware of any citations issued to those seeking signatures.
Holtrop says during the petition process, "To be honest, there were a fair number who really pushed back at us. Their point was 'we want to see the mill restored,' but they stopped there…the situation is a lot more complicated. We are worried about too big of a development, it going against the Master Plan for Glen Arbor Township — which it clearly is — and transparency about local government."
So what's next? Laureto will inform Leelanau County Clerk Michelle Crocker that Glen Arbor Township has a referendum scheduled for its August 3 election, and will work with the township attorney on ballot wording to hand off to Crocker, who will then get it qualified with the State of Michigan. She says, "It must be worded in a way that the public can answer yes or no."
Of course, the story is not so black-or-white, and now, King O'Brien says, "LOGA has a long road ahead of the vote to educate the public."
She says, "In rezoning Brammer to recreational — even if we get a deal worked out with some restrictions — you are setting the stage for down the road when we aren't around anymore. It could create some recreational creep. Someone is ticked off that their enjoyment of their property is destroyed, and get it zoned recreational to put in something to make money off the land, and say 'I'll go to a place in the U.P. where I can still get peace and quiet.'"
As for his vision, Booth says the mill will be a place that honors the history and beauty of Glen Arbor and is a spot for all generations to enjoy. "I'm concerned that no matter what information I share it will be undermined by a few that are spreading misinformation," he tells the Leelanau Ticker. "I'd ask anyone considering voting on the issue to visit themillglenarbor.com for the facts on the project. We are also on Facebook and Instagram. Any reasonable questions posed through any of these outlets will get a response and we will share those responses."
Because the future zoning of the Brammer property is up in the air, Booth says he would hold off on most plans for the parcel "until after the vote," noting, "it would be foolish to finalize a plan for that parcel if the allowed uses were uncertain."
As for the zoning of the mill property itself — a supposed sticking point in whether the adjacent property could be zoned to match? Booth says when purchasing the property, official documentation was shared with him confirming it was zoned recreational, including "tax records and writings from representatives of the township. All of this information was presented at the last planning commission meeting and they adopted a resolution confirming the recreational zoning."
Photos via The Mill Glen Arbor on Instagram
Comment
Get Ready For Palmer Woods 2.0, With 8 Miles Of New Mountain Bike Trails Built This Summer
Trail construction will begin in May on three new loops at Leelanau's marquee mountain bike destination, Palmer ...
Read More >>
Suttons Bay Art Students Raise $2,900 To Support Local Eateries and Fight Local & Global Hunger
Written by Keegan Monroe, 11th Grade, Suttons Bay High School
Getting a community to come together for ...
Read More >>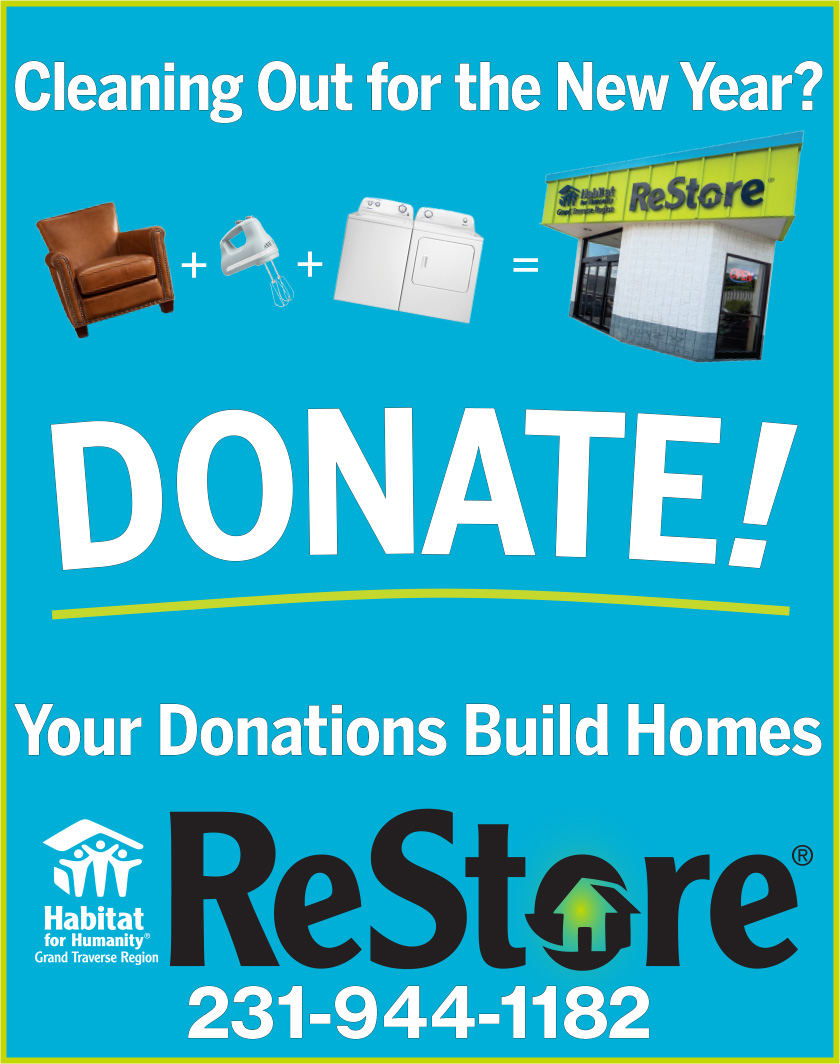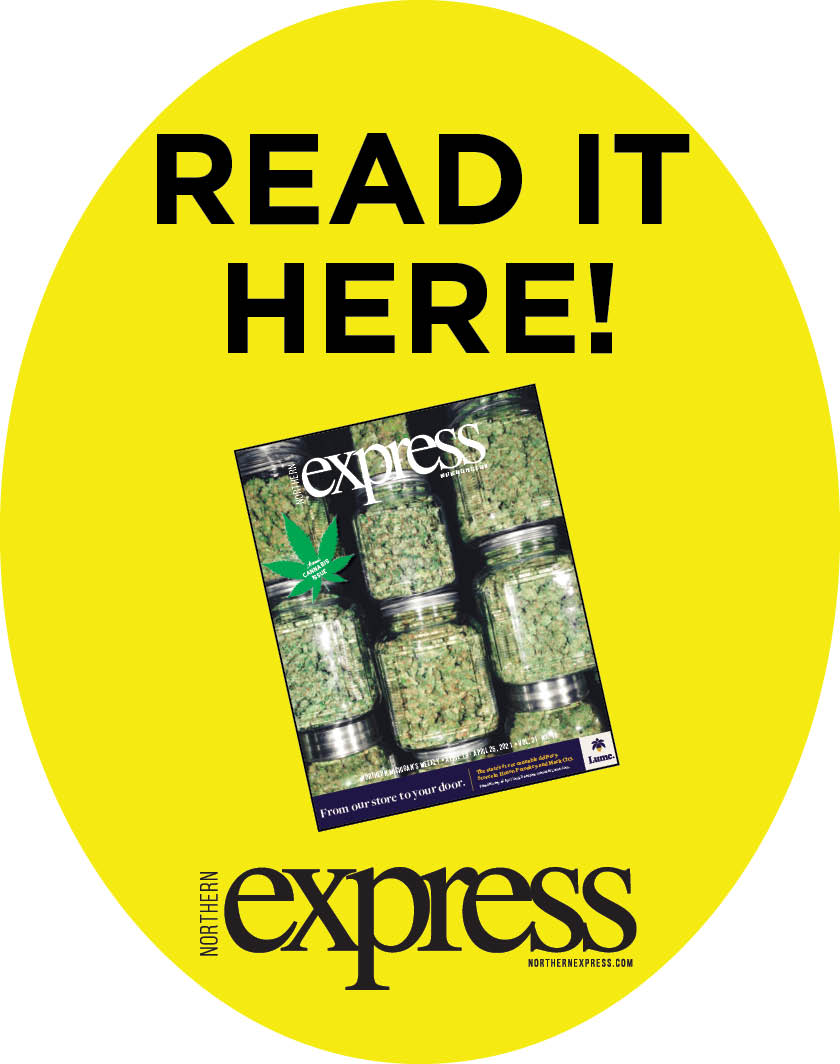 Memory Quilt In Progress To Honor Owner Of Cherry Country Quilters And Others Lost To COVID-19 In Leelanau Community
At the end of March, the Benzie-Leelanau District Health Department reported the 16th COVID-19 death in Leelanau ...
Read More >>
By The Numbers: Leelanau Continues On A Real Estate Tear
Real estate sales continue to show nearly unprecedented growth in the county. Last month, residential sales topped ...
Read More >>