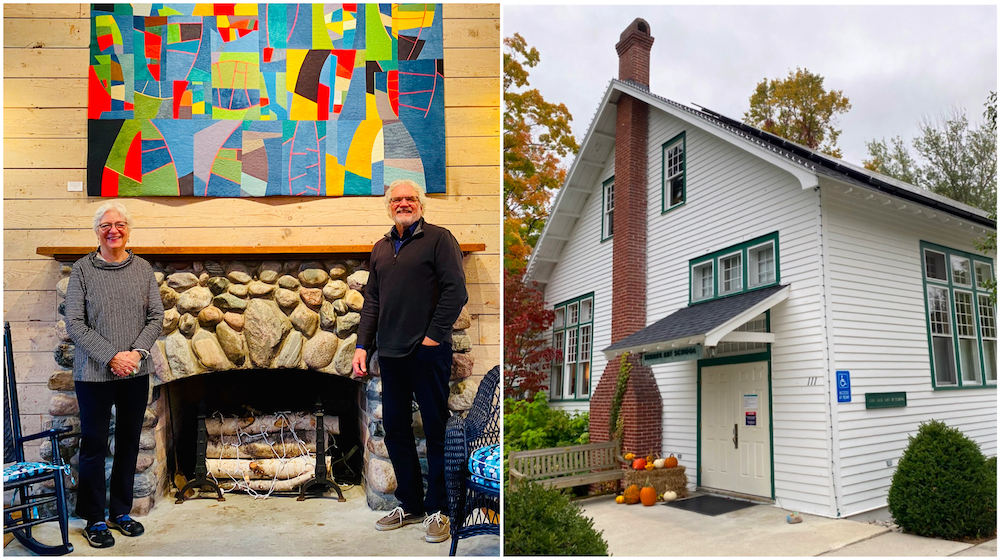 The Opportunity To Purchase Leland's Old Art Building Is Rare, And It's Here Now
By Emily Tyra | Oct. 16, 2020
For the first time since 1939, ownership of the iconic Old Art Building in Leland could return to the community: Becky Ross, Executive Director of the Leelanau Community Cultural Center (LCCC), which oversees the Old Art Building, tells the Leelanau Ticker that a long-sought chance to purchase the beloved structure has come up, and the clock is ticking.
Leland locals and visitors see the Old Art Building — just off Main Street on the Leland River — as a constant beacon in the community. "Typically, the summers are blockbusters here, with 200 guests at a time attending art events and concerts," says Ross. In a non-pandemic year, the Old Art Building hosts at least 450 artists, lecturers and musicians. Daily classes are taught by locals, for locals: ballet with Hillary Voight; landscape painting with Royce Deans, intergenerational songwriting with Seth Bernard.
"We are right down the middle — half arts center, half community center, with fundraisers, graduations, awards assemblies, weddings all held at the Old Art Building as well."
But even with 18,000 people per year passing through the building, says LCCC Board President Dan Lisuk, "there's this diamond sitting right in the middle of town, people have walked by it countless times, perhaps even been to a concert, but didn't know that it wasn't truly theirs."
In fact, Michigan State University has owned the building since 1939.
The brief — and magical — backstory: the Old Art Building is one of the oldest community centers in the state, and the dream of Leland resident Allie Kaiser Best. Best raised funds to build it in 1922 to be a Women's Club and Chautauqua-style venue for traveling performers, to honor her late husband Walter T. Best, who was a skilled conjurer better known as "Maro the Magician."
The Women's Club then donated the building to Michigan State University in 1939, launching a 50-year pilgrimage of MSU art students and professors to its Leland summer campus. Paint splatters from the MSU days are still on the interior walls. Says Lisuk, "someone from the 1940s would walk in here and recognize it as exactly the way it was. Some call the paint on the walls stains and graffiti, but we call them part of our history."
In 1989, MSU called it quits on the art school program, the same year the Old Art Building was added to the State Register of Historic Places.
The Old Art Building sat vacant until Leland Township struck a deal to begin leasing the building from MSU in 1992, and the Leelanau Community Cultural Center board was immediately founded to oversee programing and to maintain the building.
The Old Art Building is not allowed to cost the township any money, so LCCC relies on an endowment to cover operating costs, which Lisuk says are $300,000 per year. And rent? "We have paid $3 over the last 30 years," says Ross. The lease agreement formed with Michigan State University was for $1 for the first 20 years, which was then renewable for $1 in 10-year agreements. Another provision: if anybody, anywhere wanted to offer a price for the Old Art Building and property, the township had right of first refusal, but only 60 days to come up with the funds to match that offer.
Hence the leap to buy now, says Ross: "Never before as a board or organization was owning the building an urgent issue…we had brought up purchasing it with MSU several times, but were comfortable with the way things were."
Lisuk explains that "when we started seeing what was happening to property in Leland, we got a little concerned."
"We had people say to us that 'someone would buy this property on the river, sight unseen, as a 10-to-15-million-dollar investment,'" says Ross. "And if a private purchaser had wanted to approach Michigan State University, they would have had the option, at any point, to knock on their door."
So, quietly, in the days just before the pandemic hit, the LCCC board began to negotiate a deal.
Because of LCCC's strong relationship with the university, says Lisuk, their respective boards were able to come to an $800,000 purchase price, though the appraisal ordered by MSU was for $1.2 million. "In fact, the initial appraisal for the four residential property lots on the river was $1.4 million, but the appraiser said it was worth more without this 'ugly' building on it. That is kind of stark irony," says Lisuk.
Improvements made while tenants, including two historically appropriate additions and a full solar array on the roof allowed the LCCC a $400,000 credit. "That got the price down to $800,000," says Lisuk. The LCCC also worked out a deal with Leland Township — the official lease holder with Michigan State University — to give LCCC their right of first refusal, thus avoiding a negotiation triangle.
Today, after years of being a tenant with an uncertain future, the LCCC has an agreement to purchase the Old Art Building. Ross says, "Our offer was accepted. Now all we have to do is raise the money."
The LCCC's goal is to raise $1,500,000 to purchase and endow the building and property. The purchase deal with MSU expires February 2021.
Ross says starting a campaign in a pandemic is unusual at best — "not to have an event, in-person exchanges to tell our story, or a way to cultivate new donors." But, anchored by a donation from the Edmund F. and Virginia B. Ball Foundation, bolstered by a mail campaign and word of mouth over gardens and backyards, as of this week: "We are at $1,054,831 of our $1.5 milllion goal — that includes 130 donors." A third are first-time donors.
Ross is hopeful the LCCC can reach the $1.5 million needed by the February deadline, with a new twist in the fundraising campaign, just announced yesterday: Daniel & Anna Oginsky, the owners of Leland's Main Street Gallery and co-founders of Northern Manitou Light Keepers, mounted a challenge to donate $50,000 if the Old Art Building can secure 100 new gifts by December 31.
She adds, "I want people to know they can give $10 and it will matter, and in this case, it will matter a lot."
Tomorrow, Saturday October 17, the Old Art Building is opening its first live exhibit in Leland since their last public event before the pandemic, the March 5 concert with The Accidentals. "They left from Leland that night thinking they were on their way to perform at SXSW Music Festival in Austin," recalls Ross.
The Old Art Building will host ten people at a time, masked, for the new exhibit, Stitched Lines, featuring Leland fiber artist Colleen Kole, who has shown work at ArtPrize.
Says Ross, "I'm so proud and pleased that we can reopen with this show, and its color — it's striking."
Comment
David Arroyo: Grand Traverse Band's New Chairman Shares His Vision
It's been a big year for Leelanau County's David Arroyo.
On August 14, the Suttons Bay resident ...
Read More >>
How To Have A Very Leelanau Halloween
Treating friends, fam and neighbors for Halloween may be a little trickier than usual this year, but ...
Read More >>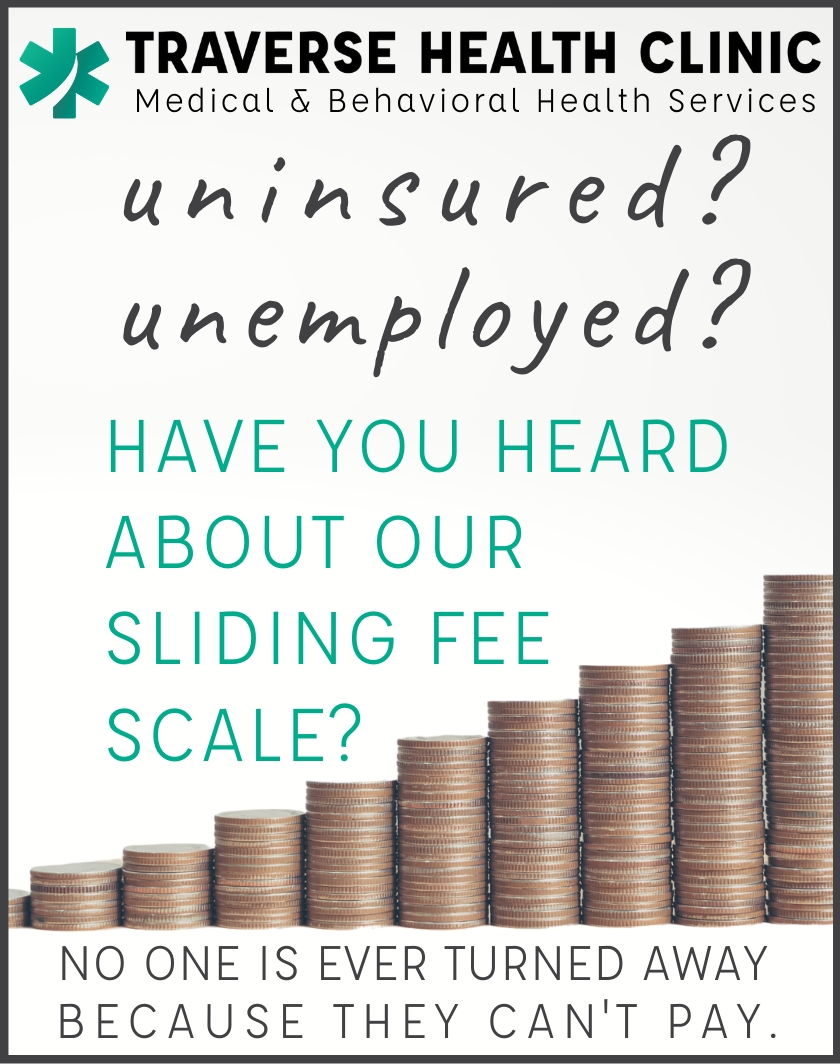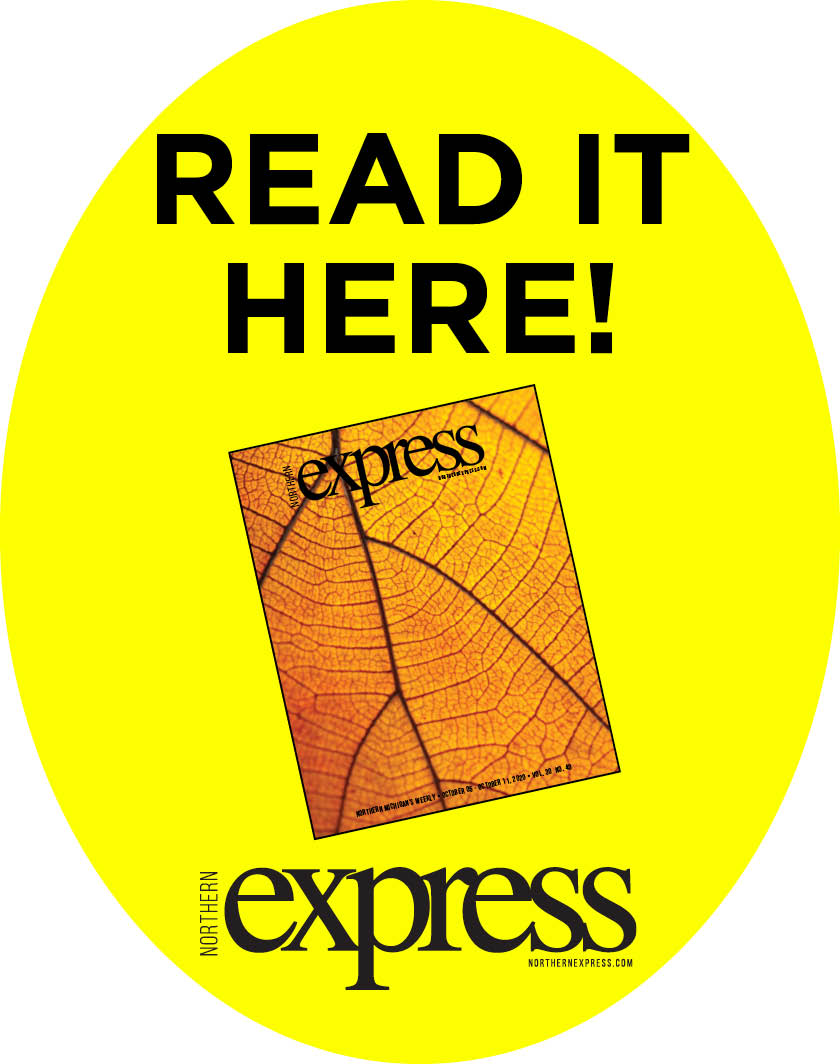 Small Businesses In Leelanau Township Can Apply For COVID-19 Relief Grants Now Through November 2
A second round of grant funding supported by the Leelanau Township Community Foundation for local small businesses ...
Read More >>
Go Big: Recycling Lakefront Homes (And Empire's Former Hardware Store) Launches A Trend
A next-level recycling project is underway at the site of the former Anchor Hardware in the village ...
Read More >>