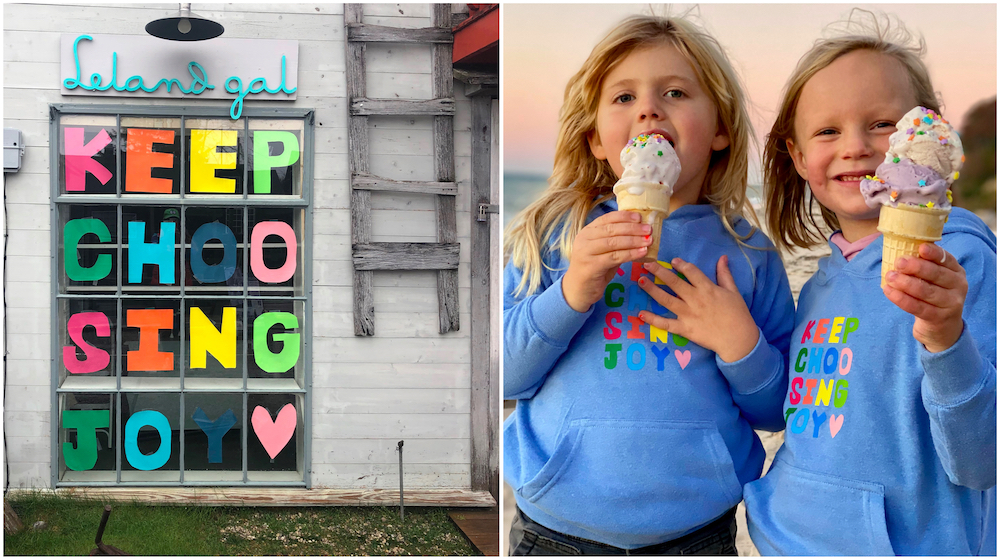 Leland Gal Keeps Choosing Joy (And Other News Of Resilience From Leland)
By Emily Tyra | Nov. 11, 2020
After battling surges of high water in Fishtown and bouncing to a pop-up location this summer, on Friday, November 13, fabric designer Maggie Revel Mielczarek and team are permanently moving Leland gal to 104 North Main Street in Leland.
Leland gal has been selling its hand painted textiles from the Ice House shanty in historic Fishtown for eight years strong, but the space faced some serious challenges this summer. Fishtown Preservation's Executive Director Amanda Holmes explains the shanty was impacted by the water table, seiches, driving rain through the walls, and road runoff. "We realized that the damage to the shanty is extensive enough that we can't rent that space again until we've been able to make some major fixes to it," she says.
Leland gal's move to Main Street coincides with a heartfelt farewell from the founders of Manitou Outfitters, Kay and Jim Rogers, who have operated their Leland business for 35 years. Their final day open at 104 Main Street was last week.
To commemorate the move, Leland gal is launching its "Joyfull" Collection today, November 11.
Mielczarek says 10 percent of proceeds from the collection during its holiday presale — from November 11 to November 18 — will go to 5loaves2fish, a nonprofit started in March by her Leland neighbors Bill and Michelle White to feed shut-ins and people experiencing homelessness and food insecurity in Grand Traverse and Leelanau counties.
She explains the idea for the Joyfull Collection was born in March, when she pasted hand-cut letters in the shanty windows saying, KEEP CHOOSING JOY. She had no idea how much that would resonate, with people soon posing for photos ops and tagging them on Instagram. "This collection was born out of a need to spread positivity in this unsettling time of limbo," says Mielczarek. "We do say the harder it is, the more important it is to try to choose joy."
She adds, "It helped us with our physical evolution as well, as the foundation of our business was in Fishtown and we simply couldn't remain due to high waters."
Fishtown's most recent newcomer, Annie Lang of Compass Paper Co., has already confirmed that she'd love to move into the Leland Gal's former space when it is habitable again, which may not be until the summer of 2022.
Lang, a Leelanau native, started her brick and mortar location in the lean-to at the west end of the Ice House in early July.
Says Holmes, "She wasn't fazed by the prospect of opening the store this year. She said it has been her dream to have a store in Fishtown and she wasn't going to let a pandemic get in her way."
Lang tells the Leelanau Ticker, "Luckily, because of a thriving online and wholesale business, Compass Paper Co already had the inventory to fill a store quickly. That factored into getting our doors open in under three weeks once we signed the lease with Fishtown."
The gamble paid off.
"I told myself I would be really happy to just cover opening and operational costs for the season, but we exceeded that within our first month. I think it all has to do with so many customers and community members recognizing the importance of shopping small this year."
She adds, "things aren't slowing down, and I am coming up with a plan to expand our team to keep up with the demand and get orders out the door. I know that is not currently the case for many businesses, so beyond working incredibly hard to work through a weird year, I feel lucky for the continued support not just from the community in Northern Michigan but from our customers everywhere."
Meanwhile, other projects funded through the Campaign for Fishtown continue in the historic fishing village. Crews have wrapped up driving the piles for Morris Shanty — Fishtown's oldest shanty, which was moved from its piles earlier this year to save it from extensive high water damage — and are about to complete bracing them.
"This is all done underwater – imagine operating a drill and handling boards for hours underwater in a wetsuit," says Holmes.
She adds a crucial infrastructure project for Carlson's Fishery was intended to be underway now, "but there has been a glitch in the permitting — The U.S. Army Corps of Engineers and State Historic Preservation Office have questions about our plans that are yet to be resolved — so this may delay that project until next fall."
Still more Leland scoop: November 1 marked 23 years at the top of the hill leading to Fishtown for Two Fish Gallery owners Michael and Jennifer Collins, which they celebrated in a blast-from-the-past Facebook post last week.
"For sure this has been the strangest year we have ever had, and an emotional one," says Jenn Collins. "Normally we would be open on a fairly regular basis through December, but this year we have decided that on Sunday, November 15, we will officially lock both of our storefronts for the 2020 season."
She emphasizes they will remain open in other capacities: Customers can shop online and have items shipped or take advantage of curbside pickup anytime. Collins continues, "our loyal customers have shown up for us, and have been amazing. We feel very fortunate and are so thankful to be in this place."
While Leland icons The Bluebird, The Cove, and Falling Waters Lodge are on a break until spring, The Riverside Inn is offering limited in-person dining and curbside pickup plus Sunday Suppers (2 for $40) until they close for break in January; Leland Lodge announces the return of its weekly cookie grams and launched nightly specials catered to locals this week, including a Friday Night Fish Fry to benefit Leelanau Christian Neighbors.
Leland Chamber says that Light Up Leland for the Holidays! is a go for 2020: The festivities start at 5:30pm Friday, November 27, with a tree lighting followed by Santa riding a fire engine to Leland's Village Green.
And those driving or walking through town may have noted the arrival of 25 evergreen trees on the grounds of the Old Art Building (OAB). "HollyPOP, our annual holiday marketplace, it is on pause this year," explains Becky Ross, executive director of Leelanau Community Cultural Center, housed in the OAB. "Our intent with HollyPOP each year, beyond the marketplace, is to create a joyful experience and a sense of wonder. So instead we are presenting a Festival of Lights. The front yard of the Old Art Building will be a place of JOY for everyone to safely wander and enjoy beginning the evening of Friday, November 27 through the end of December."
Comment
Property Watch: Landmark Bicentennial Barn Property Just Listed
Bikers and motorists on M-22 near historic Port Oneida (1042 West Harbor Highway, Maple City) have long ...
Read More >>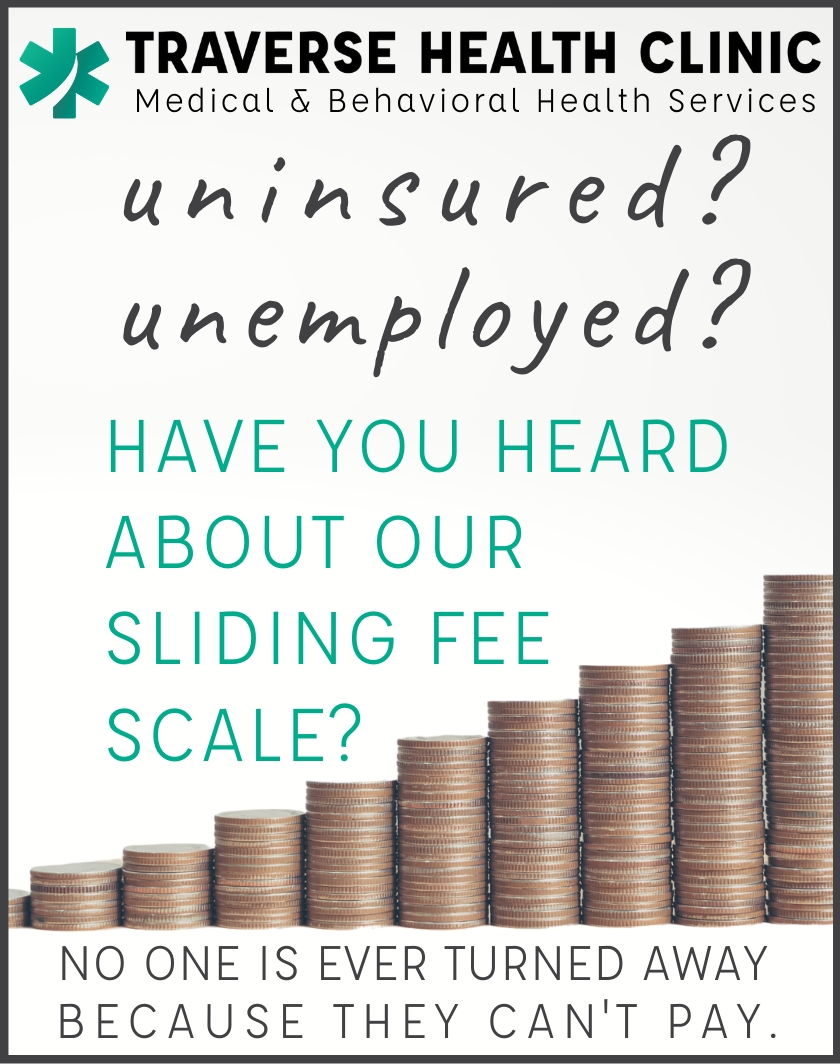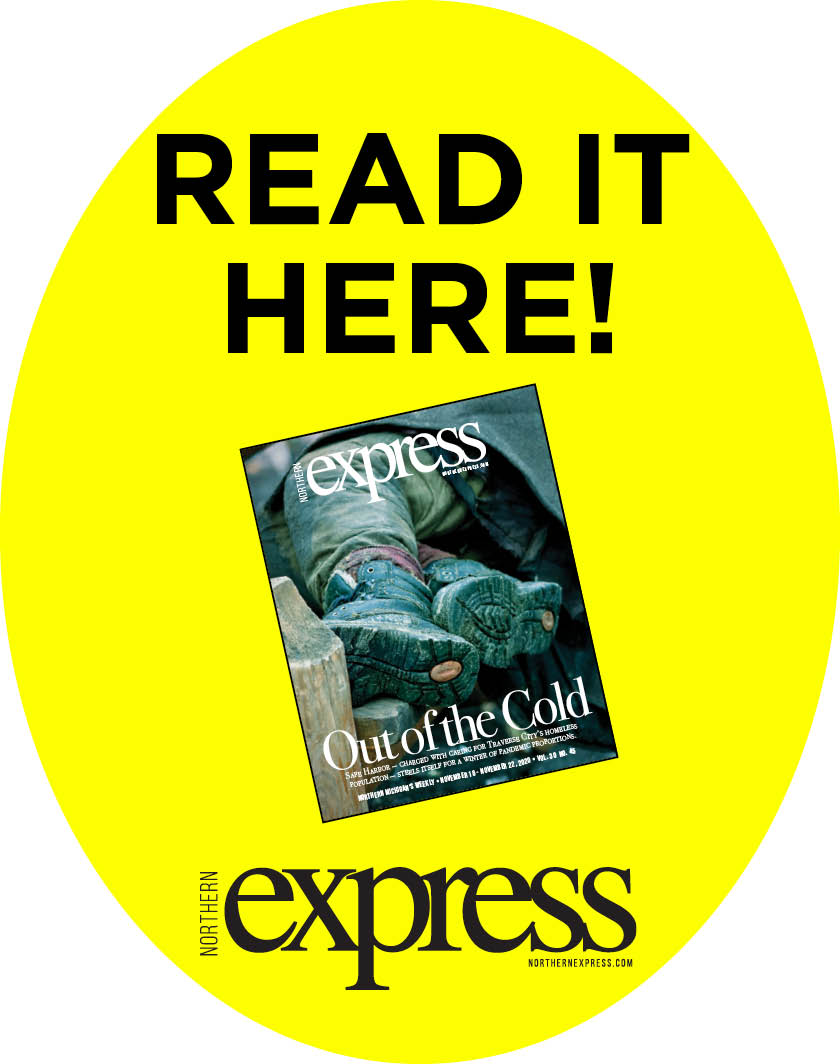 Eight Northport Small Businesses Receive Boost During Pandemic
Leelanau Township Community Foundation, in partnership with Venture North, just awarded a second round of grants to ...
Read More >>
EGLE Dismisses The Tribe- And Citizen-Led Challenge Of Nestle's Water Withdrawal Permit; Welcomes Review Of The Law
The Michigan Department of Environment, Great Lakes, and Energy (EGLE) has dismissed the case challenging the 2018 ...
Read More >>