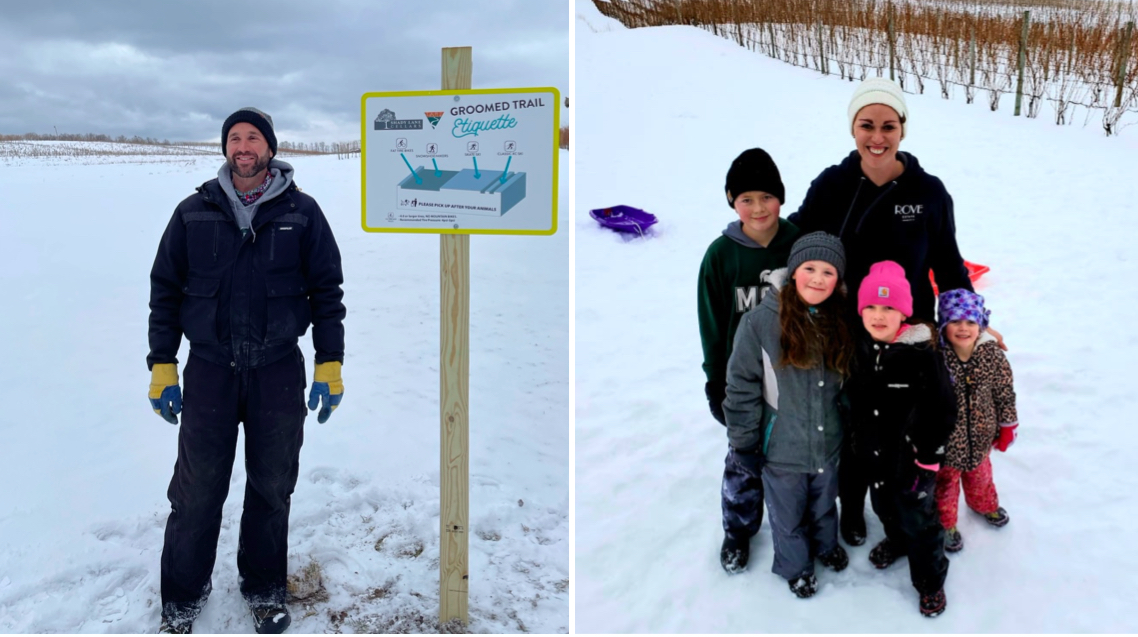 Groomed Trails Plus (Outdoor!) Wine Events Popping Up In Leelanau County This Winter
By Kandace Chapple | Jan. 21, 2022
A handful of Leelanau's vineyard managers have added trail groomer to their many hats, and now that the white stuff arrived, it's time to pair reds and whites with snowshoes and skis. Here's a lineup of outdoor events and trails at the county's wineries, proving the combo of wine, food and the Leelanau landscape has no season.
Rove Estate has mastered the art of mini-events to make the most of a long winter. This Sunday (Jan. 23) bring your own outdoor snow gear from 2-4pm for Sip & Sled. Rove will offer complimentary hot chocolate for young guests and happy hour specials for the adults.
Sled and snowshoe on their property, which features Rove Point – McKenzie Gallagher, co-owner, says it's the highest point in Leelanau County. After, warm up by the fire with hot winter sangria – only available Friday to Sunday during the winter. Rove also offers wines from their fifth-generation farm plus solo fire pits for social distancing.
"Our four kids have been sledding on our farm for many years," says Gallagher. "It felt intuitive to invite our community. This is our home, our community and the place we have had the privilege to farm for over 130 years. Having the space to bring people together outside is one of our greatest blessings."
This is the second Sip & Sled.
"We hope to make it an annual event. As a mother of wild and free farm kids, I can attest from personal experience that a little wine paired with family activities is a nice bonus!" says Gallagher.
She also noted that, because they grow their own wine, they are running low on some wines.
"It's a good problem to have." she says, "But it's very challenging because we only offer our own estate-grown wines. We are planting new vineyards every year." Also of note: the vineyard snowshoe trail and Rove Point trail are open year-round, during business hours.
Next up, there are two Sunday Sip & Ski events coming to the county on Feb. 6 and March 6, where you can cross-country ski the Leelanau Trail from Shady Lane Cellars to Farm Club.
The adventure starts with sips of Shady Lane wines before heading out on the groomed trail.
"The tasting flight includes three wines," says Rick DeBlasio, general manager at Shady Lane Cellars. DeBlasio recommends their estate Blaufränkisch. "It's a great winter-time red," he says. "Full bodied with notes of blackberry, cracked pepper and cedar."
The fire pits are open, as well as indoor seating, he notes.
From there, skiers head out the 3.9 groomed – relatively flat – miles to Farm Club, where there's more tastings and the last leg of the fun: fireside food.
"Bon Fuego is our Sunday fireside stew," says Gary Jonas, Farm Club co-owner. "It's a really fun way to enjoy the outside in the winter. Each Sunday's stew is different!"
He notes that this is their first official event, although they have done informal skis to and from Shady Lane Cellars with friends before.
"It's great for a range of ages and skill levels," he says. As for the drink? Jonas says, "Dark beers are what we like in the winter. Our Dark Lager has never tasted better!"
The tours are being hosted by Grand Traverse Bike Tours and includes transportation back to Shady Lane Cellars (less the hardy souls who want to make the round-trip back on skis). Tickets are available online.
Shady Lane is also offering Soup + Ski Weekends on the winery's own expansive rolling hills. Every Saturday and Sunday through the end of February, winery visitors are welcome to snowsuit-up and hit the groomed trails for cross country skiing, fat tire biking or snowshoeing during regular weekend hours. After, warm up inside by the fire with a $5 bowl of soup. "Activities have slowed down but we're still here," shares DeBlasio. "It's a great time to get out of the house."
At French Valley, the 75-acre vineyard and newly renovated tasting room near Cedar is offering a Soup & Snowshoe (or Ski!) starting this Sunday, Jan. 23 (and every Sunday through the winter).
They have just opened a gorgeous 2.5 miles of groomed trails for skiing or snowshoeing with a fully restored Amish built centennial barn as a backdrop. After, warm up with homemade soup for $5. These events are family and dog friendly.
Starting this week, French Valley also offers weekday events like Spanglish tamales and live music from 4-6:30pm on Thursdays, and Flatbread Fridays featuring pizza and a bottle of wine for $25 every – well – Friday, all with their new groomed trail to tackle before or after.
Meanwhile, Black Star Farms hosts Snowshoes, Vines & Wines every Saturday through the winter, in addition to Sunday, Feb. 20. Take in the woods, orchards, and vineyards on their iconic estate while blanketed in snow. Events are weather permitting, and no reservations are needed. And, bonus, if you don't have your own snowshoes, they offer onsite snowshoe rentals from 12-4pm.
After tackling the easy-to-moderate trails, enjoy wines and mulled cider by the glass, wine flights, spirit flights and house-made chili and soup in the tasting room (the café is closed for the season).
Blustone Vineyards' BlustoneTrail in Lake Leelanau is now open. Snowshoe or cross-country ski around the vineyard with panoramic views of the Lake Leelanau valley. This trail is packed and rolled for easy navigation. If you don't have snowshoes, Suttons Bay Bikes rents for $25 per day. Warm up around the firepit outdoors with a steaming mug of mulled Ad Lib.
45 North's three-mile trail starts at the tasting room then winds and climbs into the top vineyard. You can snowshoe, hike, fat bike or x-c-ski the multi-use trail. (If you get tired, there's a shortcut back to the winery.) They have trail reports on their Facebook page here, and the trail is free to use and open during business hours. For a new bit of fun, book a warmup in their igloos. You can book one here.
Pictured: Andy Fles, vineyard manager, stands along the trails that lead to the Shady Lane Cellars Tasting Room. McKenzie Gallagher and her trail testers at Rove.
Comment
Community Feedback Needed Prior To Renovations At The Center In Suttons Bay
The Friendship Community Center (The Center) of Suttons Bay will soon be launching a capital campaign to renovate ...
Read More >>
Newcomer Northern Michigan Rowing Club Expands To Two Leelanau County Lakes
The long, skinny boats of the Northern Michigan Rowing Club (NMRC) now have a second lake in ...
Read More >>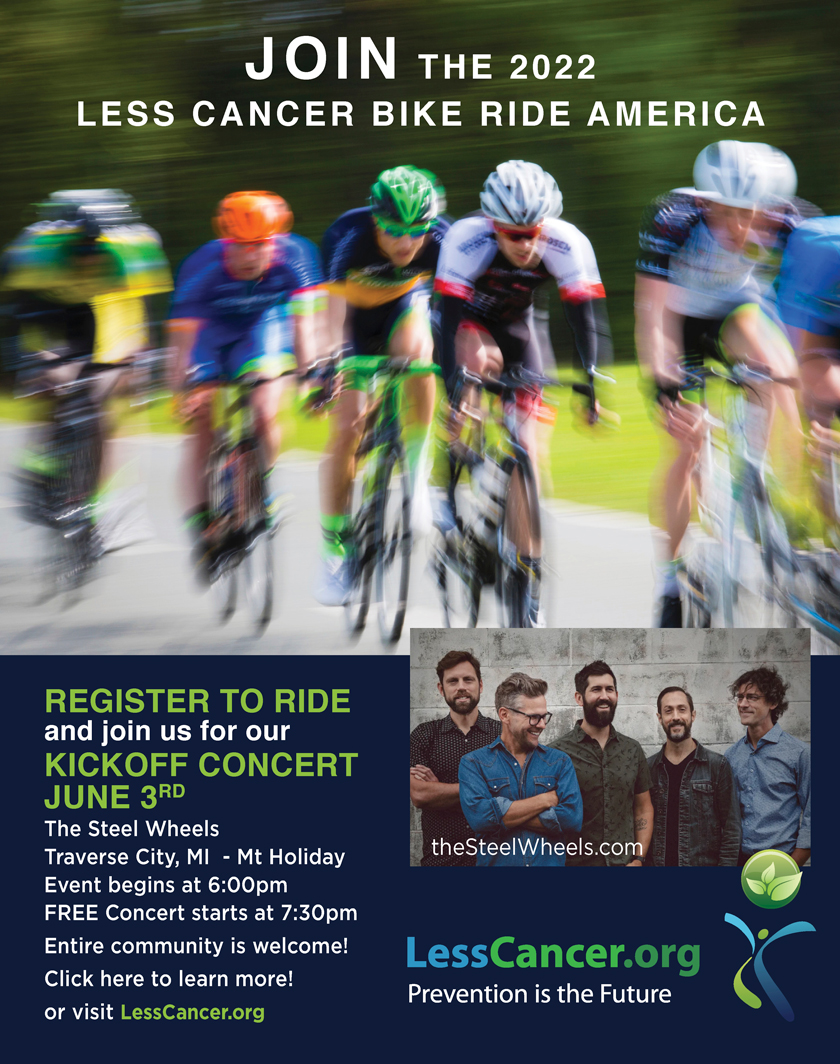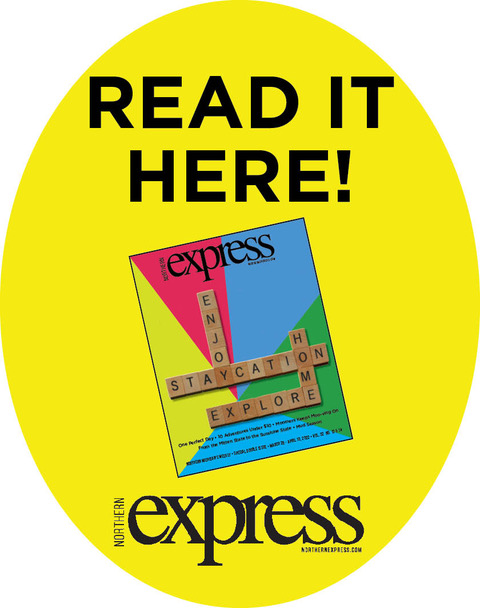 Just 17 Homes Sold In April In Leelanau County
While prices continue to escalate, the number of residential real estate sales continues to shrink, both due ...
Read More >>
Picnic Comes to River & Main; Fishtown Receives Governor's Accolade; LCC Gets A New Playground & More Scoop From Leland
It's the first day to snag some whitefish pâté at Carlson's in historic Fishtown, whose dedicated Fishtown ...
Read More >>