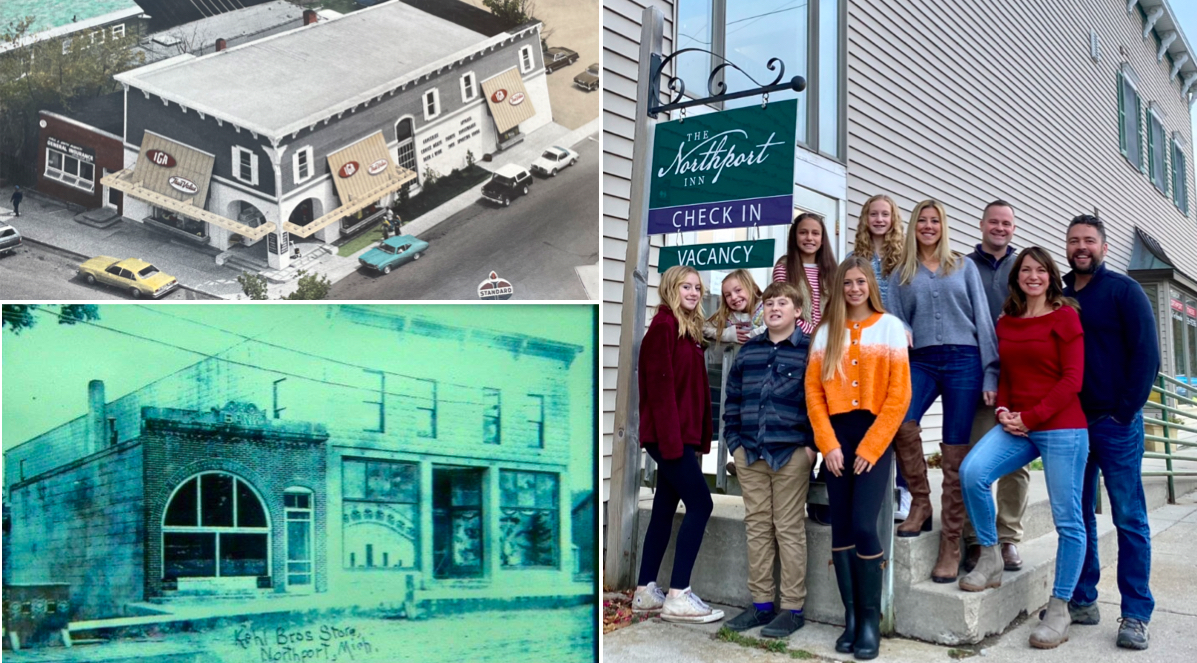 Local Couples Invest In 9,000 Square Foot Relic In Heart Of Northport
By Emily Tyra | Nov. 22, 2021
The landmark inn and commercial space on the corner of Waukazoo and Nagonaba in Northport has sold for $900K to 50/50 partners Steve and Carrie Ball of Old Mission Peninsula and Lynden and Meghann Johncock of Elmwood Township. The couples have designs on restoring the original 1902 brick façade of the 9,260 square-foot building and growing it as a hub for lodging, dining and imbibing, live entertainment, and gatherings.
The Johncocks are partners/operators at Williams & Bay in Maple City. The Balls own Michigan Gutters and several northern Michigan vacation properties; Steve Ball also serves as captain of the Traverse City Fire Department. The deal to purchase Northport Inn from an Ohio investor has been in progress since a duck hunting trip Ball and Johncock took last spring. The two recognized a surge in investment in the rural beachside hamlet and they identified immediate room for growth in the inn/commercial property, which was listed for $1.2M.
"If you think of Northport, it is an anchor, staple building," says Ball, adding, "People don't drive through Northport, they drive to Northport and the point is to make it a destination," stressing that they want the revived space to be as much a draw for locals as it is for vacationers.
The upper floor will remain a nine-room inn. Down the line, the interior will be renovated in a West Coast style befitting a beach town, and they will immediately add tech upgrades to streamline booking and boost occupancy.
The new owners will continue to work with the current first floor tenants Northport Fitness, owned by Jeanette Egeler, who also manages the inn, and The Union, where chefs Eric Allchin and Paul Carlson offer an event space, community suppers, and by-appointment tastings for both Northport's Baia Estate wines and Idyll Farms cheese.
Says Ball, "With The Union, we want to give them the resources to make that thrive, and more of a full-time, consistent gathering place." Johncock says of recent conversations with Allchin and Carlson, "The real estate office in the building is now vacant, and they are very interested in taking over that space, too. Eric and Paul are all about supporting local and we are all about investing with them."
In that spirit, Johncock says they are in the process of procuring a class C liquor license for the building. "The liquor license was a key component for what we need for its future and for this corner to be everything it should be." He adds working with village officials has been integral to making this happen: "It is important to us to stay in tune with the Village Council and what they are looking for, since this one of the largest commercial properties in town."
Because of its sheer size, says Ball, there is room for additional partners.
This prominent hub of Northport was built in 1902 as a general mercantile operated Chris Kehl and partners, and, according to Sprague's History of Grand Traverse and Leelanaw (sic) Counties, was the "first of its kind in the county." In more recent history it has been home to an IGA grocery store, North Country Gardens, several small boutiques, a coffee shop, and Lelu's Café.
"The more we did due diligence, everyone had a story and a connection to the building, and we want to be supportive in trying to make this a community staple again," shares Ball. "We plan to revive it back to its iconic state — including the original brick — and to historically preserve it, we are working on some grants with Venture North."
The building acquisition financing was also boosted by Venture North, which provides small business loans for economic and community development in northern Michigan. Here, 4front Credit Union was the primary lender; Venture North provided gap financing that enabled the new owners to meet the down payment.
Venture North President Laura Galbraith explains that 4Front places priority on supporting small businesses, and in providing a flexible source of capital, Venture North seeks to "support big positive impact in the communities we serve."
In this case, she says, the inn is a "critically important new catalyst" for Northport, bringing significant new employment and business to the community and, "we hope, an added incentive for families to look to Northport as a spectacular place to live, work and visit.
"Northport is a village on the move with all the ingredients to make good things happen," Galbraith says. "First and foremost are the people who live there. Uniformly friendly and accommodating, supporting one another and the community to move things forward."
One new concept in the works: a family-friendly beer garden in the adjacent outdoor space. "Charlevoix has done a good thing with their alleys to make them livable community spaces," Ball notes. Johncock adds that regular entertainment is also viable, proven by The Union's newly launched jazz-pizza-wine nights, which were originally planned to pause after Labor Day, but popular demand kept going strong through mid-November. "Their last jazz night of the season last week was also their largest, which is really promising," says Johncock, "considering the ebbs and flows of hospitality and tourism."
Adds Ball, "It's going to take a community to make it work. And we absolutely believe in Northport."
Historic photos: courtesy Lynden Johncock and the Northport Area Heritage Museum archives. At right: the Ball and Johncock families.
Comment
Food Sovereignty Program Sees Third Harvest For Grand Traverse Band
The summer harvest is upon us, and out on a farm in Peshawbestown, good things are growing. ...
Read More >>
Personalities Of The Peninsula: Boatbuilder & Man About Town David Dean
You might have met David Dean out and about in Leelanau County, but there's so much more ...
Read More >>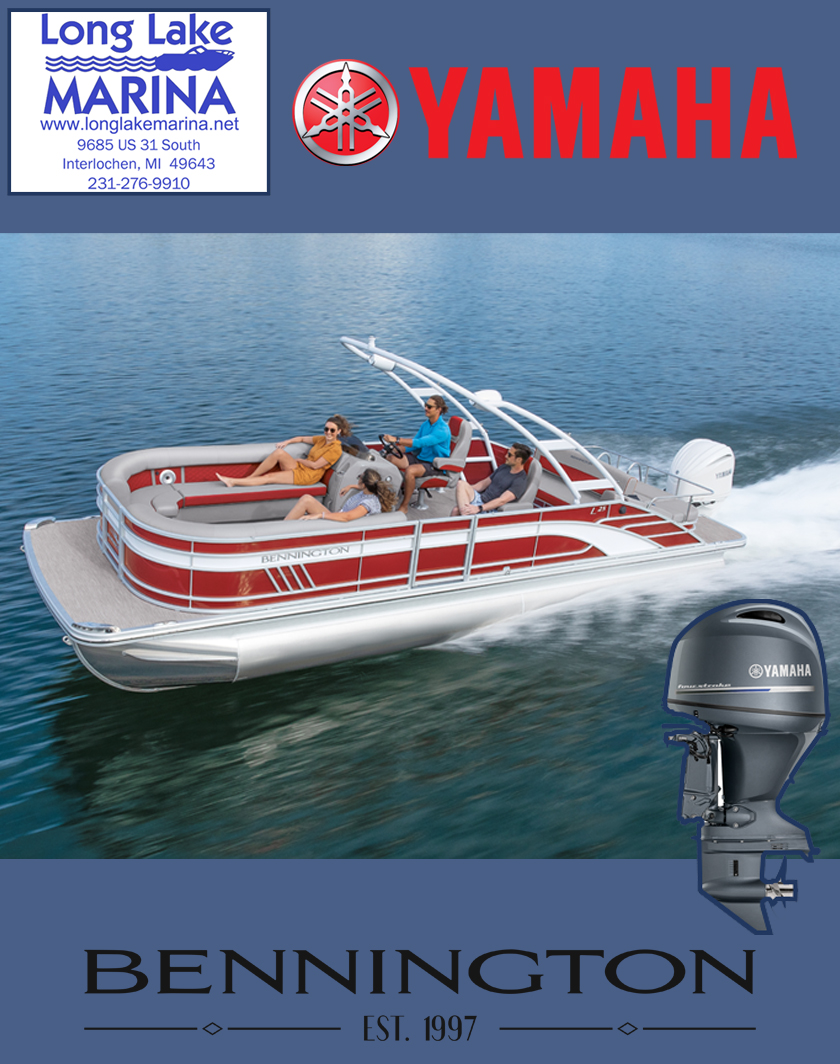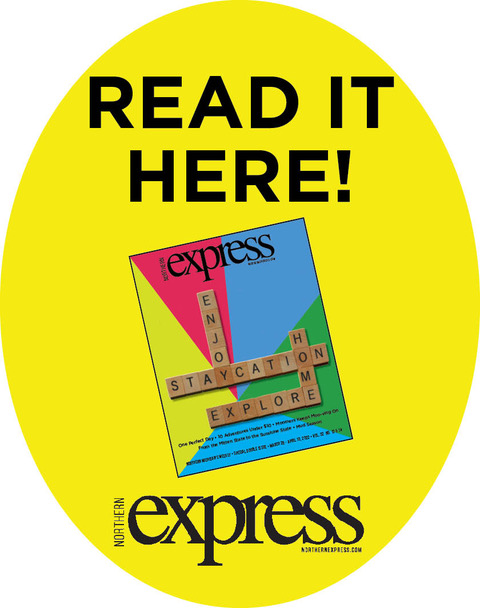 Potential Benzie Visitors Center, Seasonal Workforce Housing On Agenda For Sleeping Bear Gateways Council Meeting
In the past year, Sleeping Bear Gateways Council (SBGC) has begun a project to address the area's ...
Read More >>
Free Junior Ranger Program Inspires A New Generation of Anglers
Fishing for fun and knowledge? Why not? At Sleeping Bear Dunes National Lakeshore, the Junior Ranger Angler ...
Read More >>