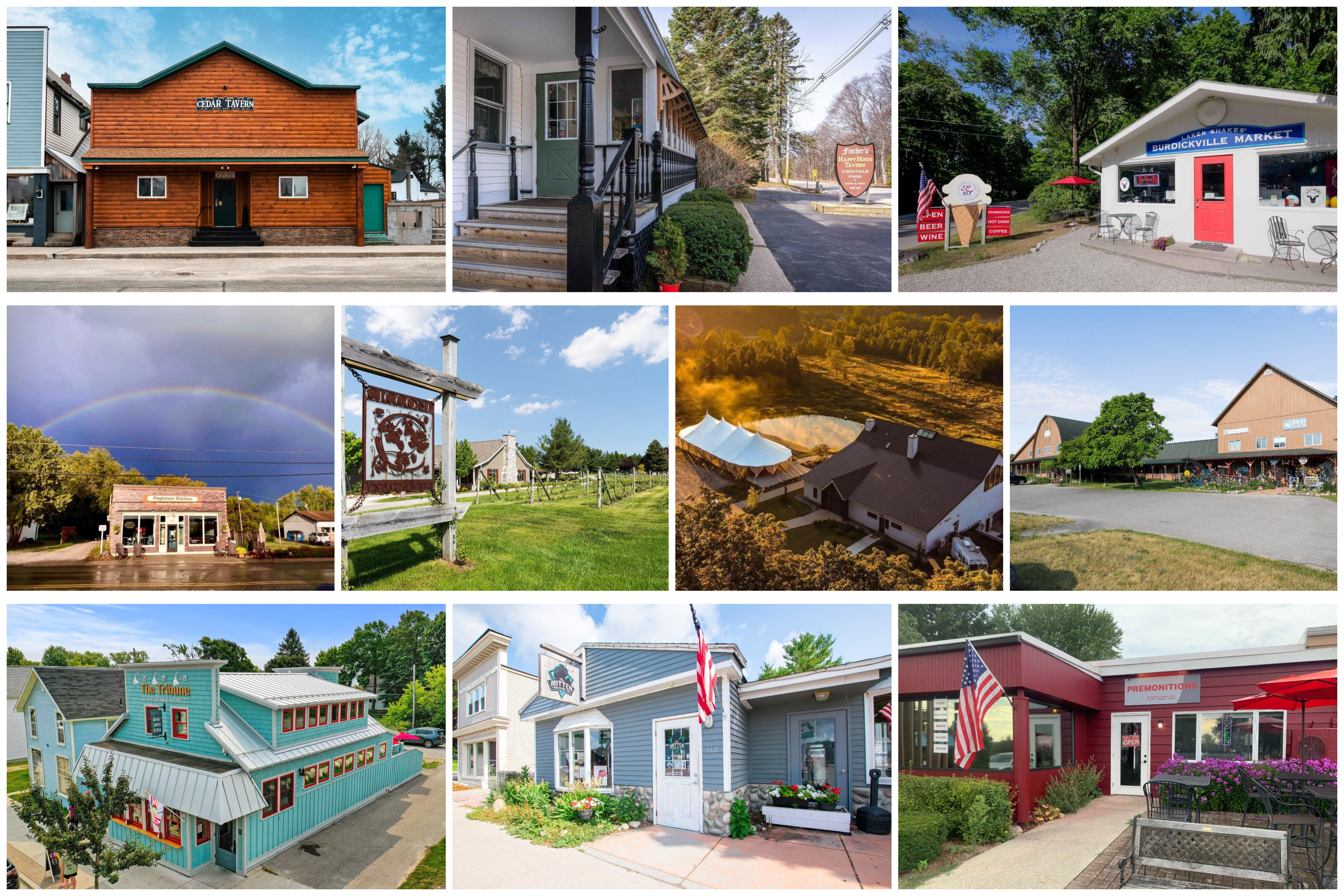 Still For Sale: Many Leelanau Landmarks Remain On The Market
By Craig Manning | Sept. 6, 2023
Many of the most popular stories the Leelanau Ticker has told over the past year have concerned beloved local businesses or notable pieces of real estate hitting the market – from Maple City's Pegtown Stationto longtime Northport fixture Fischer's Happy Hour. So have they sold? And if not, what lies ahead?
Cedar Tavern, Cedar
After 45 years under the same ownership, Leelanau's Cedar Tavern hit the market back in January for $1.2 million. Taylor Brown of Real Estate One, one of the agents representing the listing, told the Leelanau Ticker that the owners – the Stachnik family – had decided that it was "just time to pass it on to someone else…so they can move to their next chapter."
According to Brown, the Stachniks "recently let the original listing [for the Cedar Tavern] expire and have just decided to relist at a new price of $999,999." Brown says "there have been rumors" percolating this summer that the business had sold. In relisting the property, the owners are hoping to correct those rumors and generate new interest.
In the meantime, Cedar Tavern has been open and operating as normal.
Fischer's Happy Hour, Northport
One of the Leelanau Ticker's most-read stories of 2022 was the news that Northport's beloved Fischer's Happy Hour Tavern would be permanently closing its doors after 51 years in business. In November, owners Kristi Fischer and Brian Hafner announced that they had "come to the hard conclusion that we were both ready to take a step back."
Originally, the plan was for Fischer's to operate through the end of 2022 and then close down for good. On New Year's Eve, the business confirmed on Facebook it was indeed in the midst of its final day, after which the restaurant's social media went quiet until late April when the business officially hit the market for $1.5 million.
In an unexpected plot twist, though, Fischer's Happy Hour reawakened this summer, with the longtime owners using the building to host a variety of pop-up events.
"We are just finding new and creative ways to utilize the space," Kristi Fischer says. "We're having some fun trying new things and still finding ways for the community to get some of their favorite menu items." Pop-up themes have varied, from carryout broasted chicken – a longtime Fischer's Happy Hour signature – to open mic nights and Taco Tuesday collaborations with Anojitos, a local food truck. "We also plan to do pop-ups through the fall and winter, doing dine-in options such as burger nights, chicken nights, and fish fry Fridays," Fischer adds.
Fischer also notes that the restaurant has been offering private dinners this summer, working with guests to design custom menus for their functions "based on their favorite Fischer's Happy Hour meal." Those will continue into the fall as well.
Despite these signs of life, Fischer confirms that Happy Hour is still very much for sale, at the original $1.5 million price point.
Laker Shakes Burdickville Market, Glen Lake
Back in February, Ellen and Mary O'Neill – the sisters who own Laker Shakes – put the business on the market for an asking price of $595,000. The O'Neills have owned the general store – which carries beer, wine, Michigan-made gifts, assorted groceries, coffee, ice cream, malts, shakes, sandwiches, baked goods and more – since 2008.
By the time the Leelanau Ticker reported the Laker Shakes listing, Ellen O'Neill was sharing that she and her sister had already received an offer from a prospective buyer. Fast forward to today, though, and the property is still on the market – and still listed for the original $595,000 price tag.
When asked for a status report, Ellen says that she expects the business will change hands sometime during the offseason.
"We've had a lot of interest over the summer, but selling a business mid-season isn't all that convenient for buyer or seller," Ellen explains. "We're hopeful that some of the interest coalesces into a ready buyer and a sale this fall.
O'Neill adds that Laker Shakes is currently wrapping up "a busy season with great customers and an awesome staff."
Also still listed:
>Maple City's Pegtown Station went up for sale last September, with proprietors Mary and Dave MacDonald telling the Leelanau Ticker at the time they were invested in finding the "right buyer" to carry the popular breakfast-and-lunch restaurant forward. Nearly a year later, the business is still listed for its initial price of $799,500 – though listing agent Kimberly Creamer of Five Star Real Estate could not be reached for a status update. Pegtown Station has continued to operate since going up for sale – including this summer – though the business is closed for a "small break" this week and will reopen Friday at 8am.
>The Leelanau Ticker reported in July that a trio of high-profile $3 million+ properties were on the market in Leelanau County: Ciccone Vineyard & Winery, the "Nature" event center near Maple City, and the multi-use property at 5046 S West Bay Shore in Bingham Township. All three are still listed for sale, though the Nature property got a 25 percent price cut, from $2.95 million to $2.2 million. The other two are still priced the same as they were in July: $4.925 million for Ciccone, $3.7 million for 5046 S West Bay Shore.
New listings:
Two properties on Northport's main drag recently hit the market, raising questions about the future of both The Tribune Ice Cream & Eatery and The Mitten Brewing Co. The Tribune building, located at 110 E Nagonaba Street, is listed for $795,000, while the Mitten property, found just down the road at 112 W Nagonaba, is for sale for $995,000. Notably, both listings include just the real estate, not the businesses.
As businesses, both The Tribune and The Mitten lease their spaces. Tribune owner Eric Allchin says he used to own the building, but sold to a new owner three years ago and has been leasing ever since. The Mitten, meanwhile, had a highly-publicized spat with its landlord last fall, nearly closing its doors permanently due to disagreements over lease negotiations. An eleventh hour one-year lease extension announced last December ultimately allowed Mitten Brewing to return for the 2023 season.
Allchin says it was "surprising news" to him when the Tribune building went up for sale, adding that he can't comment further "as we don't know what will be happening yet." He says he'll share news soon.
Chris Andrus, one of the owners of Mitten Brewing, says that he and business partner Max Trierweiler are not considering buying the 112 W Nagonaba property. "The listing price right now [for the Northport property], it would be many multiples of our current rent, if we were to buy it," he explains. "Getting into a high-dollar mortgage like that, with the business economy being what it is, that isn't something we're looking at doing right now."
What Andrus and Trierweiler are doing is communicating with "a number of interested parties who are in the process of making offers" on the building. "There are people that would like to buy the building and keep us there [as a tenant]," Andrus says. "Hopefully, one of those pans out, but we're just in wait-and-see mode right now."
Also new on the market: Premonitions Pizza & Arcade in Suttons Bay. That business, located at 100A S Cedar Street, was listed late last month for $99,000. The listing does not include the real estate, but does include "assumption of lease" and all brand and business assets.
Comment
A Historic Great Lakes Mapping Project, Right Here In Leelanau County
Contrary to popular belief, the oceans aren't the only bodies of water on Earth hiding a few ...
Read More >>
Property Watch: Gateway to the Forest
How'd you like it if your backyard butted up against a sprawling, 1,000-acre plus tract of forest ...
Read More >>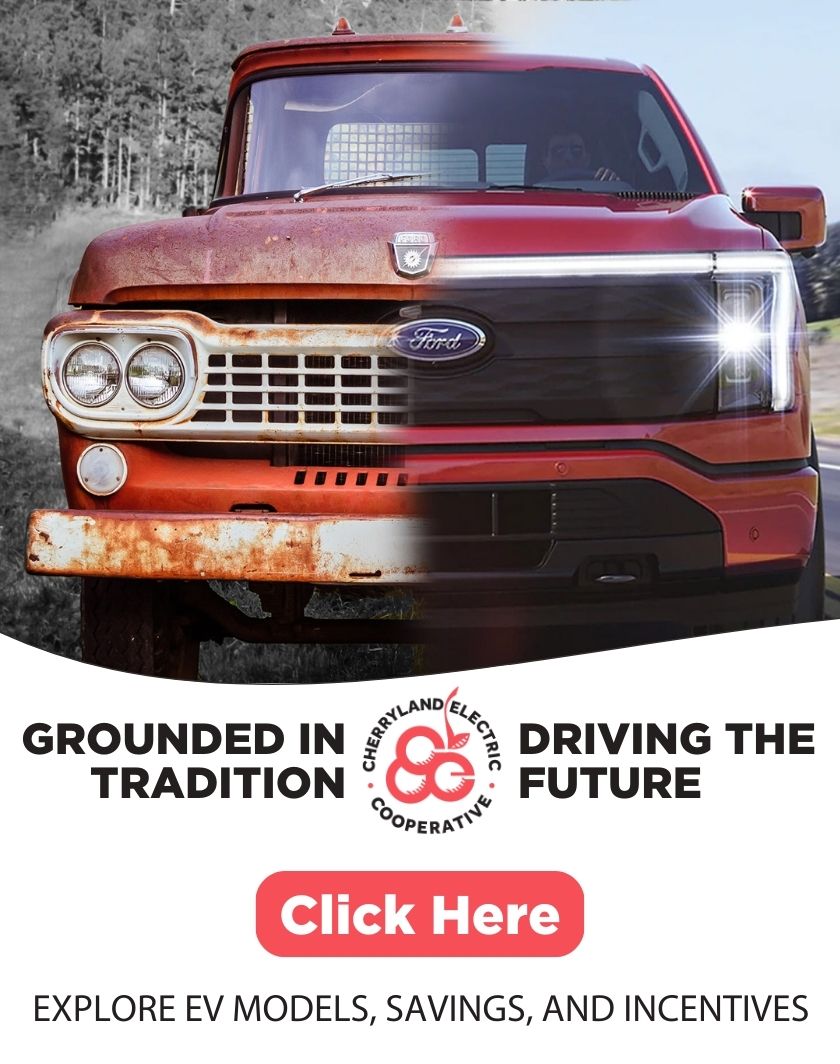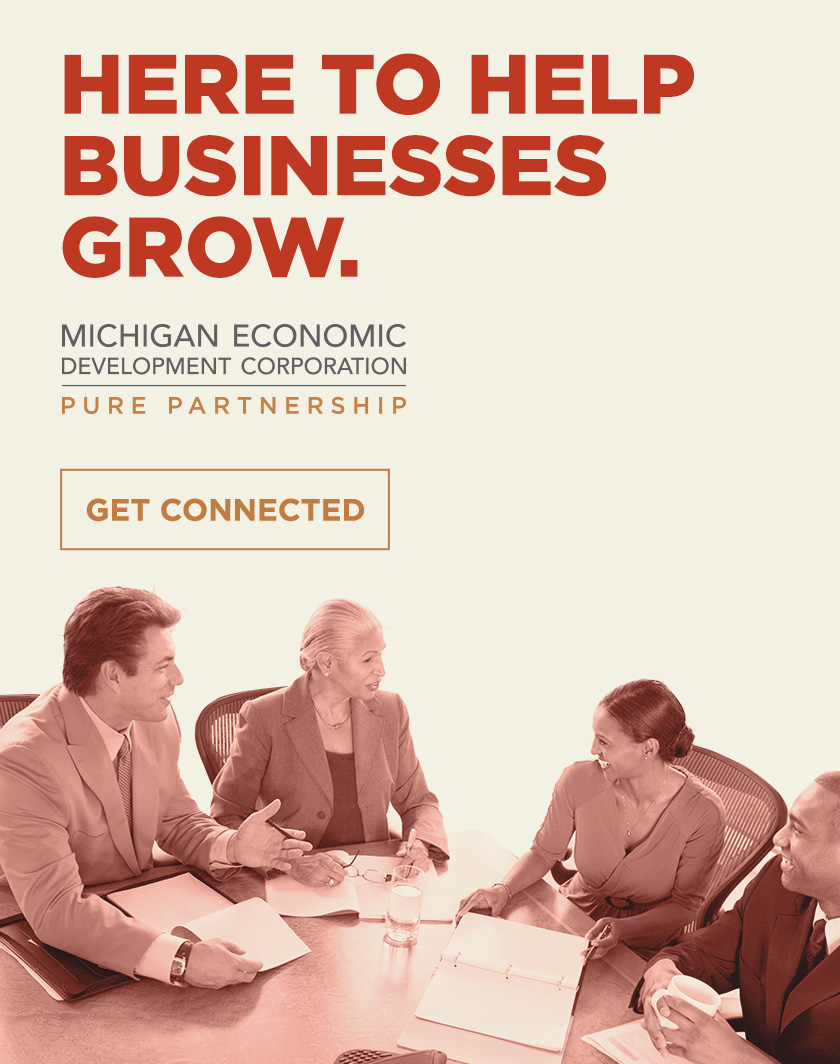 Bridging the Signal Gap: Verizon, T-Mobile Plan More Cell Towers to Boost Coverage
Dropped calls, undelivered texts, and sluggish data connections throughout Leelanau County have prompted frustration and raised concerns ...
Read More >>
Leland Township Considers USDA Financing For New Offices, Future Expansion Project
A loan from the United States Department of Agriculture (USDA) could save Leland Township more than $10,000 ...
Read More >>