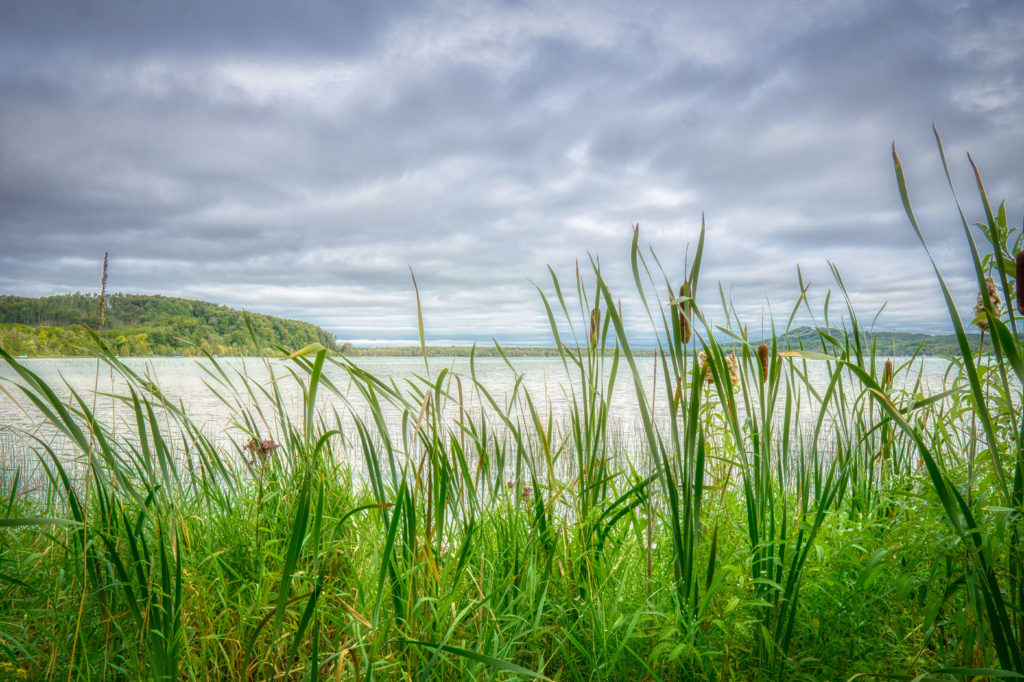 Leelanau 2020: Your (Natural) World By The Numbers
By Emily Tyra | Dec. 30, 2020
Whether it's an overlook-turned-media-darling, the most showstopping fall color year in Leelanau's collective memory, a would-be development becoming a village's first preserve, or a protective bird-dad fighting for his nests' survival, the peninsula's natural world and wide-open spaces have proven to spark both pride and conversation among Leelanau Ticker readers and followers. Here's a zoomed-in look at 2020, by the numbers.
5: Family farms protected this year by the Leelanau Conservancy. One of the most talked about was the Mawby family homestead, which is protected into perpetuity and also for sale.
8: Water quality advisories issued by the Benzie/Leelanau District Health Department (BLDHD) at beaches across the two counties (Northport Marina Beach – 3; South Bar Lake Beach – 1; Suttons Bay Marina Beach – 2; Beulah Beach – 2). That's a pretty good report card, according to J. Eric Johnston, environmental health director at BLDHD. He says all of the advisories, with the exception of one at Beulah Beach, are attributed to runoff from large storm events. He adds, "our region is fortunate to have high water quality due to the efforts of many of our lake associations, and organizations like the Watershed Center – Grand Traverse Bay and Leelanau Clean Water."
65,000: Number of photographs National Geographic photographer Keith Ladzinski took across all five Great Lakes, for the December 2020 issue. But only one, an epic shot of a Lake Michigan storm approaching at Sleeping Bear Dunes National Lakeshore's Empire Bluff, made the magazine's cover.
2: New Conservancy Natural Areas created in 2020 — Lime Lake Preserve (pictured) and the David & Phyllis Stites Natural Area on Broadway, .2 miles up the hill from the post office in Suttons Bay, in a forested parcel which had previously been planned for a 60-house subdivision despite deed restrictions on the land.
3,000: Boats the Glen Lake Association washed this summer in an effort to prevent invasive species from entering into the Glen Lakes watershed.
627: Number of applications for soil erosion permits received by the county as of December 17, 2020. That's up 60 permit applications from last year's record number, says Buzz Long, executive director of the Leelanau Conservation District, the office where the permits originate. One-third of those applications were for remediation of shoreline erosion.
$3.5 million: Amount the Leelanau Conservancy raised — during the pandemic — for the Palmer Woods 1000-Acre Project, which expands the existing Palmer Woods Forest Reserve in Maple City to more than 1,000 total acres, plus creates a five-mile border with the Sleeping Bear Dunes National Lakeshore to protect an important wildlife corridor. (And, to the thrill of locals, adds epic flow-style mountain biking, hiking and skiing trails in Leelanau County!)
5,000: Native trees the Grand Traverse Band of Ottawa and Chippewa Indians planted, in partnership with the Conservancy, across Chippewa Run Natural Area and DeYoung Natural Area to reforest and mitigate climate change.
15,630: Number of trees and shrubs the Leelanau Conservation District (LCD) sold in its spring 2020 seedling sale. Proof that pandemic planting was, indeed, a thing: this was the LCD's largest sale in decades.
84 degrees: Little Glen Lake's highest recorded water temperature, reached this summer. Rob Karner, watershed biologist for the Glen Lake Association tells the Leelanau Ticker, "This temperature is the highest water temperature in the middle of Little Glen that I have seen in my 44 years of monitoring lake water temperatures in the deep basins." He adds that high-water temps can put environmental stress on the biota and reduce dissolved oxygen — and it's on trend with other record highs set this year.
30: Years that Rebecca Lessard was the guiding force behind Wings of Wonder, the raptor rehabilitation center outside Empire, before retiring this fall. Lessard said goodbye to her birds of prey but not before working with the Little Traverse Bay Bands of Odawa Indians in Harbor Springs on setting up a Tribal eagle aviary and rehabilitation center, the first of its kind east of the Mississippi River.
99: Percent of the region's beech forest that will be wiped out due to newcomer beech bark disease. "There is not a forest in Leelanau that doesn't have it, and there is nothing proactive to do, as the scale is carried by wind, mammals and humans," says Kama Ross, district forester for the Leelanau, Grand Traverse, and Benzie Conservation Districts. "But on an individual tree, in a private woodlot, people can definitely talk to a certified arborist to see what care and treatment can be done." Ross is doing her best to tackle the issues of disease head-on, sharing her expertise with Leelanau property owners (for free), plus municipalities, agencies and nonprofits that do not employ foresters on-staff.
2: Counties separating Leelanau from the next invasive species to threaten our forests: hemlock woolly adelgid. The most recent sign of it was in Mason County, and Leelanau landowners have been asked to be on the lookout this winter.
13: Night-sky-friendly lights purchased by the Dark Sky Committee of Leelanau Energy with donations from community members across Leelanau Township. Eight of these have been installed at the Leelanau Township Fire Department, with three others replacing the lights at Deeps Corner Store in the village of Northport. Dark sky advocate and Northport farmer Kathy Garthe says, "Night-sky-friendly lights are shielded, so they only shine down where they are needed, and they are low-Kelvin to limit blue light at night, which is not good for humans or for wildlife."
Photo by Mark Smith, Lime Lake Preserve shoreline
Comment
Free Entry To Sleeping Bear Dunes To Celebrate Martin Luther King, Jr. Day
Sleeping Bear Dunes National Lakeshore Superintendent Scott Tucker is pleased to announce that the entrance fee to ...
Read More >>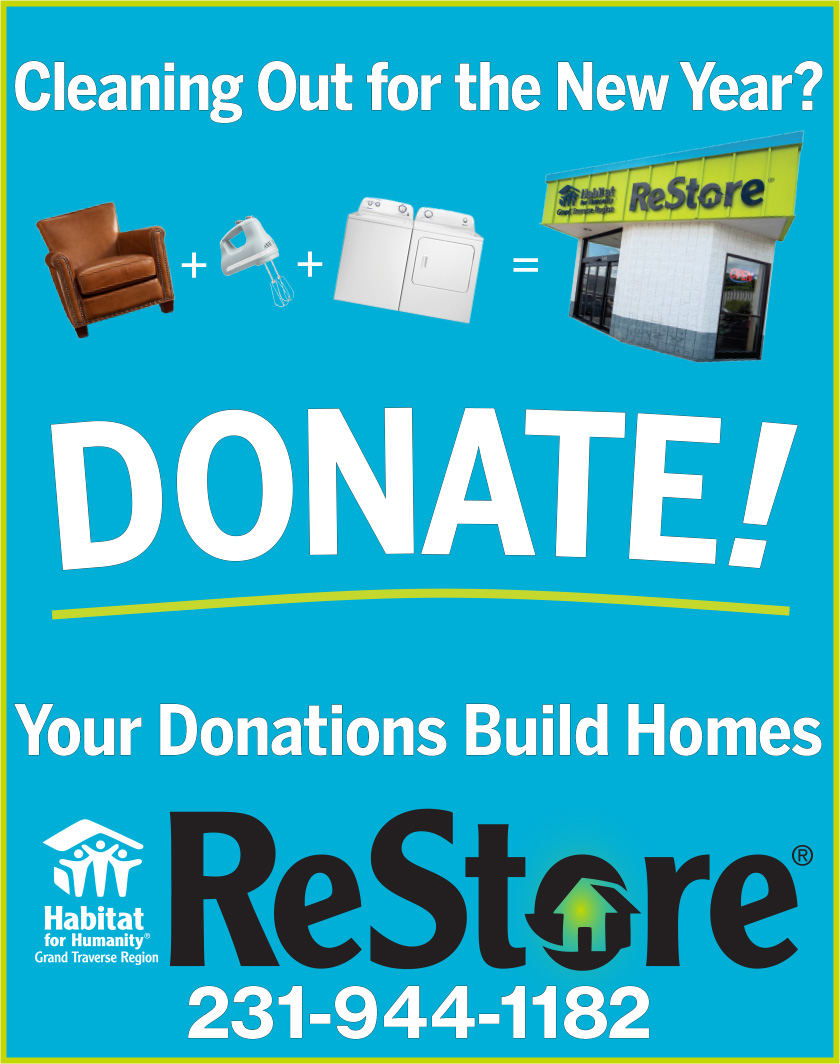 The Front Porch Seeks Support For Suttons Bay's Laundry Project
The founder of The Front Porch in Suttons Bay, Bobbie Eggert, will be honored the weekend of ...
Read More >>
Wineries Open Trails For Snowshoes, XC Skis And Fat Bikes (Plus Expand Winter Outdoor Service)
A handful of Leelanau wineries are inviting guests to make use of recreational trails on their properties ...
Read More >>